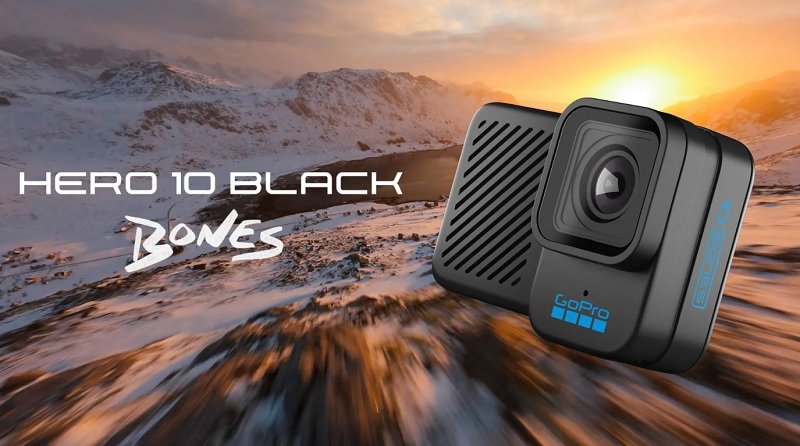 Following Insta360 SMO 4K's success in the drone community, GoPro announced the naked version of their latest action camera. The 'Bones' edition of the popular HERO 10 Black uses the same 1/2.3" image sensor and powerful GP2 processor as its twice heavier twin brother. Weighting just 54grams it can be installed on ultra-light 2.5-4″ CineWhoop style FPV drones.
In order to make it as light as possible, GoPro has been removed from the HERO10 Black Bones camera all the unnecessary components such as displays and battery. The Bones is intended to be powered by the drone's main camera and can't work in standalone mode. Also, the naked HERO10 Black lost its waterproof or water-resistant capabilities.
The ReelSteady desktop APP (Windows and macOS) delivers stabilization that goes beyond the already stunning in-camera HyperSmooth 4.0 to give drone pilots the level of performance they demand. Using video metadata (GPMF), it delivers flawless results on virtually any shot.
Top FPV Video Modes of the GoPro 10 Bones
5.3K Wide 60/50/24p
5.3K SuperView 60/30/24
5K (4:3) Wide 30/25
4K Wide 120/100
4K (4:3) Wide 60/50/30/25
2.7K (4:3) Wide 120/100
2.7K Wide 240/200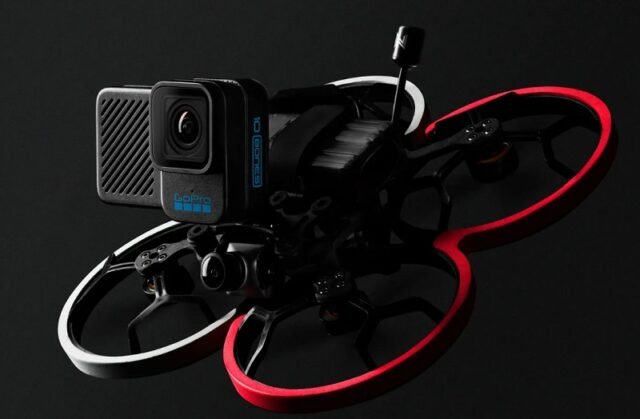 As you can see in the image above, the GoPro HERO10 Black Bones has a minimalist design. On the back of the camera, is a standard mounting point that allows being installed on FPV drones. With the included mounting fingers, you can mount the camera on a standard GoPro mount.
The GH 1.25 3-pin Power connector, Status LED, Shutter and Mode buttons are also on the back of the camera. It can be controlled from the onboard buttons, remote controller, Quick APP, or from your drone's transmitter.
HERO10 Black Bones Features
No compromises flagship image quality and stabilization: the same premium high-performance imaging pipeline powered by GP2 as HERO10 Black – including GoPro's Emmy® Award-Winning HyperSmooth and 5.3K60 and 4K120 video
Lightest GoPro ever: weighs only 54 grams – perfect for 3″ class and larger drones
Well-ventilated, semi-durable enclosure: promotes continuous airflow cooling for long captures or flights
Bring your own battery: compatible with existing drone batteries within spec (2S-6S, 5-27V)
Multiple ways to control: use two physical buttons on the camera, the Quik App, GoPro Labs QR Codes, GoPro's The Remote, or a drone's transmitter
Easy to set up: easy to mount on drones with a single screw boss, plus comes with an optional in-box adapter for the GoPro mounting ecosystem; utilizes standard FPV industry connector for quick setup
Replaceable Lens Cover: in the event of a crash, the lens cover is replaceable; also compatible with third-party HERO9 Black and HERO10 Black ND filters for reducing the camera shutter speed to cinematic levels
ReelSteady Stabilization included: license for Emmy® Award-Winning ReelSteady stabilization and other premium features in the GoPro Player + ReelSteady desktop app included with purchase
Price and availability
The HERO 10 Bones drone camera is priced at $399 at GoPro.com. This price includes a bonus 32GB micro SD card and 1-year of GoPro subscription. For now, the GoPro Bones is available only for US customers.