GoPro is the action camera industry leader and the Hero 10 Black is the company's new flagship for 2022. I've spent more than two months with this camera in order to find out if the on-page specs and features translate to real-world usage. My in-depth review includes what I loved about the GoPro Hero 10 while using it with two of my drones and for short travels. As no gadget can be perfect, I will reveal also the weakness of this action camera.
Thanks to the new GP2 processor, the Hero 10 Black can capture 5.3K resolution footage at up to 60fps or 4K footage at 120fps, which is quite impressive. Still not enough? Then drop it down to 2.7k and shoot at 240fps, which allows cool 8x slow-motion videos. It also boosts the horizon leveling to 45-degrees from its predecessor's 27-degrees. The new 1/2.3-inch 23MP image sensor promises better low-light photography.
Initially, GoPro cameras were intended for sports activities, but shortly they were also used on drones. As the biggest challenge of flying machines is to keep the take-off weight as lowest as possible, hobbyists started to mod the GoPro camera by removing the battery, screen(s), and all other unnecessary components. The lightest 'Naked' GoPro weighs just 17 grams!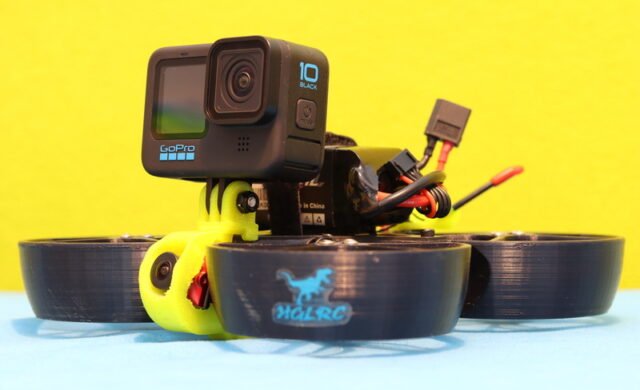 GoPro 10 in the world of drones
Before I'll getting into details, I should mention that this review is not sponsored. I purchased the GoPro Hero 10 camera by myself for personal usage. Over the past 8 years of blogging, I tested close to 20 action cameras from various brands including GoPro's biggest rivals DJI and Xiaomi. Maybe GoPro does not always have the best specs on paper, but it has the best reputation image quality-wise.
I purchased the GoPro for €379.98 in Europe with included 1-year GoPro Subscription and a 32GB micro SD card. It was also the option for 'Accessories Bundle' with included spare battery, Magnetic Swivel Clip, and Shorty mini tripod (€479.98). For €49.99/yr, the GoPro Subscription offers unlimited cloud backup + auto uploads, $100 off for a new camera, up to 50% off for accessories, and lastly but more importantly, No-questions-asked camera replacement (exchange up to two cameras a year). This kind of premium service is a must-have for FPV pilots that often crashes their drones with the camera on top.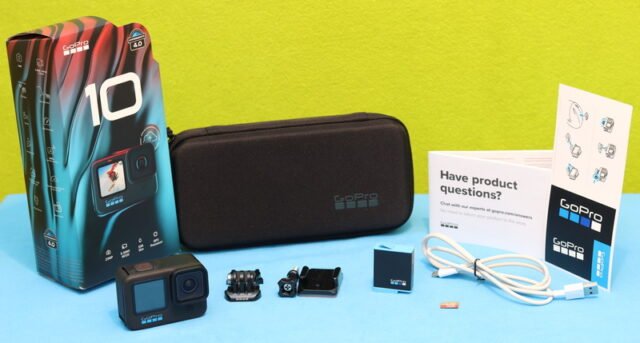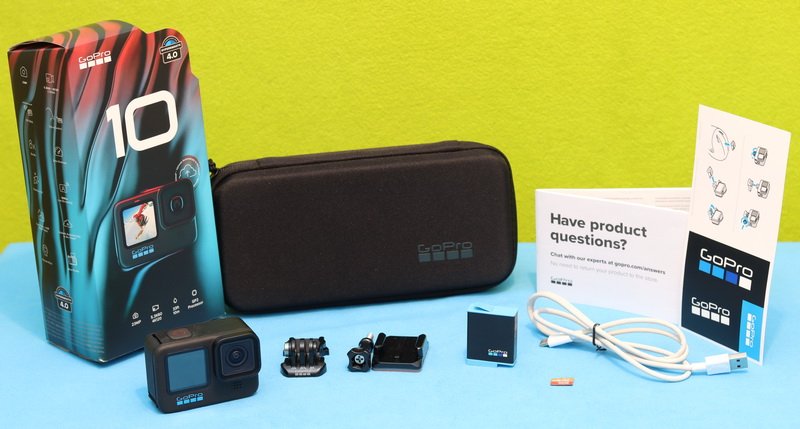 The GoPro 10 comes in a not-too deluxe hard-shell camera case. In addition to the USB Type-C charger cable, there is included only a curved sticky mount. The camera measures 71x55x33.6mm (2.8 x 2.2 x 1.3 inches) and is as light as just 153 grams (5.4 ounces). It has inbuilt foldable mounting clips, attach to a drone, selfie stick (for vloggers), or mounting accessory.
To be natively waterproof (up to 10m/33feet), the battery bay's door has a rubber seal. The Type-C USB charging/data port and micro SD slot are also protected by the cover. It features a removable hydrophobic and scratch-resistant lens cover that keeps water out while you're shooting in extreme weather conditions.
It has two LCD screens, a 2.27″ touch display at the back and a 1.4″ selfie display in the front, just like its predecessor the GoPro 9. Both screens provide color live-view. For easy operation, the GoPro10 has only two buttons: Power/Mode (left side) and Shutter (top). The touchscreen is responsive allowing easy configuration and navigating through the menus.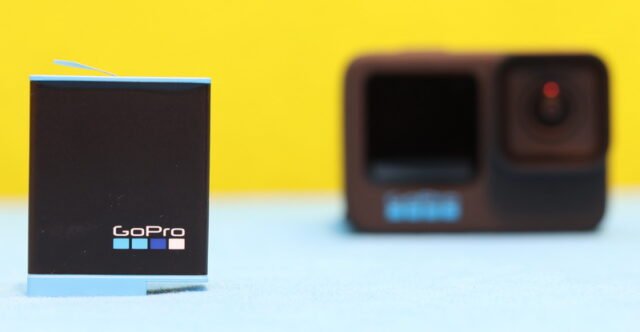 GoPro 10 battery
The GoPro Hero 10 is powered by a 1,720mAh battery. By default, it comes with a blue battery, but it is also available black battery (Enduro) that promises faster charging, better cold-weather performance, and up to 40% extra working time.
Hero 10 Black HyperSmooth 4.0 video stabilization
The HyperSmooth has been firstly introduced with the Hero 7 Black and claims to be the next level of Electronic Image Stabilization (EIS). Thanks to the advanced scene analysis and roller shutter correction algorithm, the camera is able to proactively look at how motion is happening frame to frame and adjust correction to make the video super smooth. GoPro 10's powerful GP2 processor brings 4th generation HS, offering insane gimbal-like stabilization in all modes/resolutions. You can set 3 levels of stabilization: Boost, High, and Standard.
Unfortunately, there are some disadvantages of this technology as requires lots of CPU power. When HyperSmooth is enabled, the camera will heat up and drain the battery faster. Also, the FOV is reduced due to that EIS works by cropping in a small amount from the edge of a frame to lessen camera motion. When is used with a dedicated gimbal, HyperSmooth 4.0 can be turned off.
Handheld gimbal for GoPro 10 camera
The ZHIYUN Crane M3 is one of the most advanced gimbals that can be used not just with GoPro cameras, but also with smartphones, and mirrorless cameras. In addition to the 3-axis motorized stabilization, it has a built-in power LED light which is perfect for news reporters and vloggers.
GoPro Hero 10: User experience
Before the first usage, you need to activate the camera through their APP. The process is straightforward and can be done in a few minutes. It takes a couple of attempts till you get used to opening/closing the battery bays door, as requires to use some force, but this is understandable as needs to be watertight.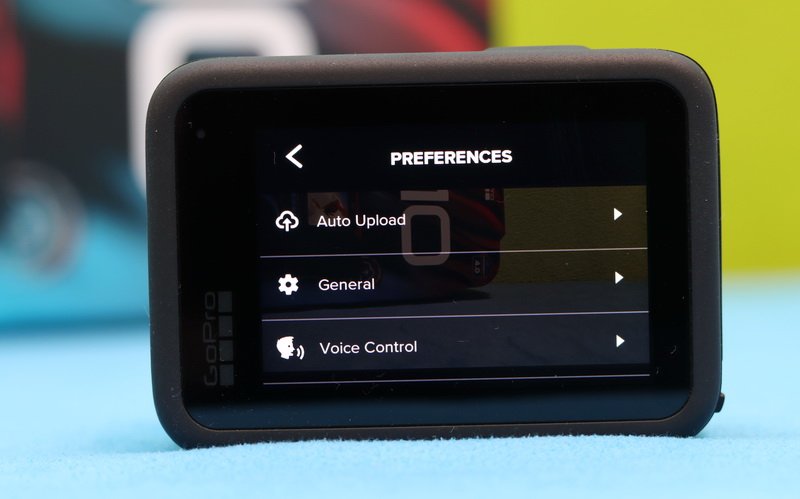 The new 2.27″ touch display is very responsive allowing easy navigation between menus. It needs to tap more than once rarely. The GoPro has some handy presets for both Video and photo modes.
The GoPro 10 has 3 working modes:
Video (Includes Standard, Activity, and Cinematic presets);
Photo (Includes SuperPhoto, HDR, LiveBurst, Burst, RAW, and Night presets);
Time Lapse (Includes TimeWarp, Time Lapse, and Night Lapse presets).
In video mode, you can opt between the following field of views:
SuperView (16mm);
Wide (16-34mm);
Linear (19-39mm);
Linear + Horizon leveling (19-34mm);
Narrow (27mm).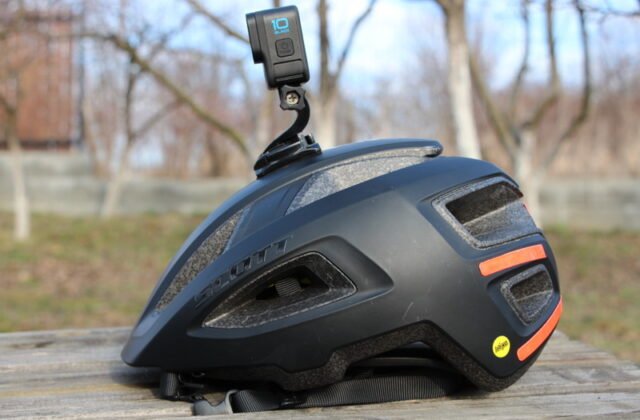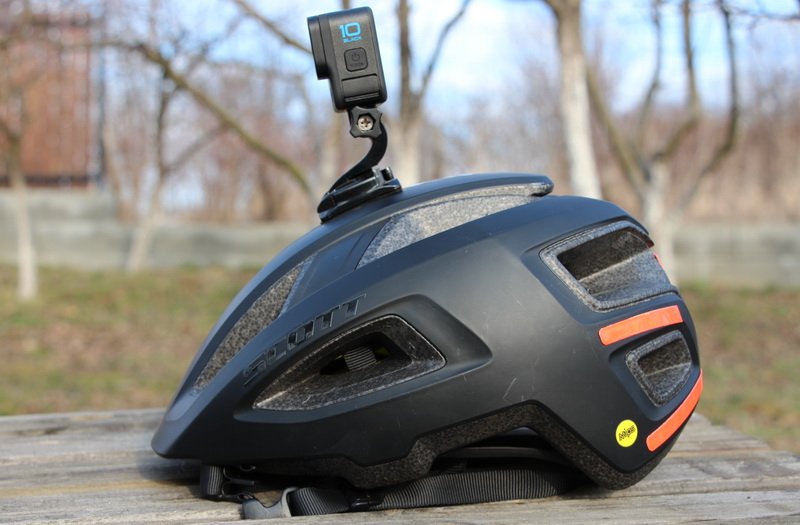 Since I received this action camera, I used it for all my drone reviews. The high-frame-rate mode (2.7@240 fps) takes super cool slow-motion videos. The GoPro 10 is also a great companion for biking and other sports activities. The included mount allows being easily attached to your helmet.
The GoPro Hero10 also works as a webcam. It plugs into a free USB port on a computer/laptop (Microsoft of Mac) and works with the GoPro Webcam utility software. Through the GoPro Quik APP, you can also live-stream across multiple social media platforms including Facebook and YouTube. A detailed guide on how to set up steaming can be found here.
I installed it on two of my drones, the HGLRC Sector 5 and the RaceWhoop30. As you can see in the image below, there is a significant size difference between the GoPro 10 and the Insta360 GO2, so it can be used only on bigger drones (3″+).
The footage can be transferred from the camera to your phone wired and wirelessly as well. If you paid for GoPro Subscription, you can upload directly to their cloud.
Once I fully discharged the battery and the camera didn't want to start again even after I plugged in. If you encounter the same problem, you just need to press and hold the Power/Mode button for about 10 seconds, then release it. This acts as a reset and makes your camera power ON again.
Sadly, like its predecessors, the 10th generation GoPro still struggles in low-light conditions. My wife's iPhone produces much better videos with less visible noise and better contrast. On paper, the Hero10 promises to last between 1.5 to 2 hours per charge, depending on your settings. During my tests, I found out that the more you use HyperSmooth 4, the faster the battery will drain. On highest resolution, with HS4 enabled, the working time it's less than one hour.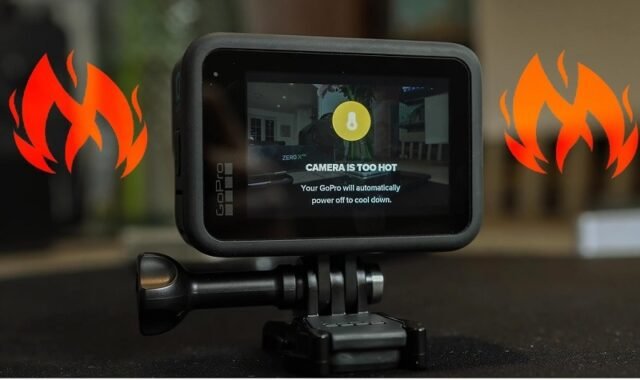 Does the GoPro Hero 10 Black overheat?
While the camera does get warm while recording at 5K@60fps and 4K@120, I didn't experience any random freeze, restart, or shutdown. To be honest, my clips are rarely longer than 10 minutes and I don't leave both displays active all the time while recording. On the other hand, if the temperature is too low, the screen is turned off automatically during recoding, making impossible to keep your subject in the frame.
Price/performance ratio

Design and build quality

Image quality

Video Stabilization

Low light performance

Battery life

App Features
Summary
The GoPro Hero 10 camera has a lot of features and provides professional-quality footage for a reasonable price. Being natively waterproof, it can be used for all kinds of sports activities. It is also the best option to install it on an FPV drone for cinematic aerial footage.
Pros
New generation GP2 processor;
Dual screen (front and rear);
5.3K@60fps, 4K@120fps, and 2.7@240fps;
Class-leading image stabilization;
Natively waterproof up to 10m/33feet (without case);
Backward compatibility with Hero9 accessories;
Cons
Poor battery life;
Over-heating problem (on continuous 4k@120/5K@60fps recording);
The display is turned off in cold conditions;
Mediocre low light performance and audio quality.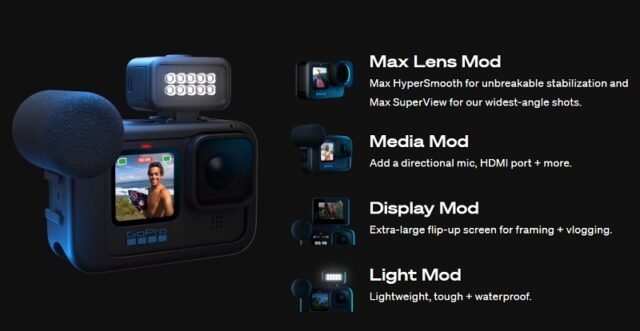 Transform HERO 10 Black Into a Creative Powerhouse
The GoPro 10 itself is a great camera but it lacks in connectivity and mounting possibilities for external accessories such as an external microphone. For extra money, the company offers a wide range of addons that can be attached to their 'Media Mod' frame, allowing you to use the camera in just about any situation. Designed for vlogging and live streaming, in addition to the built-in microphone, you can attach a powerful LED light or 2-inch flip-up screen.
GoPro Hero 10 vs Hero 9 Black: Is it worth the upgrade in 2022?
Visually, the GoPro 10 Black looks very similar to its predecessor. Both action cameras are rugged and waterproof up to 33 feet (10 meters) and include the front selfie display that debuted on the Hero 9. The only visual difference is the new blue logo, bringing a pop of color to the otherwise minimalist black design. However, as usual, the biggest difference is hiding inside. The GoPro 10's new powerful GP2 processor allows higher frame rates and better low light performance.
GoPro 10
GoPro 9
Release date
September 2021
September 2020
Weight
153 grams
158 grams
Processor
GP1
GP2
Video
5.3K/60fps
4K/120fps
2.7K/240fps
5.3K/30fps
4K/60fps
2.7K/120fps
Photo
23MP and up to 19.6MP frame grabs
20MP and up to 14.7MP frame grabs
Stabilization
HyperSmooth 4.0
HyperSmooth 3.0
Leveling
Tilt limit 45-degrees
Tilt limit 27-degrees
Battery life
1.5 to 2 hours
1 to 2 hours
Price
$349.98 (US)
€379.98 (Europe)
$349.98 (US)
€379.98 (Europe)
From the comparison table above it's clear that the Hero 10 Black is superior to the Hero 9 Black in every way. With faster frame rates available at higher resolution, there's a lot of flexibility to what you can do with it. Plus, with a hydrophobic lens and improved low-light performance, there's a lot to love about it. The GoPro 10 also promises slightly better battery life.
You might have to upgrade your microSD card if you're moving up from an older GoPro camera to the new Hero 10. Recording at 5.3K@60 requires super-fast micro SD cards.
Unfortunately, the higher performance generates more heat. Many GoPro 9 users who upgraded to the new GoPro 10 encountered problems with overheating, which were not found in the previous model.
Taking into consideration that, currently, GoPro offers their Hero 9 and 10 for the same price, the decision you need to make in choosing a camera is not that hard.
Top 5 popular GoPro 10 videos
To show you how this action camera can perform in the hands of professionals, I collected the top 5 most epic GoPro 10 Hero videos on YouTube.
Wingsuit Flight Through 2 Meter Cave – Uli Emanuele
2. Top 10 Animal Encounters
3. Top 10 Mountain Bike (MTB) Highlights
4. Surf Moments
5. Flying up Close Over an Active Volcano in Iceland