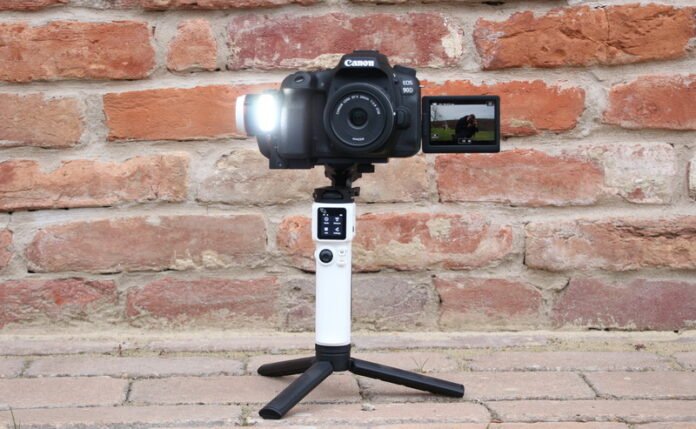 When I read for the first time about the ZHIYUN Crane M3, I decided that this is the gimbal I need. In the last two years, I reviewed about 10 gimbals but none completely fulfilled my needs. For vlogging, you need a stabilizer that is compact, lightweight, can be operated by one hand, and is compatible with a wide range of camera types. The Crane M3 gimbal can be used with lightweight video gears such as action cameras and smartphones, as well as with heavy stuff like a full-frame mirrorless or DSLR camera.
The 3rd generation ZHIYUN Crane has been completely redesigned compared to its predecessors -now it looks like a fashion accessory. Of course, besides the facelift, it comes with many other upgrades. Intended for vloggers who often film in dark conditions, it comes with a powerful adjustable inbuilt fill light.
Crane M3 gimbal highlights
Silk design and small lightweight body (only 700 ~grams);
Compatible with a wide range of video gears (smartphones, action cams, full-frame mirrorless, and compact DSLR cameras);
Gen4 Quick-release plate;
Built-in Dual Color Temperature (2600K-5400K) Fill Light (800Lument);
1.22" OLED touch screen display;
Wireless connectivity and APP remote control;
Up to 8 hours battery life.
ZHIYUN Crane M3 Pro gimbal hands-on review
Disclosure: I received this camera stabilizer as part of a product review collaboration with Zhiyun-Tech. Product specs and quality may vary according to the manufacturer's reliability, so I cannot guarantee that you will get a unit that performs the same as seen in my review.
The Crane M3 is available in 3 package options and I had the luck to receive the 'Pro' version with the following accessories: backpack, camera holder with tripod screw, phone clamp, mini tripod, expansion base, microphone, 4x light filters, 3x camera data cables, and 2x microphone cables.
Crane M3 gimbal: At a glance
Unwrapping the package I was impressed by everything around the Crane M3 gimbal. It has a beautiful design. The white, black, and red color combination grants a stylish look -it is a piece of eye-catching enginery. The backpack comes with two straps and 3 zipped pockets (two external and one internal). The magnetic flap and weathertight zipper on the main compartment are really nice features.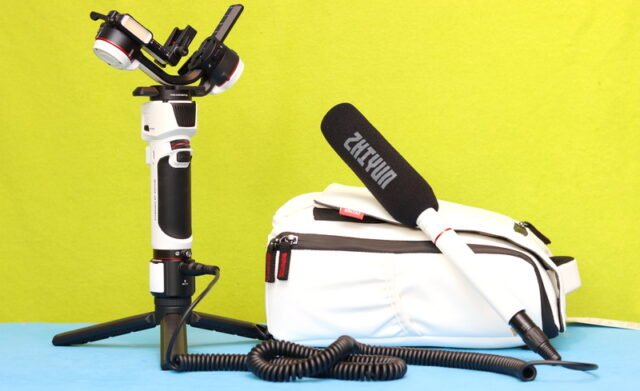 The Crane-M3 is a lot lighter than its bigger brother, the Zhiyun Weebill 2, so you'll be able to hold it with one hand for much longer without getting an achy wrist. It is around the size of a beer bottle, more precisely 208*102*290mm. Without expansion base and mini tripod, it weighs just 693 grams. In addition to the bottom tripod mount, it has a second 1/4″ port on the left side right for further extensions such as a live-view monitor. In portrait mode, you can attach the mini-tripod allowing more comfortable operation. The extension base provides a third tripod mount if needed.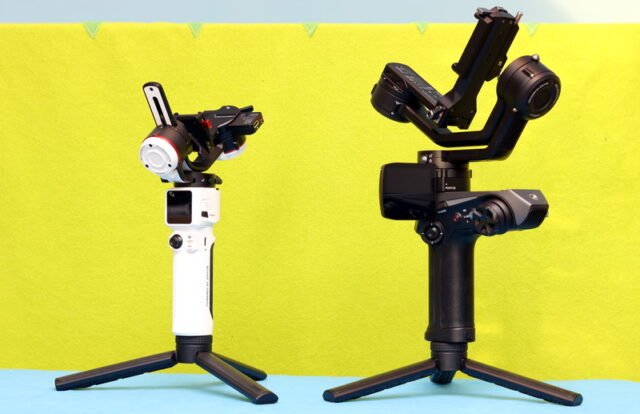 All axis can be individually locked and have scales for easy balancing. The camera plate has a single 1/4″ screw for camera installation, phone holder, or GoPro mount. A two-step safety lock ensures that you won't accidentally lose the camera from the gimbal.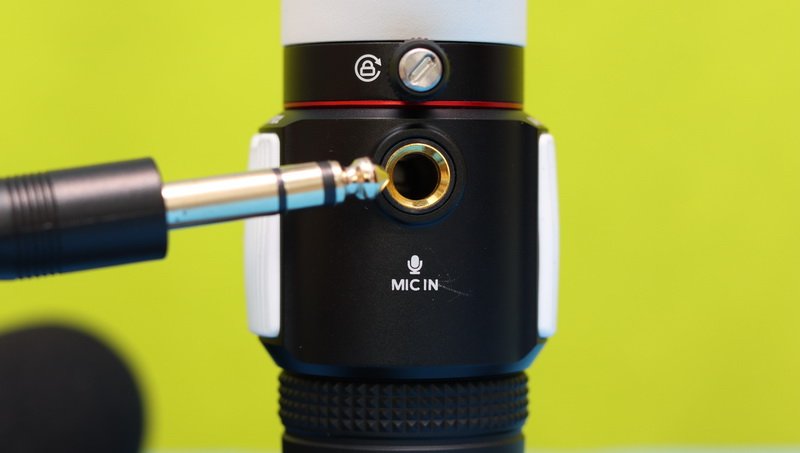 Crane M3: Control panel
On the front panel, there is a status touchscreen, a tiny joystick, and two buttons (Mode and Camera). The 1.2″ screen is bright and responsive, making it easy to navigate between the menus. Besides the usual Smart Trigger button, there is a configurable Adjustment Wheel (the latest firmware is required!) on the back.
Power Button

Single press: Lock/unlock the touch screen
Press and hold: Power on/off

Photo/Video Button

Single press: Start/stop filming video
Double press: Take a photo

M Button

Single press: Switch gimbal modes( PF-L-F)
Double press: Switch gimbal modes( POV-V)
Press and hold: Sleep mode/wake mode for the gimbal motor

Fill Light Control Wheel

Single press: Switch between brightness/color temperature
Press and hold: Turn on/off the fill light
Slide up/down: Adjust brightness/color temperature

Trigger Button

Double press: Reposition
Triple press: 180° rotation for the pan axis motor
Press and hold: Enter Go Mode. Release to return to the previous mode.

Joystick: Push the joystick up/down/left/right to control the gimbal to rotate.
Adjustment Wheel

Change roll axis (with the latest firmware)
Adjust customized setting compatible camera settings (aperture, shutter, ISO, Zoom)
Crane M3: Built-in fill light
The Crane M3's 6W LED has full step-less dimming control and Kelvin color temperature adjustment. Settings can be changed using the left control wheel. ZHIYUN provides four magnetic light filters for the LED light (blue, pink, yellow, and orange).
The brightness level can be adjusted between 0-800 lumens and the Color Temperature Level between 2600K-5400K (Soft white to Daylight). While Cool light is preferred for technical tasks, as it helps create higher contrast, Warm lights are ideal for living spaces as it is more flattering to skin tones. The auxiliary light is a great addition for those who use often the gimbal in low light conditions.
Crane M3 Pro: The microphone
Sound quality is just as important as the video quality in Vlogging. Regardless of how beautiful or engaging your visual subject matter is, if it sounds average, people will probably tune out right away. The Crane-M3 Pro pack includes a nice microphone that can be connected through the gimbal to your camera. The connection between the expansion base and the mic is made with a spiral XLR to 6.2mm jack cable.
The Crane M3's shotgun mic is powered by a AA battery and has two working modes: Cardioid (heart-shaped pattern) and Hypercardioid (extended sound pattern). The removable foam protects the microphone diaphragm from gusts of air that can cause loud pops in the audio signal.
Price, availability, and options
The Crane M3 can be found at zhiyun-tech.com with a starting price of €399 for the Standard kit. The 'Combo' pack, for an extra €90 includes the phone clamp and backpack. If you are seriously into professional vlogging, the 'Pro' kit shown in this review is available for €699.
User experience: Balancing and camera swapping
Most stabilizers are designed to serve a specific niche: action cams, smartphones, or mirrorless cameras. If you're lucky, you might find a gimbal that covers two of the three, but compatibility with all three makes the Crane M3 fairly unique. Switching from one camera type to other is very easy. ZHIYUN includes in the box a universal mobile phone holder that can accept quite large phones (big as the Samsung S21 Ultra or iPhone 13 Pro Max).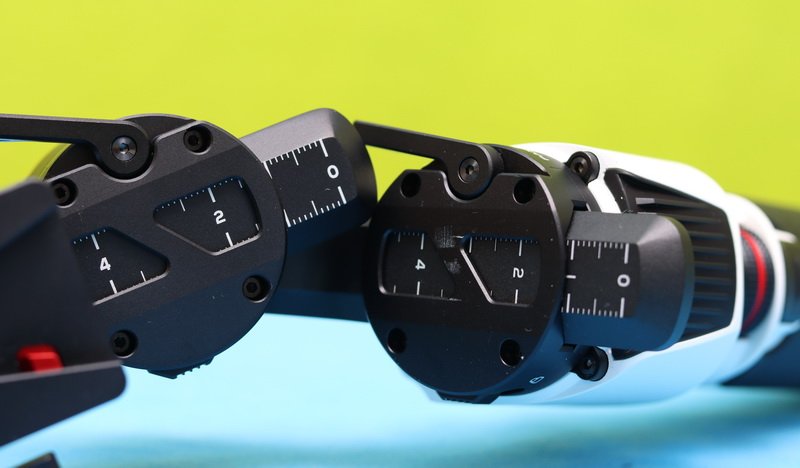 I asked ZHIYUN about the recommended minimum/maximum payload but instead, in order to provide these details, they told me to consult the camera compatibility list.
1. Crane M3 with Smartphone
Firstly I test it with my wife's iPhone. With some 'field' experience, you can install a phone and balance the gimbal in just a few minutes. The Crane M3 has lockers that help to work with one axis at a time. The scales and center guidelines are also really helpful in the process. When everything looks in balance, it is recommended to perform an auto-calibration which fine-tunes each axis (in the process, the gimbal makes movements similar to an earthquake). It is also recommended to set the power level (Parameter Settings – Motor Settings Low/Medium/High) according to the camera's weight. If the motor torque is too low/high for the payload, the camera will shake and affect the gimbal performance and battery life.
2. Crane M3 with Action Camera
Next, I installed my brand new GoPro 10 using an action camera tripod adapter. I didn't need to add any counterweight this time either. I suppose that minimal payload starts somewhere arround 120 grams.
3. Crane M3 with DSLR camera
Lastly, I wanted to check if it can handle my Canon 90D DSLR camera with a 24mm/F2.8 lens (830 grams total weight). In terms of size, probably this is the biggest camera (140.7 x 104.8 x 76.8mm) that can accommodate. The gimbal worked with no issue, but the included data and microphone cables are too short for this camera size.
I read many complaints regarding that is quite complicated to swap the camera. Personally, I manage to remove the phone and install the DSLR camera in just 10 minutes. My recommendation is to always use the mini-tripod and power off the gimbal while you change the camera. Also, check all the axis levers to be tight before you power on the gimbal. Once, I forgot to secure all of them, and during Vortex mode, the camera suddenly slipped scaring me like hell.
Crane M3: Gimbal working modes
Pan Follow mode (PF): The tilt axis and roll axis motors are locked and the camera rotates with the handle while panning horizontally. Push the joystick up/down to control
the tilt axis angle, and push it left/right to control the pan axis of the camera;
Lock mode (L): All three motor angles are locked and the camera orientation will not move with the rotation of the handle. Push the joystick up/down to change the tilt angle of the camera and left/right to change the horizontal orientation of the camera;
Follow mode (F): The roll axis motor is locked and the tilt axis and pan axis motors follow the rotation of the handle. Push the joystick up/down to change the tilt angle of the camera and left/right to change the horizontal orientation of the cameral;
Point of View mode (POV): All three motors move when the handle is rotated.
Vortex mode – 360° barrel shots (V): The tilt axis motor rotates upward by 90° and the tilt axis, roll axis, and pan axis motors follow the rotation of the handle. Push the joystick to the left/right to control the rotation of the pan axis;
Go mode (GO): The roll axis motor is locked and the tilt axis and pan axis motors quickly follow the rotation of the handle;
Portrait mode: The tilt axis motor rotates upward by 90° and the pan axis rotates by 90°. You can enter this mode for vertical filming;
Manual reposition: In Pan Follow mode (PF) and Lock mode (L), the camera can be rotated by a certain angle by hand. Hold it for 2s and the camera angle will be fixed at that angle after you release the camera.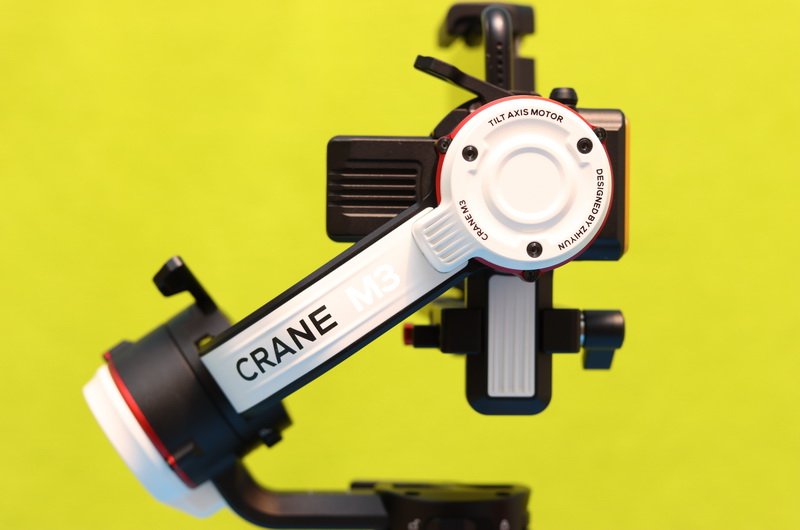 Editor's ratings
Price/performance ratio

Design and build quality

Video Stabilization

Battery life

Camera compatibility

App Features
Summary
The ZHIYUN Crane M3 is a versatile gimbal designed for vloggers and content creators alike witch prefer stylish and compact gears. It can handle with no problem smartphones, action cameras, and mirrorless cameras. The 'PRO' edition comes with a professional microphone in a trendy shoulder bag.
Pros
Stylish white finish;
Great combo for vlogging and podcasting;
Can handle all my video gears (GoPro 10, iPhone 12, and Canon 90D);
Comfortable one-handed operation.
Cons
Data and mic cables are too short for big cameras;
APP lacks in features;
Can't direct control phones and action cameras;
Compatibility problem with my Canon 90D.