The Weebill 2 is Zhiyun's newest camera stabilization system with a distinguished design and a flip-out color LCD. With 3.3Kg (7.3 lbs) payload, it is suitable for full-frame Mirrorless cameras and DSLR cameras. In addition to 3-axis stabilization, the Weebill 2 gimbal connects to a wide range of cinema cameras and allows varying degrees of control, from start/stop recording to remote focus and zoom control.
With an extremely sturdy build quality, the Weebill-2 comes in at just 1.47Kg (without the camera attached, of course). This makes it perfect for traveling and vlogging, where lightweight gears are essential. One of the most challenging aspects of filming with gimbals is holding the video rig effortlessly while you're moving – the included mini-tripod doubles as a sling handle for even more comfortable usage.
Key features
3.3kg (7.3 lbs) load capacity and Quick-release plate;
All-axis locking system for easy balancing;
Multiple working modes (Pan follow, Lock, Follow, POV, Portrait, Go, and Vortex);
Foldable 2.88″ Full-color Touch Screen;
Configurable Focus Control Wheel;
Dedicated gimbal mode switch;
Remote camera control (depends on model);
Wide range of accessories available to expand features;
9-hour battery life.
Zhiyun-Tech Weebill 2 gimbal review
Disclosure: I received this gimbal as part of a product review collaboration with Zhiyun-Tech. Product specs and quality may vary according to the manufacturer's reliability, so I cannot guarantee that you will get a unit that performs the same as seen in my review.
Zhiyun's marketing agency contacted me a few weeks before the official release date regarding the possibility of testing an upcoming camera gimbal. As recently, I purchased a new DSLR camera for 4K videos, I happily accepted their offer. About a month later, I received a package with the Weebill-2 gimbal inside. They sent me the standard edition, in which the gimbal comes in a molded foam sandwich. To be honest, for its price, they should include a decent carrying case. Besides the stabilizer and mounting plates, there are 4 camera cables (MINI, Micro, Multi, and Type-C), USB Type-C charging cable, a handheld tripod, and lens support included.
At a glance
The Zhiyun Weebill 2 has a different design compared to the other gimbals I reviewed on FirstQuadcopter. Instead of an 'I' shape grip, it has an 'L' profile – this approach makes it very compact (see the comparison image below). It roughly measures 319 x 225 x 62 and weighs almost 1.5 KG. When it is folded has a nice travel-friendly footprint.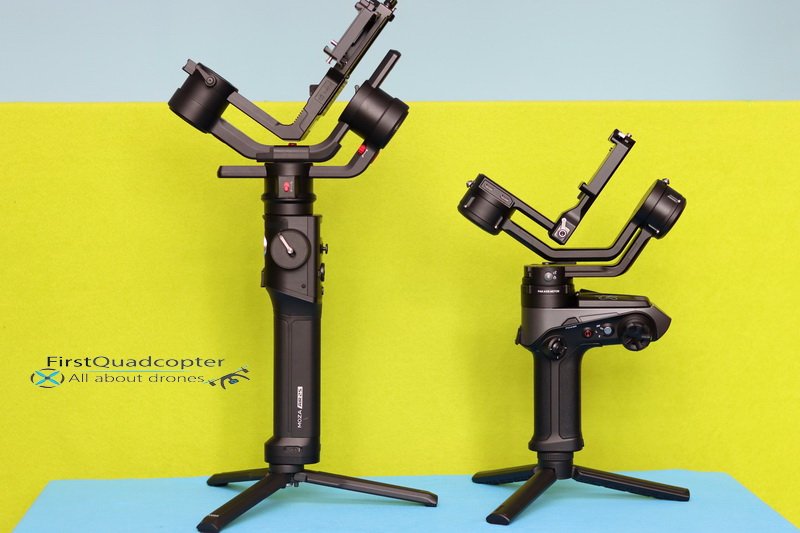 Excepting the 4-D thumbstick, all the controls are moved from the handle grip to the upper part, making it complicated to be used by left-handed videographers. Power switch and charging level indicator LEDs are also on the side panel. On the opposite side, there is an ARRI Rosette mount for heavy accessories. It has two tripod mounts, one on each end of the L-shaped grip. Except for the "Standard' pack, all other variants come with an ergonomically designed sling grip handle. There is a safety locker that prevents accidentally rotating and losing it.
The Weebill 2 has locks for each of the 3-axis for individual calibration and tuning. This feature is also handy when you transport the gimbal from one scene to another, or you just want to place it on the ground till you drink a coffee.
It comes with a two-part quick release plate for the camera that's easy to remove from the base unit. Unfortunately, the camera plate is not compatible with the Arca-Swiss system.
It has 4 USB Type-C ports. Camera, Follow focus, and Transmission control ports are found on the tilt axis motor. The charging port is on the bottom behind a rubber flap.
Zhiyun opted for built-in batteries. The 18650-2600mAh cells provide up to 9 hours of continuous usage. With a 24W PD power adapter, you can fully charge it in approximately 90-100 minutes.
Controls and display
When I saw the first Zhiyun Weebill-2 promo videos, I thought it came with a built-in live-view solution. Instead, the foldable 2.88″ full-color touch screen can be used only for configuration. Live view and active tracking require the new generation TransMount Video Transmitter (AI) module.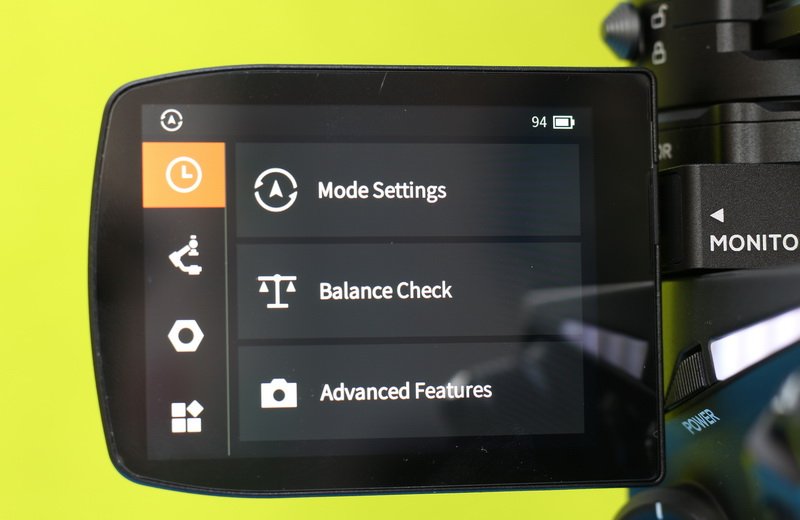 In addition to the 4D thumbstick, there is a smooth control wheel, camera shutter, and a quick gimbal mode switch lever (PF – Pan Follow, L – Lock, and F – Follow). If your camera is compatible, you can start/stop recording directly from the gimbal.
By default, the control wheel changes the roll angle. If your camera/hardware is supported, you can also assign advanced functions such as Aperture, ISO, Shutter, Electronic focus, Follow focus motor, or Follow zoom motor control.
On the back of the grip, there is a Smart Trigger which is available on most gimbals. It even has similar functions too -press two times for re-centering or three times for selfie mode.
Price, availability, and package options
The Weebill 2 is available on Zhiyun's online store with a starting price of $549. In addition to the Standard edition that includes only the bare minimum accessories, the following package options are available:
Combo – $649

Standard box;
Carrying case;
Sling Grip Handle.

Pro – $899

Combo pack
TransMount Video Transmission Transmitter AI
TransMount Focus/Zoom Control Motor 2.0

Pro Plus – $1.099

Pro kit
ZHIYUN MasterEye Visual Controller VC100
Using the 'HELLOZHIYUN' discount code, you can get 5% off on your first order.
User experience
The included manual comes in 14 languages. Besides that it does not provide too much information, is printed with super-small characters, so it is hardly readable. Anyway, if you have some experience with camera stabilizers, setting up the Zhiyun Weebill 2 will be easy.
The first thing is to attach the camera plate. You can use only the long base plate, but you can also add the small riser if the lens touches the base. For this process, you will need a slotted screwdriver (not included in the box). For big lenses, you can use the included support which will be installed at the end of the camera plate.
Well balancing the gimbal is essential for smooth operation. Many YouTube videos explain this procedure in detail. The all-axis looking system and distance scales are really helpful in the process. Practically, you look two-axis and set the third one till is in balance. When everything looks in balance, it is recommended to perform an auto-calibration which fine-tunes each axis.
After I wired my Canon 90D with the gimbal using the included USB Type-C to Micro USB cable, I managed to start/stop recording and control electronic focus. A few times, I got 'Err 70 – An error prevented shooting' message, and I had to reinstall the camera's battery and power it again. I never got this message before, so the Weebill 2 may have sent some commands that are not liked by the camera.
When operating the Weebill-2, you can either hold the gimbal in a standard upright position or utilize its sling mode for lower shots. Both ways are very comfortable. The rubber coating provides a firm grip. The joystick is perfectly positioned, but only if you are right-handed. The touch screen is very responsive and easy to use.
ZY Play mobile APP
For now, I tested only the Android version, and to be honest, I'm not too impressed by it. With a review score of just 2.1 is clear that it is not the best APP on Google Play. There are integrated only a few basic functionalities. I especially miss the Active Track function.
It has mimic motion control, but it is not working as it should. The movements of the gimbal do not follow my phone's movements in tandem.
Zhiyun Weebill-2 gimbal working modes:
Pan Follow mode: The tilt and roll axis are locked and the camera rotates with the handle while panning horizontally. Use the 4D joystick to control the tilt axis (up and down), and push it to the left or right to control the pan angle (horizontal movement).
Lock mode: All 3-axes are locked, and the camera will not move with the rotation of the handle grip. Move the thumbstick up/down to change the tilt angle or left/right to shift the camera's horizontal orientation.
Follow mode: Roll-axis is locked, and the tilt and pan axis motors follow the rotation of the handle. The joystick is pushed up or down to change the roll angle.
POV mode (Point of view): All 3 motors move together with the handle, so the camera follows the movement of the handle, creating an immersive first-person view effect.
Portrait mode: Allows quick vertical shooting for TikTok and Instagram Reels.
Go mode: Roll-axis is locked, and the tilt and pan motors quickly follow the rotation of the handle. This gimbal mode is useful for sports videos with fast movements.
Vortex mode: Tilt-axis motor rotates upward by 90°, and the tilt, roll, and pan motors follow the rotation of the handle. Use the thumbstick to create cinematic Barrel Rolls videos. This mode allows endless 360° rotation.
Editor's ratings
Price/performance ratio

Design and build quality

Video Stabilization

Battery life

Camera compatibility

Mobile APP

Weight/Paylod ratio
Summary
The Weebill 2 it's a professional tool that requires additional accessories to unlock its full potential. Without the TransMount Video Transmitter (AI) module, the foldable LCD is more a marketing trick than a true selling point.
It has a max payload of max 3.3 KG, so you can expect it to handle a majority of popular mirrorless and DSLR cameras, including full-frame ones.
Pros
Works with full-frame mirrorless and DSLR camera;
Color touch LCD;
USB connection for camera control;
Mini tripod doubles as sling handle;
Built-in TimeLapse and MotionLapse functions;
Up to nine hours of running time.
Cons
Not for left-handed photographers;
Mobile APP lacks in features (no active tracking);
Mimic Control not worked as it should;
Not come in a bag.
3 most popular Weebill-2 gimbal video reviews