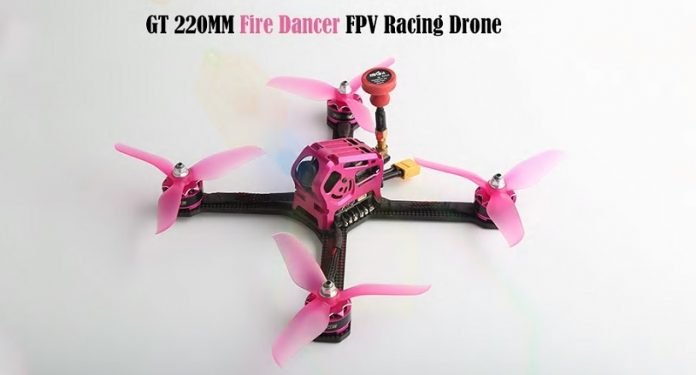 Surely, the FuriBee GT 220MM Fire Dancer is not just beautiful, but thanks to the 5 mm thick carbon fiber arms also very durable. The 960H CCD camera and flight controller are well protected by a aluminium alloy canopy.
Build around the versatile OmniBus F4 flight controller the FuriBee GT 220MM is configurable with multiple flight modes. While newbies can opt for Horizon mode professional FPV racing pilots can have fun with freestyle Acro mode.
As propulsion system are used 2750KV brush-less motors with up to 2 kg trust and reinforced 5048 three-blade propellers.
FuriBee GT 220MM features and specs
Stylish design paired with extreme durability;
Full carbon fiber frame with 5mm thick arms;
CNC aluminium alloy fuselage;
Versatile Omnibus F4 flight controller with BetaFlight OSD;
Powerful 2306 2750KV brush-less motors with up to up to 2 kg thrust;
4-in-1 BLHeli – S 35A ESC (DShot protocol);
960H CCD camera with 2.1mm lens;
5.8G, 48CH video transmitter with 600mW broadcast power (VTX);
Optional radio receiver (DSMX, FlySky or FrSKy).
According to your existing transmitter, you can opt between 3 different radio protocols. Taranis Q X7 owners will be happy to find that FrSky receiver option is available.
The 960H camera is paired with high power 5.8G wireless-video transmitter. The 600mW VTX allows about 1.5Km transmission range, I know probably much more than you ever need.