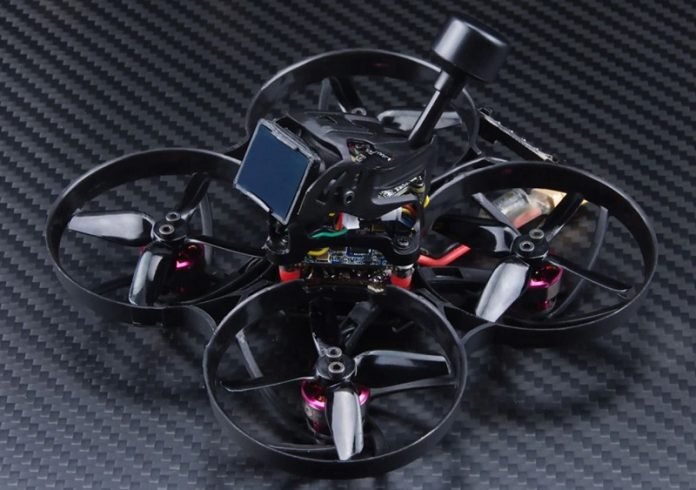 GEELANG has lots of 85mm Whoop drones, but their new Anger 85X seems to be the most well equipped. It comes with Caddx Loris 4K FPV camera, which allows onboard UHD video recording. Despite its small size, the GEELANG Anger 85X can be powered by 4s LIPO packs. According to the rumored specs, a 4S/450mAh battery will allow about 6~7 minutes of flight time.
As you can see in the image below, the GEELANG 85X Anger is packed with lots of accessories including a complete spare frame kit. The box includes two protective canopies as well (black and white).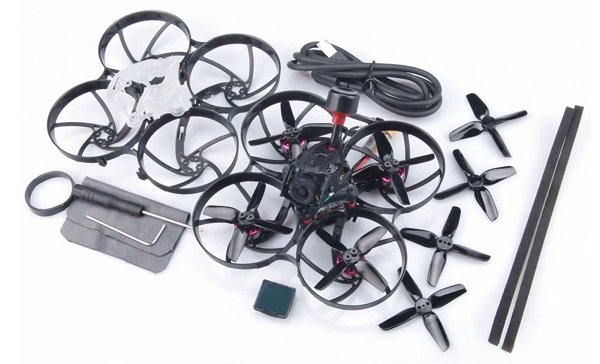 Its all-in-one F4 flight controller has integrated 12A motor speed, controller, and BetaFlight OSD. Thanks to the SmartAudio feature you can change VTX channel and power even remotely. You can opt to purchase it in a bundle with the following radio receivers: FlySky compatible, TBS Crossfire Nano RX, FrSky XM+, or AC800 radio receiver.
GEELANG Anger 85X features and specs
85 mm size frame with Whoop blade ducts and protective canopy;
All-in-one SI-F4FC V1 F4 flight controller with 12A BLheli_S 4in1 ESC;
GL1204 5000KV brushless motors and HQProp Durable T2X2X4 propellers;
5.8G/40CH FPV transmitter w/ adjustable broadcast power (25/100/200mW);
Caddx Loris 4K FPV Camera w/ UV mirror;
RGB LED light strip;
4S LIPO compatible;
Optional AC900, FlySky, TBS Crossfire Nano RX or FrSky XM+ radio receiver.
Main parts details
AIO flight controller specifications
MCU: STM32F411CEU6 (100MHZ, 512K FLASH);
Sensor: MPU-6000(SPI connection);
Store: Onboard black box;
Onboard 12A(each) Blheli_S 4in1 ESC Dshot600 ready;
Built-in Betaflight OSD (SPI Control);
Integrated current meter Max 70A;
Built-in 5V 2A BEC;
Voltage detection;
Power supply: 2-4S battery input (DC 7-17V);
Board size: 21 x 21mm.
FPV transmitter (VTX) specs
VTX Output power: 25~200mw switchable;
Number of channels: 40CH (with race band);
Input voltage: 3.2V~5.2V;
Current consumption: 320mA (type);
Antenna: Lollipop 5.8GHz 2.3dBi Ultra Mini FPV;
Smart audio ready (VTX telemetry);
Weight:1.7 grams.
Motor specs
No.of Cells(Lipo): 3-4S;
Stator specifications: D12 * H4 0.2mm;
Configuration: 9N12P;
Stator Diamter: 12mm;
Stator Length: 4mm;
Shaft Diameter: Φ1.5mm;
Motor Dimension (Diameter*Len): Φ16.0 * 15.8 mm;
Magnet specifications: N52H;
Shift specifications: 2mm High strength steel;
Winding Specifications: 180℃ Class Multiple oxygen-free copper;
Weight: 5.8 grams.