Elegant 230 is a high-performance and ultra-durable FPV racing drone from GEPRC. Its low-profile design allows centralized weight which means excellent stability. Built around the SPAN F4 AIO flight controller, the GEPRC Elegant quadcopter features multiple flight modes. According to your flight skills you can configure 3 types of flight mode. While beginners can start with Angle and Horizon modes, professional pilots can have fun with Freestyle mode.
In order to allow great balance between raw speed and flight time, the manufacturer opted as propulsion system for the GR2306 2450kv brush-less motors and 3-blade 5040 propellers. The motors are drived by a powerful 4-in-1 Blhelis 40A ESC.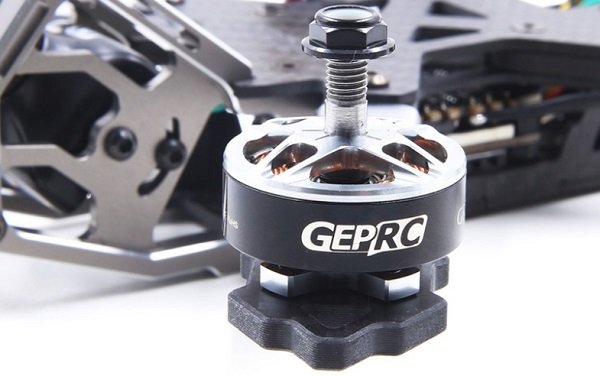 GEPRC Elegant FPV drone features & specs
230 mm sized 3K carbon fiber frame;
SPAN F4 Tower design (FC, ESC & VTX);
Versatile AIO F4 flight controller;
High efficiency GR2306 2450kv motors paired with GEP5040 propellers;
Blhelis 40A buesh-less ESC;
RunCam Swift 2 camera;
5.8G VTX 5.8g w/ adjustable broadcast power 0/25/200/600mw & Pagoda2 antenna;
GoPro Hero camera mount.
In order to ensure an excellent image quality, GEPRC equipped their Elegant drone with the professional grade RunCam Swift 2 FPV camera. The excellent FPV range is achieved using an up to 600mW VTX paired with a Pagoda2 antenna.
Thanks to the included camera mount, in addition to the RC Swift, you are able to install a GoPro Hero camera on front of the GEPRC Elegant drone.
Included accessories with the GEPRC Elegant quadcopter
5 pairs of GEP5040 3-leaf propellers;
2 pieces of Pagoda2 RHCP antennas (1 installed, 1 spare);
3 pieces of battery straps;
1 spare arm;
GoPro camera mount;
Frsky R-XSR radio receiver(only BNF version!).