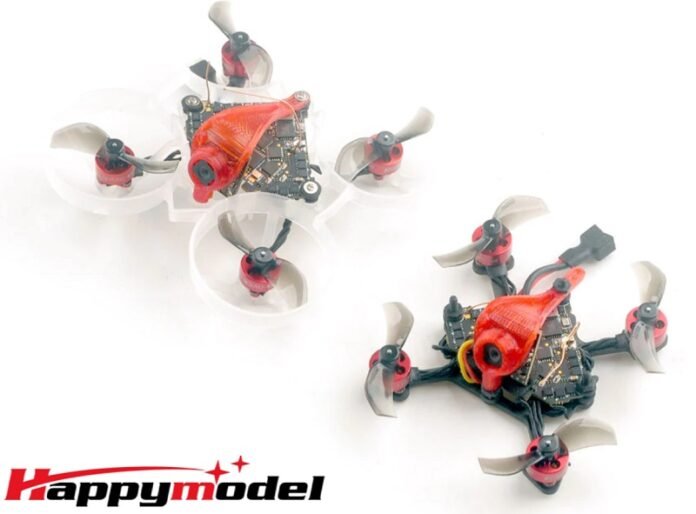 With a wheelbase of 65mm and a weight of just 17.5 grams, the Happymodel Mobeetle6 claims to be the lightest and smallest brushless FPV drone. Adopting a removable 360degrees protective frame, it can be turned easily from a Toothpick style drone into a veritable TinyWhoop.
Happymodel's new micro-size brushless drone is built on a toothpick carbon fiber frame and a 5in1 AIO flight controller with a built-in OPENVTX FPV transmitter. According to your existing transmitter, you can opt for an integrated ELRS or FrSky radio receiver. A low-profile plastic protects all the electronic parts, including the tiny RunCam Nano 3 FPV camera.
Its tiny Unibell SE0702 brushless motors are equipped with 1″ two-leaf propellers. The manufacturer includes two 3.8V 300mAh batteries in the box, which should allow about 3 minutes of flight time per charge.
Core features
Lightest brushless convertible 2-in-1 FPV drone (Whoop <> Toothpick);
Comes with toothpick frame and duct blade guard for conversation;
Low profile Canopy design;
Powerful and efficient;
Versatile 1s 5IN1 AIO F4 flight controller;
New Unibell SE0702 KV23000 brushless motors with PCB wire board;
Built-in OPENVTX up to 400mw broadcast power;
RunCam Nano 3 camera with 1/3″ CMOS image sensor;
Optional built-in SPI ELRS V2.0 or Frsky radio receiver.
Happymodel Mobeetle6 demo flight