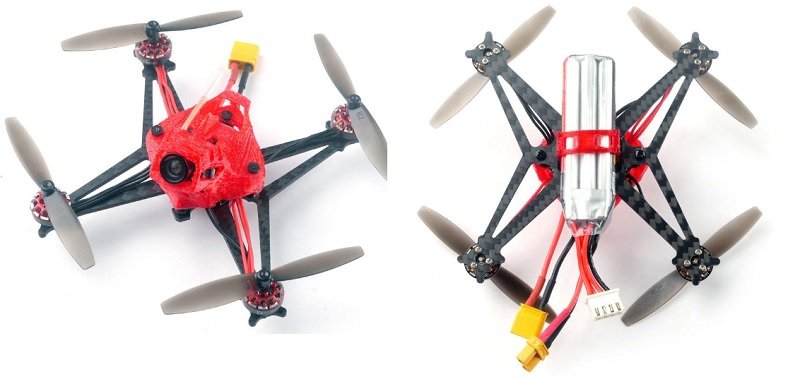 Following the great success of the Snapper7 and Mobula7, Happymodel recently released another micro-class FPV drone called Sailfly-X. Thanks to its ultralight 105 mm frame and powerful KV9000 brush-less motors it is suitable for both indoor and outdoor flights.
Like other "toothpick" FPV drones, the Happymodel Sailfly-X is also based on the versatile Crazybee F4 PRO flight controller. According to your flight skills, you can opt for Angle, Horizon or Acro flight modes. Featuring integrated BetaFlight OSD, you can monitor battery voltage and other telemetry flight data remotely via your FPV goggles/monitor.
Happymodel Sailfly-X highlights
105mm size ultralight carbon fiber frame with TPU 3D-printed protective canopy;
Crazybee F4 PRO V2.1 AIO flight controller (5A 4 in 1 ESC);
Betaflight OSD support (remote Voltage & Current current monitoring);
AIO 720TVL camera with integrated 5.8G/40CH 25mW FPV transmitter;
SmartAudio compatible (VTX telemetry);
1102 type KV9000 brushless motors;
2-leaf propellers;
2-3S Lipo/LIHV compatible.
Closer look on the Happymodel Sailfly-X 's main parts
Crazybee F4 Pro (V2.1) flight controller specs
STM32F411CEU6 (100MHZ, 512K FLASH) MCU;
MPU-6000 sensor (SPI connection);
Built-in 4-in-1 ESC (5A each channel) Blheli_S, Dshot600 ready;
Integrated Betaflight OSD (SPI Control);
Built-in Current meter Max 28A;
Integrated 5V 1A BEC with LC filter;
Built-in voltage and current meter;
2-3S battery compatible (DC 7.4-13 V);
Size of 28.5 * 28.5 mm.
EX1102 9000KV Motor specs
9N12P configuration;
Stator Diamter: 11mm;
Stator Length: 2mm;
Shaft Diameter: 1mm;
Motor Dimension: 13.5mm x 16mm;
Weight: 2.8 grams.
AIO FPV camera specs
Transmission power: 25mw;
Frequency: 5.8G
Channel number: 40CH;
Input voltage: 3.3~5.5V;
Current consumption: 300mA (tipical);
Camera resolution: 700TVL;
Field of view: 120°
Video Format: NTSC;
Antenna: RG178 antenna;
Size: 13.9 x 12.0 mm;
Weight: 3.2 grams.