HGLRC just announced the upgraded versions of Sector132 and Sector150. They replaced the number in the product name from wheelbase size to propeller size. The HGLRC Sector25CR and Sector30CR are not just lighter but more powerful. Both size versions are available with analog and HD digital FPV systems. In comparison, analog editions have Caddx Ratel 2 FPV camera and Zeus Nano 350mW 5.8G VTX, and the digital editions CADDX Nebula camera and Vista VTX. In addition to the FPV camera, both CineWhoops can be equipped with an Insta360 SMO 4K or Naked GoPro camera.
Both Sector25 HD and Sector30 HD are natively compatible with DJI FPV transmitters and DJI FPV goggles. If you want to use a different remote controller, you can opt for FrSky XM+, R-XSR, FlySky A8S V2, or Crossfire Nanon R9mm OTA radio receiver.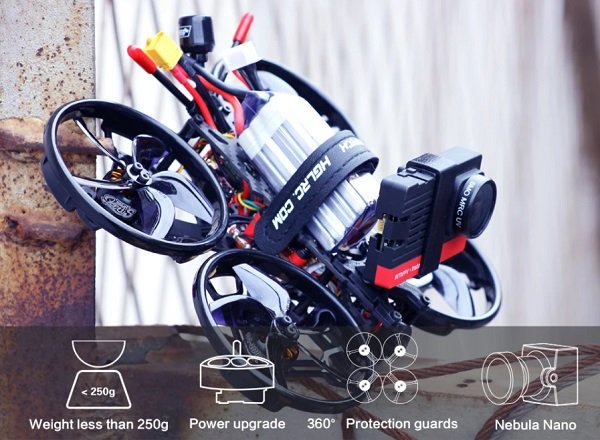 The bigger and more powerful Sector30 comes with two power options. While 4S version has AEOLUS 2004 3000KV motors and 6S has AEOLUS 2004 1800KV ones. Both have the same Zeus 28A flight controller with an integrated 4-in-1 ESC board.
HGLRC Sector25\30 CR series comparison
Sector25CR
Sector25 HD
Sector30CR 4s/6s
Sector30 HD 4s/6s
Frame
132mm
132mm
150mm
150mm
Weight
145.92g
151.37g
190g
207.7g
Flight controller
Zeus F722 mini
Zeus25 AIO
Zeus 28A
Zeus 28A
ESC Power
28A
25A
28A
28A
Motors
AEOLUS 1404 3600KV
AEOLUS 1404 3600KV
AEOLUS 2004 3000KV (4S)
AEOLUS 2004 1800KV (6S)
AEOLUS 2004 3000KV (4S)
AEOLUS 2004 1800KV (6S)
Propellers
D63 2.5″ 5-leaf
D63 2.5″ 5-leaf
D76mm 3″ 5-leaf
D76mm 3″ 5-leaf
VTX
Zeus Nano 350mW
Caddx Vista
Zeus Nano 350mW
Caddx Vista
Camera
Caddx Ratel 2
CADDX Nebula
Caddx Ratel 2
CADDX Nebula
Battery
4S:450mah-650mAh
4S:450mah-650mAh
4S:550mah-1000mAh
6S:550mah-1000mAh
4S:550mah-1000mAh
6S:550mah-1000mAh
Price (PNP)
$199.99
$309.99
$219.99
$339.99