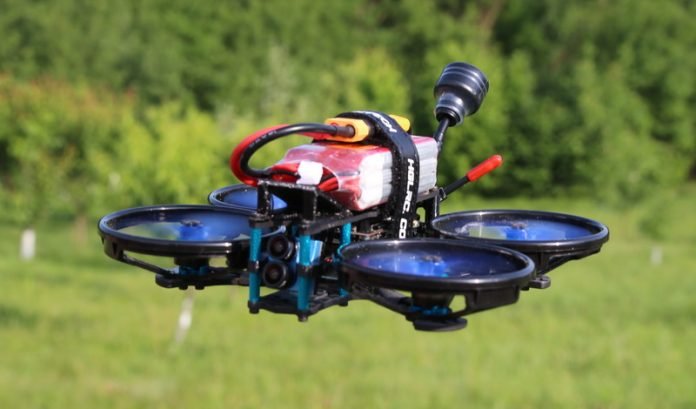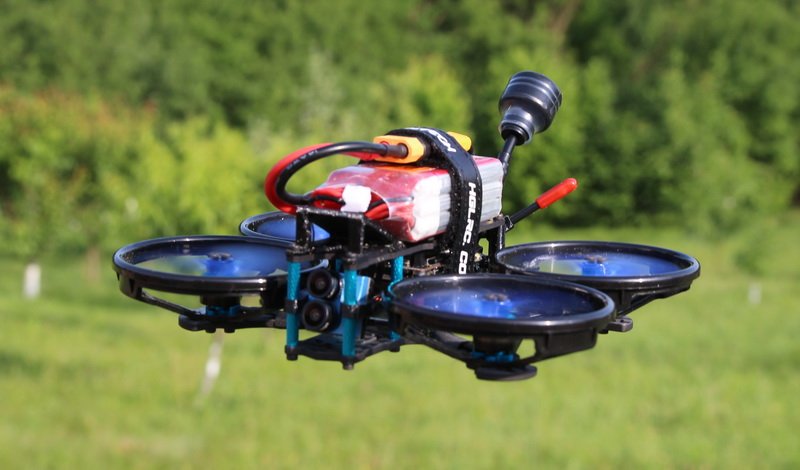 In my in-depth HGLRC Sector132 review I will reveal to you all the advantages and drawbacks of this hybrid Cinema-Freestyle FPV drone. Maybe it's not the cheapest, fastest or smallest, but it's probably the most flexible FPV platform. It features removable blade protectors which allows easy conversion from a CineWhoop into a veritable Freestyle drone, 3/4S battery compatibility, and analog 5.8G VTX or DJI digital FPV transmission. There is also an option to upgrade it with a GPS positioning system. Even more, in case that you want to build it by your self, you can purchase a bare frame kit for only $25.49.
HGLRC Sector 132 4K highlights
Two-way design (2.5″ CineWhoop and 3″ Freestyle);
Robust 132mm size carbon fiber frame (3mm thick bottom plate);
F4 Zeus AIO Flight Controller w/ integrated 15A speed controller (ESC);
4K CADDX Tarsier camera;
5.8G VTX with up to 400mW broadcast power;
Optional FrSky R9MM, XM+, FS-A8S V2 or TBS Crossfire Nano RX radio receiver;
3-4S LI-PO battery compatible.
HGLRC Sector132 FPV drone in-depth review
Disclosure: I received this FPV quad as part of a product review collaboration with HGLRC. Product specs and quality may vary according to the manufacturer's reliability, so I cannot guarantee that you will get a drone that performs exactly the same as seen in my article.
As lately China Post and many other shipping options from China to Europe became super-slow and insecure I agreed to be sent via DHL, despite that I try to avoid their "express" delivery due to unfriendly customer service. This time they surprised me, I got the package in just 5 days without laborious customs clearance, maybe it helped that the sender labeled the box with "frame kit" in value of $10.
The Sector132 will be the first HGLRC kwad reviewed on FirstQuadcopter, hope that soon more will come 🙂
At a glance
Being excited to play with it, I immediately unwrapped the package. HGLRC offers its Sector 132 drone in a nice white box with silver inscriptions. In addition to the aircraft, there are the following accessories included: 4 pairs of propellers (3 x 3″ and 1 x 2.5″), flight controller servo cable, extra screws, 5.8G hammer antenna, GoPro camera mount, battery mount, and two battery straps.
Sector132 has two electronic stacks, one in center of the frame with CADDX DVR board and Zeus AIO flight controller, and a second on the tail with VTX and radio receiver (BNF version). The FC comes with a low ESR capacitor preinstalled which ensures clear FPV video signal.
As I already own a FrSky compatible Taranis Q X7 remote controller, I opted for FrSky XM+ radio receiver. Instead of just throw it in the box, HGLRC wires and install the receiver board on its position ready to be used – this will be appreciated by newbies for sure.
General build quality is excellent, all the wires are well organized. The uni-body bottom carbon-fiber plate has a thickness of 3mm and a diagonal motor distance of 132mm. The frame adopts a screeched-X design with 77mm side motor-motor distance and 105mm front/rear motor-motor distance. The standoff height is about 28mm.
Mine arrived with black propeller guards but the sky-blue color option is also available. As each prop guard weighs about 4 grams, you can save 15 grams extra weight by removing them. In CineWhoop mode with a 3s/850mAh battery, the HGLRC Sector132 4K weights 239 grams.
Unfortunately, powering it on I found out that doesn't have a buzzer nor navigation lights for a line of sight flights. Instead, it has a bunch of status lights (FC, RX, VTX, and Caddx Tarsier), all are flashing in different ways and colors without knowing what does it meaning.
Price and availability
All versions of the HGLRC Sector132 can be ordered from the manufacturer's website and also from most popular online retailers. Currently, the 4K edition shown in this review can be found for only $161.99. I would say that is a great deal, taking into consideration that only its Caddx Tarsier camera costs $89. In case you already own a DJI FPV goggles you can opt for digital edition with onboard DJI Air unit for $299. As blade protectors can break easily during crashes I suggest you purchase at least one set from the beginning for an extra $4.69.
HGLRC Sector 132 review: The CONVERSION
Before any tests, I wanted to check how easily can be converted from a 2.5″ CineWhoop into a 3″ freestyle drone. The first design issue I found is that you need to remove all motor (4×4) and propellers screws (4×2) in order to do that (total of 24 screws). The second problem, which could kill your motors if you forget about this thing, is that you need to use shorter screws without the guards.
Maybe I'm not the best handyman, but putting back the protectors it was even more complicated. Prior to power ON, I suggest you to check with your finger if props spin freely. I forgot to do this and, due to one wrong centered guard, the prop couldn't rotate. At full throttle, this could kill your ESC or even the motor. Despite the fact that the protectors have two larger screw hols to help with the right alignment, I had to re-install it a few times till it was OK.
Honestly, this transformation process takes more time than I expected. It's a job that could not be done right on the flight field. Because this hybrid design is a great idea, I hope that the second generation Sector132 will adopt a different approach in attaching the guards to the frame.
HGLRC Sector132 review: FPV rig
The unit I received for review came with CADDX Tarsier 4K FPV camera. In order to allow low latency and onboard UHD video recording it has two optics (lens+sensor), one for each job. With a total weight of just 18 grams, the Tarsier camera is capable to record 4K videos with 60fps and 1080P videos with up to 90fps.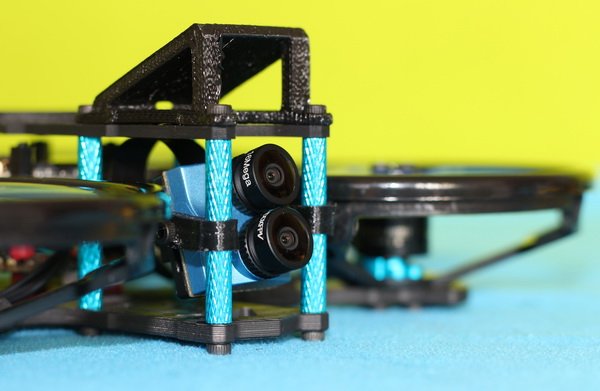 Thanks to the built-in WiFi connectivity (can be enabled by long-pressing left button – orange LED flashing), using the CaddxFPV APP you can adjust lots of camera parameters. For iOS users is recommended to format their microSD card via the APP prior to first use.
Excepting the different FOV (field of view) and POV (point of view) of the two lenses, the CADDX Tarsier 4K satisfied all my exceptions. Unfortunately, as you can see in my sample videos, there is some jello effect, but I think this could be minimized by using ND filters.
In the box, there is also included a GoPro mount which allows you to install a second camera. IMHO, the extra weight will have a dramatic impact on both flight time and flight performance. In case you need super-stabilized footage you can try an Insta360 Go or a naked GoPro (without housing) with only 20 grams.
VTX & OSD
Despite its super small size (20 x 20 mm), the HGLRC FD VTX Micro features up to 400mW transmission power. Equipped with HGLRC Hammer RHCP 5dBi antenna, the range should be not an issue, theoretically. Personalty, I didn't figured out why the range is limited to about 10 meters on any power settings. I can just guess that could be a faulty pigtail or antenna. After I solve the mystery, I will update this section! After I re-plugged the antenna pigtail my range issue has been solved 🙂
OSD
The live view screen is clean, with no visible props or other drone parts. Through the Betaflight – Configurator APP you can customize the OSD screen. You can display a virtual horizon, aircraft name, flight time, flight mode, battery level, and other useful stuff.
HGLRC Sector 132: Basic setup
Firstly, I created a new profile on my transmitter called "HGLRC S132", I set Mode to "D16" and Chanel range to "CH1-16". Next, I selected the "Bind" option. When the Taranis Q X7 is entering the "Bind" state, it makes a high-pitched beeping. Next, I powered on the Sector132 while using a toothpick I pressed and hold the tiny F/S button of the receiver board (this can be done without taking apart the drone).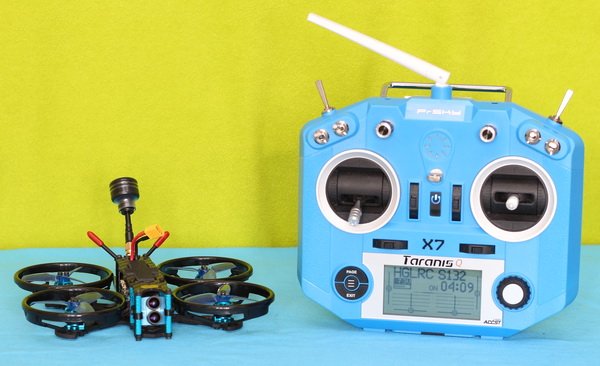 The next step is to verify the channel mapping and to assign the control switches. Like usually, I opted to use left shoulder switch to Arm/Disarm the motors, and the right 3 position switch to toggle between flight mods (poz1 – Stabilized, poz2 – Horizon and poz3 – Acro). For first-time pilots, I suggest setting Stabilized-Horizon-Stabilized order, this way they can't accidentally switch to freestyle mode, where crashes are almost inevitable for them. I also assigned 'Air' mode to the right switch, but this feature can be permanently enabled as well from BFC.
In order to know when the motors are armed, I suggest you to set the motor throttle idle value to 4%.
It takes from unboxing to first take-off took only 15 minutes. The BNF version of HGLRC S132 is easy to be configured even for newbies.
Battery options – Flight time
As I previously mentioned, the HGLRC Sector132 drone can be powered by 3s as well as by 4s LIPO packs with XT30 plug. The manufacturer recommends using 450-650 mAh batteries, but I think on 3S you can use even 1400mAh packs for longer fun. While for newbies and indoor CineWhoop mode are 3 cell batteries suggested, for outdoor agile Freestyle flights 4 cell ones.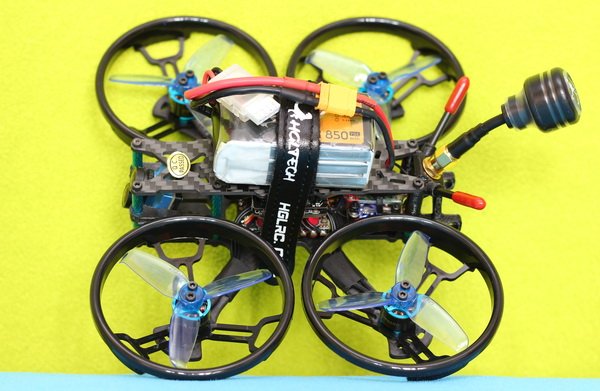 Using a 3s/850mAh battery I obtained an average of 4 minutes of flight time. For proximity LoS (line of sight) flights I suggest you to use an external voltage buzzer alarm or a timer to know when it is time to land.
You can install the battery on top using the included Velcro band or on the belly by mounting the 3D printed battery holder.
HGLRC Sector132 review: Flight experience
As none of the ordered 4S batteries (430mAh and 650mAh) arrived in time, I had to do the tests with my existing 3S/850mAh pack.
From the first full throttle, it was obvious that is not as powerful as my 5 inch Kopis 2 quadcopter. IMHO, being quite heavy, those HGLRC FD1106-3800KV motors are too small to be a true Acro flyer. For sure, using a 4S LIPO will give you some extra power, but I'm not sure if it is enough to win any competition. Anyway, it is really safe and stable, which is most important for entry-level players. Thanks to the propeller guards you can bump into walls and trees without major damages. I crashed it a few times, except for one broke propeller it flies like new :).
Editor's ratings
Price/performance ratio

Build quality

Camera & VTX

Flight performance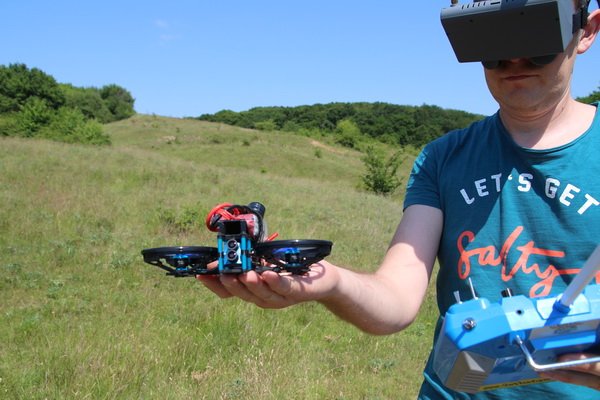 Pros
Excellent build quality;
Hybrid Cine Whoop/Freestyle FPV drone;
4K recording under 250 grams;
Recording starts autocratically on power on;
DJI FPV upgrade ready;
Super easy setup process;
3-4S compatible.
Cons
Jello effect in Caddx Tarsier videos;
Motors needs to be unscrewed in order to remove prop guards;
RC RSSI and voltage monitoring not worked with FrSky XM+;
Lack of buzzer and navigation lights;
No XT60 to XT30 adapter included.
HGLRC Sector 132 Versions (camera\VTX options)
According to your budget and needs, you have four FPV setup options for the Sector132:
DJI FPV camera + DJI Air Unit;
DJI FPV camera + Caddx Vista digital VTX;
CADDX Tarsier 4K camera + HGLRC FD Micro 400mW analogue 5.8G VTX;
CADDX Baby Turtle V2 1080P + HGLRC FD Micro 400mW analogue 5.8G VTX.
More videos
1. BetaFlight OSD Menu
2. 1920×1440@60fps sample video
3. Insta 360 Go on Sector 132 drone