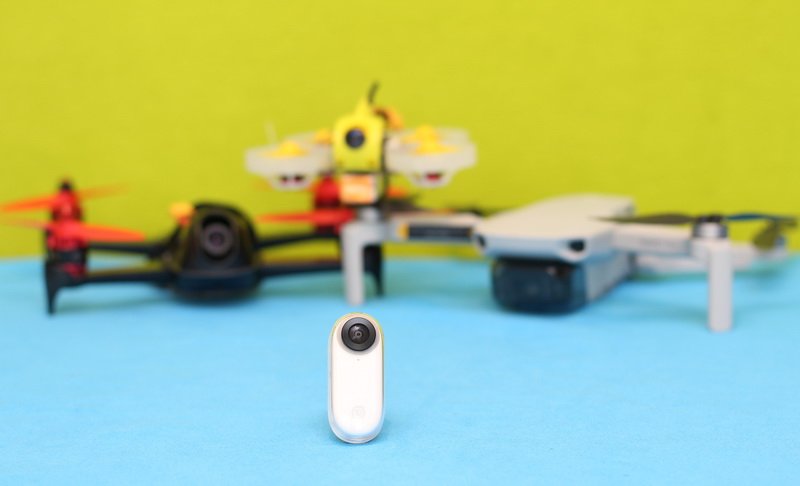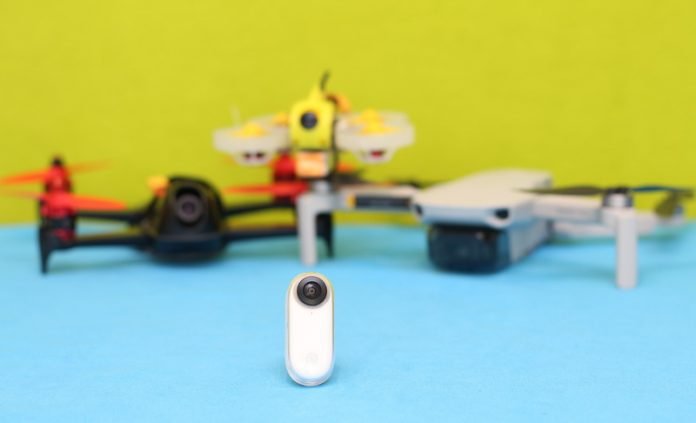 The Insta360 GO is a twenty-gram steady camera which you can love or hate from the first usage. Maybe you could feel restrained by its limited features but, if you learn how to use it, it will be a great companion for lots of activities.
Doing some research about Insta360's product range and who they are, I found out the "We make boldly innovative cameras that help people capture and share their lives" tagline on their website, which I think it perfectly describes their goal. Firstly, Insta360 has been known for making clip-on smartphone 360 degree cameras. Now, besides a wide range of consumer action cams including the One R with interchangeable lenses, they have an impressive portfolio of professional 8K panoramic and VR cameras.
Sponosored AD

The tiny "GO" is the company's first non-360 camera. Designed to be worn all day long, it's small and light enough for you to forget about it. These two aspects are also essential when it comes to install it on a micro size drone.
Insta360 GO review, rating and samples
Disclosure: I received this tiny action cam as part of a product review collaboration with Insta360. Although the product was offered for free, all the opinions in this review remain my own!
Sent from European store, the camera arrived quick and smooth without any additional taxes. When you pay 200 bucks for such a tiny camera, you expect to receive at least few accessories with it and the Insta360 GO will not disappoint you at all. It's packed with a bunch of mounting options including a magnetic pendant.
At a glance
Featuring Apple AirPods style charging case with lighting connector, it is obvious that Insta360 is mainly targeting iPhone owners.
The GO is only a bit bigger than a AA battery. Roughly measures 1.9 x 0.8 x 0.58 inches and weights a bit less than 20 grams. Charging case provides additional power on the field and protection during transportation. Lightning connector is built-in (can not be replaced) and it is covered by a rubber guard which pops-out easily, unfortunately. There is included a short micro USB – Type C cable which allows to connect the case to Android phones as well.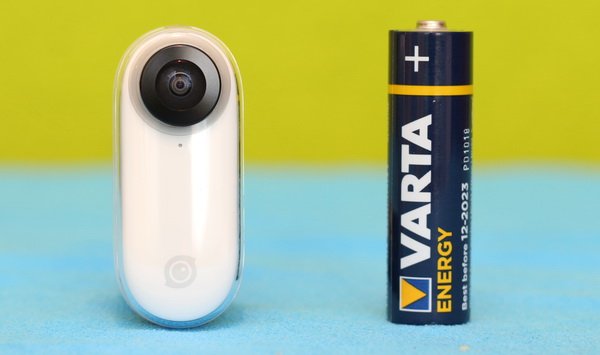 The back of the Insta360 GO is magnetic, allowing easy attaching to metal surfaces. All the mounting accessories are also magnetic in order the allow strong and easy hassle free attaching. In case you want to use your selfie stick or tripod, there is also a tripod mount included as well.
When you load the GO into the case, it automatically starts to charge (make sure you line up the charging point). The case has charging level indicator: Green for 80%+, Yellow for 20-80% and red for less than 20% remaining power.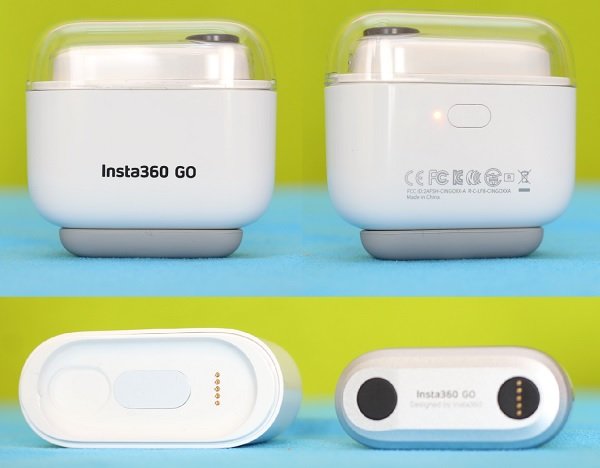 Through the case you can download your footage to your phone or computer. Unfortunately, it uses some proprietary video format and needs converting before you can watch it or upload it to YouTube. The Insta360 Studio 2020 editing and converting software can be downloaded for free for Windows and Mac computers. You can save your footage into 16:9 (horizontal), 9:16 (vertical) or 1:1 (full size) aspect ratio.
Price and availability
The GO is available for orders since August 2019 at most online retailers. Now, you can order it directly from Insta360 for $199.99. I know, it isn't exactly cheap, but it does not have any real contender in its weight. For extra 20 bucks you can opt for premium care services which gives you one free repair or replacement in case any accident happens with your GO. Also, for extra $10 you can opt to personalize your camera, labeling it with your Instagram account for example. Premium GO Accessory Kit for extra $29.99 includes Carry Case, Case Cover, Ring Grip, Easy Grip and Mount Adapter.
Insta360 GO highlights
Ultra light (only 0.65 ounces \ 18.3 grams) and super compact (1.9 x 0.8 x 0.58 ");
IPX4 rated water-resistant (can be immersed in water for up to 1 min);
Built-in 8GB storage (~6.7G usable);
Gimbal-like 6-axis gyroscopic FlowState stabilization;
Slo-mo, Hyperlapse and Timelapse modes;
2720 x 2720@25fps with up 40Mbps (captured);
Up to 60 minutes of battery life.
Insta360 Go review: Controls
All the tasks are made through the "Action" button on back of the GO. To activate the camera you need to press it till you feel two short vibrations. By default, taping once will take a photo, press twice for a hyper-lapse and three times for 100 fps slow-mo. In standby mode press once to record standard video (15/30/60 seconds). For those who are familiarized with touch-screen controls, will take a little time getting used with this kind of operation. Luckily, button's actions can be re-configured according to your needs through the mobile APP.
In case needed, factory reset can be performed by long pressing for at least 20 seconds.
On front, under the lens, there is a indicator LED which has the following states:
Solid white: in standby mode (not charging);
White light flashes: Recording;
Blue light slowly flashes: Low battery;
Solid red: Charging when camera is off;
Blue light rapidly flashes 3 times: Not enough storage;
Blue light slowly flashes: Firmware upgrade.
When you connect the Insta360 GO over Bluetooth it can be controlled entirely from the APP, which is available for both mobile OS (Android and iOS). There is no live-view, so framing your shoot is some king of guessing. Anyways, the wide angle lens will help you catch most of the predicted view.
Insta360 GO is better or worse than an action cam?
Honestly, it is a tricky question because actually I think that is both. In some cases its small size and low weight could be a huge advantage over any GoPro size action camera, but its pros I think stops here. Lack of WiFi connectivity makes it impossible to have real-time image view on your phones screen. In terms of image quality and low light performance it also fails against top-end action cams.
While the GO features only splash resistance, the GoPro Hero 7, 8 and Osmo Action are waterproof down to 33ft (10m) without a dedicated case. The Insta360 GO is perfect to record our everyday lives, but not for surfing, snorkeling or other water sports activities.
Insta360's FlowState stabilization works similar to GoPro's HyperSmooth and DJI's RockSteady by cropping in slightly on the image and warping the edges to compensate for shake.
Is it good for drones?
Originally the Insta360 GO was designed to be your personal every day camera. In order to avoid over-heating, its recording time was limited to 60 seconds, which was not so great. After FPV community's demand they extended this time to 5 minutes, with the mention that external cooling is required in FPV mode.
The good
Over the last few years, I tested many drone camera's and the Insta360GO is far the lightest among them. It is suitable to be used as main DVR camera on FPV drones as well as second view camera. It is so light that can be installed on most micro-class brushless drones. There are multiple ways to install this little baby on top of your kwad, from horizontal/vertical orientation to top, bottom, front or tail position. Furthermore, using a piece of ~25 x 2cm fiber carbon attached to the top plate you can capture cool footage outside of your drone. Also, there are lots of free to download 3D printable designs which allows to print your 7-10 grams dedicated Insta360 GO mount.
In addition to the extended recording time, with the latest APP version, there is "FPV stabilization" function available. This feature was specially developed for aerial footage.
My 6 year old Syma X5C drone came back to life with the Insta360 Go. It was finally able to capture some decent stabilized videos. With its stock camera the results were shaky and totally disappointing.
The Insta360 GO is perfect for FPV players who don't need a super high quality footage but want to record the journey of their flights without adding much weight. With less than 20 grams it can be virtually installed on any 2″+ racing quad.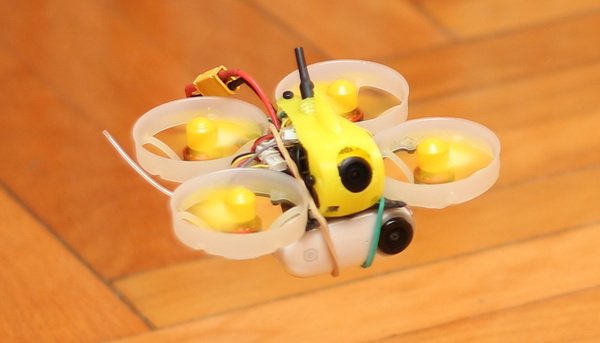 The bad
Unfortunately, the built-in storage comes with limited recording time. During my tests I managed to have only 5 flights till internal memory became full. Another drawback is that sometime AI tries to correct power-loops which kills all the fun of your freestyle footage.
Lastly, in case your drone has a compass sensor, you should avoid to use the magnetic mounts. You should also avoid using them near/over GPS antennas.
Editor's ratings
Price/performance ratio

Design and build quality

Image quality

Battery life

App Features

Include accessories
Verdict
Surely, the Insta360 GO does not match to replace your GoPro nor your Osmo Pocket, but it's a good addition to your vlogging pack. It is so tiny that is almost invisible when you are wearing it.
For those into droning, it is a great camera for on-board recording. Its FlowState stabilization produces smooth FPV footage.
And lastly, to be honest the GO isn't affordable at all. If we want to be a a bit sarcastic we could say that you pay for it almost its weight in gold 🙂
What I liked
Light as a feather;
Tiny form-factor;
Comes with lots of mount options;
Solid image quality in good light conditions;
FlowState stabilization does a good job;
Easy-to-use mobile app.
What I didn't liked
Pretty expensive for its limited features;
Internal memory is enough for only 4-6 flights (~20 min);
Doesn't handle well the low or super bright light.
Photo gallery
Sample videos
Insta360 GO bike test
Insta360 GO with and without FlowState stabilization
Indoor, low-light test
Show POV
Firmware upgrade fixes (v0.4.21.6 – 2019-10-15)
Battery life will lasts 10% longer due to optimisation at standard working temperatures;
Fixes an issue that occasionally increased power consumption after charging Insta360 GO via DC;
Optimizes temperature detection and protection. This prevents GO from operating at temperatures deemed too high;
Fixes an issue that caused the indicator to flash green when charging GO after being on low power;
Fixes an issue that caused an Insta360 ONE related pop-up in the app when connecting Insta360 GO to an android phone.