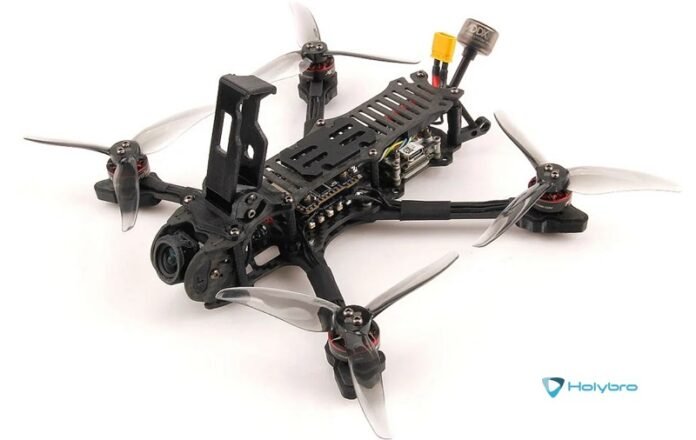 Holybro's new 4-inch Kopis Freestyle drone is available with two types of FPV systems. While the analogue editions come equipped Foxeer Micro Razer camera and Atlatl HV Micro 800mW 5.8GHz VTX, the digital version with Caddx Nebula NANO system.
It is built on a 180 size two-layer carbon fibre frame. Without a battery weighs less than 180 grams. Its F1404 KV3800 motors are equipped with Gemfan Hurricane 4023-3 propellers. It can carry a Naked GoPro style camera in addition to the onboard FPV camera.
By default, the Kopis Freestyle 4″ is compatible with the DJI FPV transmitter, but if you want another long-range solution you can opt for TBS Crossfire NANO RX.
Holybro Kopis Freestyle 4″ features
180mm size carbon fibre frame;

Sub-250g class drone

compliant (weights 173 grams without battery);
Can carry a Naked GoPro, SMO 4K, or Insta360 GO2 camera;
Analog and Digital versions;
F1404 KV3800 motors with Gemfan Hurricane 4023-3 propellers;
4S LIPO compatible (650~850mAh recommended).
Specifications
Flight Controller: Kakute F7 mini V3

MCU: STM32F722RET6 32-bit processor,216MHz, 256Kbytes RAM, 512Kbytes Flash
IMU: MPU6000 (SPI)
Barometer: BMP280
USB VCP Driver (all UARTs usable simultaneously; USB does not take up a UART)
5hardware UARTS (UART1,2,3,4,6)
Supports serial receivers (SBUS, iBus, Spektrum, Crossfire) only. PPM and PWM receivers are not supported.
Onbord 16Mbytes for Blackbox logging
5V Power Out: 1.0A max
3.3V Power Out: 0.2A max
Dimensions: 30x30mm
Mounting Holes: Standard 20mm square to centre of holes
Weight: 4g

ESC:
Tekko32 F3 4in1 35A mini

F3 MCU, double the speed of F051, the MCU works at 108Mhz
32bit ESC with BLHELI32 firmware
Supports 3-6S lipo input
Default PWM output 96K
Amperage meter scale ratio has been adjusted to 185.
PWM input, TLM supported
Voltage output (VBAT)
NO output BEC
Supports oneshot / Multishot / Dshot PWM
Supports damped light
Ext. cap needed for 6s (1000uf 35v for 6s usage.)
Mounting holes: 20x20mm(M3)
Size:32 x 38 mm
Weight: 8g

Analog version:
5.8G VTx: Atlatl HV Micor

Output Power: 0.5mW (pit mode), 25mW, 200mW, 500mW, 800mW
Audio: 6.5 MHz Mono
Protocol: smart audio2.0
Antenna Connector: MMCX
Input Voltage: 7 to 28 volts (2-6S LiPo)
Dimensions: 30x26mm
Mounting Holes: 20x20mm (M3)
Weight: 3.6g

HD version:
CDDX FPV Vista Kit

Dimensions: Module: 30.45 x 29 x 13mm
Weight: 29g (inc. camera); Module: 19g
Antenna Connector: u.FL
Operating Frequency: 5.725-5.85GHz
Transmitter Power (EIRP)
FCC/SRRC/MIC: <20dBm; CE: <14dBm
I/O Interface: USB-C, IPEX, 3-in-1 Port
Min. Latency: Low Latency Mode (720p 120fps): 21-28ms
High-Quality Mode (720p 60fps): 30-40ms
Max Transmission Distance: FCC/SRRC: 4km; CE: 0.7km
Input Power: 7.4-26.4v
Nebula Nano Camera

Sensor: 1/3″ CMOS; Lens: 2.1mm; Shutter: Rolling Shutter; FOV: 150°;14x14x21mm