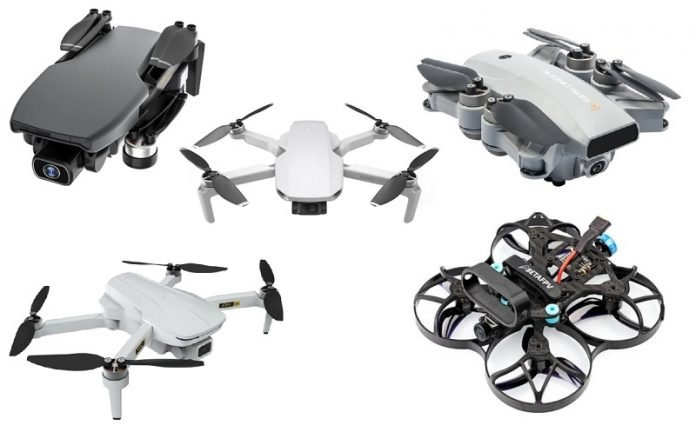 In most countries, there is a weight limit for drones that require registration. For example, the US FAA considers drones under 250g (.55 pounds) just toys and you are free to use them for recreational flying without enrollment. Canada also has a different set of laws for drones under 250 grams.
Without any doubt, the DJI Mavic Mini is currently the most versatile drone under 250 grams. At $399, there's not a better value on the market. It packs an impressive set of features in a drone that has the size of a smartphone. You get a three-axis stabilized camera, creative Quick Shot modes and excellent battery life. For the Japanese market, they have an even lighter version, which weighs just 199 grams. BTW, I just read that during Amazon Prime Day you can get the Fly More Combo pack for the price of the basic edition.
#AD: Banggood drone sales
Unfortunately, the weight limit also brings certain constraints. For example, there is no drone under 250g with an advanced obstacle avoidance system. Also, these lightweight drones have poor wind resistance.
If you are looking for the best drone under 250g that you can buy in 2020, check the list below.
What are the top 10 drones under 250 grams right now?
Model name
Battery life
Range
Camera
Price
DJI Mini 2
31 minutes
6KM/10KM
4K
$449, Buy from DJI
Autel EVO Nano
30 minutes
10KM
4K
N/A
FIMI MINI Pro
31 minutes
8KM
4K
$449, Order from BG
Mavic Mini
30 minutes
2KM/4KM
2.7K
$399,

Order from DJI

ZLRC SG108
25 minutes
1KM
4K
$99
Hubsan Zino Mini Pro
40 minutes
10KM
4K
$459
Betafpv Beta95X V2 FPV drone
4-10 minutes
NA
FPV
$180
Flywoo Explorer LR GPS FPV drone
5-15 minutes
NA
FPV
$139
SHRC HR H3 Mini GPS drone
18 minutes
500 meters
4K
$85
JJRX X16
25 minutes
500 meters
6K
$84
Holy Stone RC HS510
16 minutes
800 meters
4K
$140
JDRC JD-22S ultralight GPS drone
16 minutes
300 meters
4K
$99
MJX Bugs 19 Mini
20 minutes
800 meters
4K
$200
Editor's pick from best drones under 250g
Now, let's have a closer look at five of the best drones under a quarter of a kg. Most of them were already reviewed in detail on FirstQuadcopter.
1. DJI Mavic Mini – The true king under 250g
Weight: 249g | Camera: 2.7K with 3-axis gimbal | FPV: WiFi | Flight time: Up to 30 minutes | Features: GPS and Quick Shots | Range: 4Km – FCC or 2KM – CE | Package: RTF
It costs twice more than others on the list, but as I previously mentioned it's pure value for the price, and weighing just 249 grams can avoid drone registration laws across the world.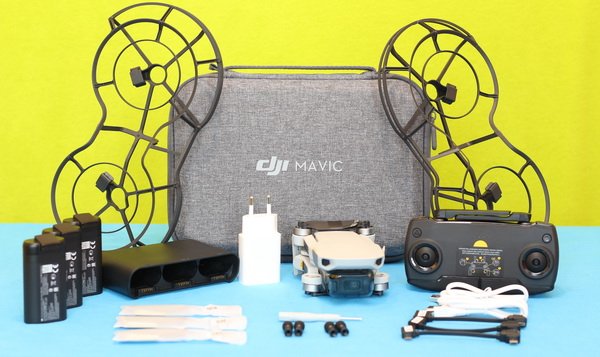 In addition to the excellent battery life (up to 30 minutes), DJI's smallest drone has the best flight range in its weight category. While FCC (US market) version has up to 4KM range, the CE (Europe) edition up to 2KM.
The Mavic Mini shoots 1080p (FHD) video at up to 60fps and super crisp 2.7K at up to 30fps with a max bitrate of 40Mbps. It has four Quick Shot modes (Dronie, Rocket, Circle, and Helix) which allow us to capture some truly creative footage.
Hope that the new Mavic Mini 2 will come with ActiveTrack, manual exposure settings, and even a frontal obstacle avoidance sensor.
2. ZLRC SG108 – Best drone under 250g for less than $100
Weight: 242g | Camera: 4K | FPV: 5Ghz WiFi | Flight time: Up to 25 minutes | Features: GPS, RTH, Follow me, Waypoint, and Surround | Range: 1KM | Package: RTF
Our second favorite drone in the 250g category is the ZLRC SG108. For its friendly price tag, it comes with tons of great features. It has reliable brushless motors, GPS positioning, an Optical flow sensor (OFP), and a decent flight range. Thanks to the fail-safe RTH function, the drone will return autonomously to the take-off point in case of low battery or RC signal loss.
According to the specs, the ZLRC SG108's 7.6V/2200 mAh battery allows up to 25 minutes of play-time. The LIPO pack can be conveniently recharged with the included micro USB cable.
3. Eachine EX5 – Best Mavic Clone
Weight: 229g | Camera: 4K EIS | FPV: 5Ghz WiFi | Flight time: Up to 30 minutes | Features: GPS+GLONASS, Follow me, Waypoint, and Surround | Range: 1KM | Package: RTF
Many sources agree that the Eachine EX5 is one of the Mavic Mini clones. It features a similar weight and folding design. Furthermore, it comes with a 4K camera, long battery life of 30 minutes, and WiFi real-time video transmission.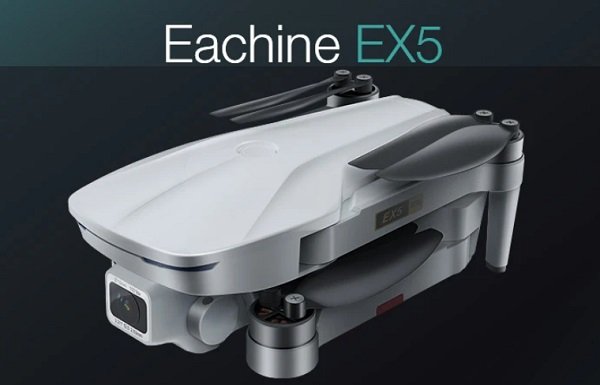 Unfortunately, it lacks a 3-axis gimbal for stabilizing the camera and on-board recording. However, it comes with electronic stabilization (EIS) which in some cases can be almost as good as mechanical stabilization.
4. Betafpv Beta95X – FPV drone under 250g
Weight: 99g (without battery) | Camera: BETAFPV EOS V2 | FPV: 5G analog | Flight time: 4-10 minutes | Features: Insta360 GO compatible | Range: NA | Package: PNP and BNF
We couldn't create a list of best drones under 250g without including a FPV drone. The second-generation Betafpv Beta95X was specially designed to carry the ultra-light Insta360 GO camera.
The Beta95X drone features Whoop style design with inverted motors. It can be powered by 4S LIPO batteries. According to Betafpv with a 450mAh pack, you can have about 4minutes of fun time. Beta95X is offered in a bundle with Futaba, FrSky, or TB Crossfire radio receiver.
5. JJRC X16 – Cheapest drone under 250g
Weight: 197g | Camera: 6K | FPV: 5Ghz WiFi | Flight time: Up to 25 minutes | Features: GPS, RTH, Follow me, Waypoint, and Surround | Range: 500 meters | Package: RTF
Lastly, let's have a closer look at the cheapest brushless GPS enabled drone under 250 grams. As you could read in our JJRC X16 review, this tiny foldable drone has about 20 minutes of flight time and up to 500 meters of control range.
Its 6K camera provides disappointingly poor quality. It does not even have an onboard recording. The footage is captured from the real-time WiFi video feed and stored on your mobile device. Also, it doesn't have any kind of video stabilization (EIS nor Mechanical).
6. Xiaomi FIMI X8 MINI – Best DJI MINI 2 alternative
Weight: 245g | Camera: 4K | FPV: TDMA | Flight time: Up to 31 minutes | Features: GPS, RTH, Follow me, Precision landing, Waypoint, and Surround | Range: 8000 meters | Package: RTF
2021 brings a new highly capable sub-250g class drone from Xiaomi. The FIMI MINI comes with two weight options. 'Pro' edition has 245 grams and 'Standard' version 258g. The only difference between them is the battery type that powers the drone.
The FIMI X8 MINI has an impressive up to 8KM control range and about 30-31 minutes of battery life. Its HDR UHD camera is capable to record 4K videos with 30 frames per second.
7. Hubsan Zino Mini Pro – First drone under 250gr with obstacle avoidance sensors
Weight: 249g | Camera: 4K | FPV: Syncleas 3.0 | Flight time: Up to 40 minutes | Features: Active Track Follow me & Obstalce avoidance system | Range: 10KM | Package: RTF
The Hubsan ZINO MINI Pro has announced on April 2021 and it is the first 250g-class drone with an advanced 3D collision avoidance system. Adopting Syncleas 3.0 communication it has a control range of up to 10Km (6.2 miles). The real-time video transmission has a resolution of 1920×1080@30fps with 20Mbps.
Hubsan claims that the Zino Mini Pro has an advanced Tracking System and a flight time of 40 minutes (while its rivals do not exceed 31 declared).
8. MJX Bugs 19 Mini
Weight: 249g | Camera: 4K EIS | FPV: WiFI | Flight time: Up to 20 minutes | Features: RTH & Inteligent flight modes | Range: 800 meters| Package: RTF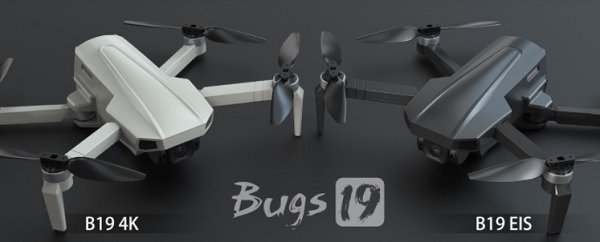 9. Autel EVO Nano series
Weight: 249g | Camera: 4K | FPV: Proprietary | Flight time: Up to 30 minutes | Features: RTH, Intelligent flight modes & Obstacle avoidance sensors | Range: 10KM | Package: RTF
The EVO Nano+ is the newest entry of our 'Best drones under 250 grams' list. Autel announced this new ultra-light model in September 2021 and it comes with an amazing set of features. Its 4K camera has a 1/1.28-inch CMOS sensor capable of 50 MP photos. A RYYB color filter array design with a large aperture of f/1.9 offers superior noise reduction capabilities and the power to effortlessly produce quality images in low-light conditions.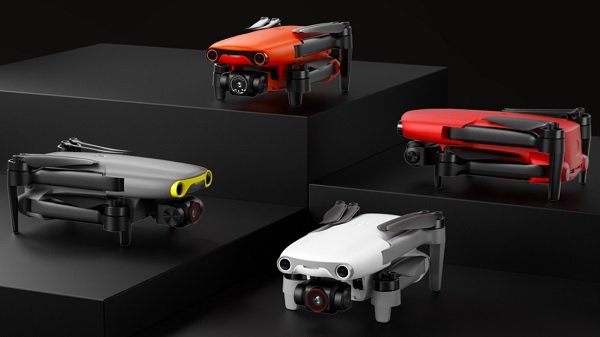 Fly farther while maintaining crisp, clear visuals with Autel SkyLink communication which offers a transmission range of 6.2 miles (10KM), transmission quality of 2.7K@30FPS, and superior anti-interference capabilities, all while relaying stunning HD video.
Similar to the Hubsan Zino Mini Pro, the EVO Nano series is the first and only aircraft series of its size to offer an advanced obstacle avoidance system — making it the obvious choice for users looking to avoid crashes and preserve the life of their aircraft. With three-way, binocular vision sensors that enable the drone to perceive obstructions in front of it, behind it, and below it, the Nano+ can easily brake to avoid collisions.
Last updated on September 28, 2021
#AD Best FPV deals