Hubsun, one of the top 10 popular quadcopter brands, just revealed their first 4K drone under 250 grams. The ZINO MINI PRO comes equipped with a 48MP camera installed on a 3-axis gimbal, ultra-long flight range, and impressive battery life. On paper, it looks positioned somewhere between the DJI MINI 2 and Air 2.
Yesterday, one of my sponsors contacted me regarding the opportunity to make an in-depth Hubsan ZINO MINI PRO review. That time I didn't know what an impressive set of features will have this little bird. I'm glad that I said 'yes' and hope to receive it soon to make some test videos.
The ZINO MINI Pro is the first 250g-class drone with an advanced collision avoidance system. The innovative 3D space perception system can recognize objects in front, back, and under the aircraft. While the frontal and backward binocular visual sensors have a range of <12 meters, the downward monocular optical flow sensor has effective ranging of 0.3-5 meters.
Its onboard UHD camera can record 4K videos with up to 30 fps using H.265/HEVC compression. Thanks to the 200Mbps max video bitrate, the footage should be cristal clear. The camera features 6x zoom that brings the subjects closer, very handy for wildlife photography. At 2.7K video resolution, you can record with up to 60fps. Footages are stored on the built-in eMMC 64/128Mb memory.
Price and availability
For now, we can just guess the price of the new Zino Mini. Considering the price tag of its rivals (FIMI MINI and DJI MINI 2), I expect its price to be somewhere between $400 and $500. Currently, Hubsan's shop and all other online retails show 'Sold out' or 'No stock' for the ZM. Starting with August 2021, you order the Zino Mini Pro from Banggood with a starting price of $669.99. This price includes one flight battery, onboard 64GB ram, storage bag and Hubsan Care Refresh premium service. For extra 60 bucks, you can get it with 128GB onboard memory.
Range and battery life
Thanks to Hubsan's third-generation Syncleas communication, the range of the ZINO MINI Pro is 10Km (6.2 miles). The real-time video transmission has a resolution of 1920×1080@30fps with 20Mbps. In Europe (CE region) range is limited to 6Km.
Its battery life is even more impressive in its weight class. According to the advertised specs, it can stay in the air for up to 40 minutes. Hovering time is about 37 minutes in windless conditions.
While the worldwide edition comes powered with a 2 cell 2400mah battery, the Japanese version has a smaller capacity battery in order to keep take-off weight under 200 grams.
Hubsan Zino Mini Pro features and specs
Ultralight folding design (weighs just 249 grams);
Front/Back/Down 3D space perception vision obstacle avoidance system;
GPS, TOF, and Barometer positioning;
ATVT 3.0 AI Tracking;
48MP UHD 4K/30fps camera with 1/1.3 inch CMOS image sensor;
3-axis gimbal stabilization;
f/1.85 super large aperture;
6X hybrid zoom;
HDR mode;
H.265/HEVC 200Mbps;
Lots of creative video modes;
Intelligent flight modes;
Syncleas 3.0 1080P/30fps video transmission (20Mbps);
Up to 10KM control range (CE version 6KM);
Max flight time of 40 minutes.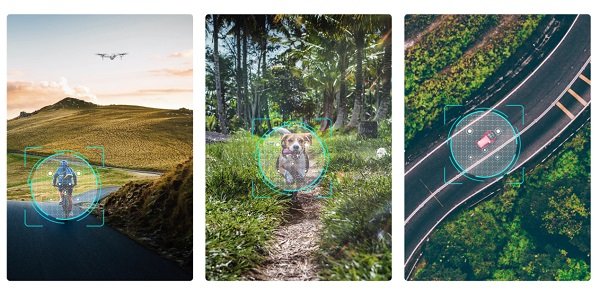 ZINO Mini Pro: AI tracking mode
The Zino MINI Pro features Hubsan's third-generation low-latency visual tracking system. ATVT 3.0 can track people, animals, and moving objects like cars. You just need to draw a circle around the subject you want to keep in spot and the drone will follow it automatically.
Official Zino Mini Pro promo video
Stay tuned for more details!!