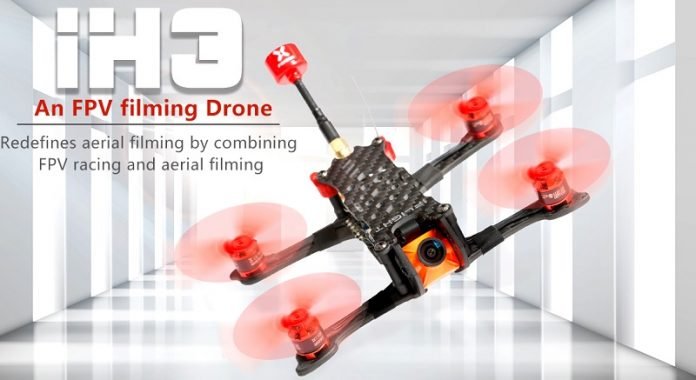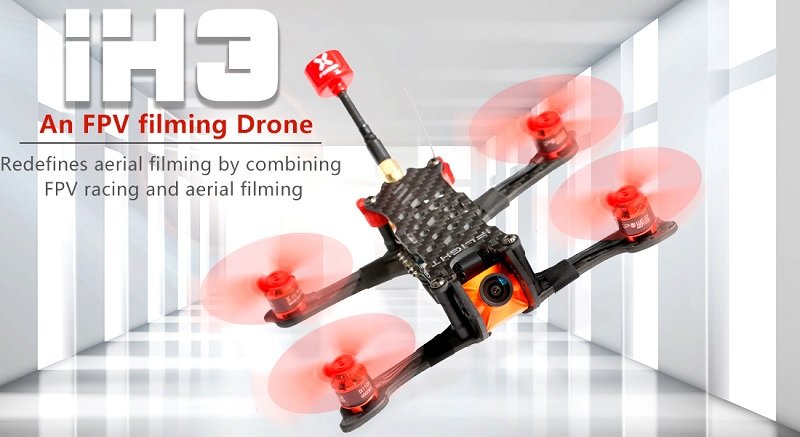 The IFlight iH3 is advertised by the manufacturer as an aerial filming drone. They claim that, due to its special design, there are no visible propellers in the captured footage. The IFlight iH3 comes equipped with the Runcam Split Mini camera which provides not just high-quality live video feed, but it is also capable to record full HD videos at 60 frames per second.
According to your existing transmitter, you can opt for PNP (without receiver) or BNF (FrSky, FlySky, or Futaba radio receiver) packages. All versions are delivered without a battery, charger, and remote controller.
The IFlight iH3 3″ FPV drone is suitable for both LOS (Line of Sight) and FPV (First Person View) pilots. On the rear part of the quadcopter is located a programmable LED strip with a sound buzzer.
IFlight iH3 quadcopter features & specs
142mm sized carbon-fiber frame (3 inch);
Dual-tower design (FC/ESC/DVR 20 x 20mm mounting holes);
F3 flight controller w/ integrated BetaFlight OSD & 5V@3A BEC output;
IFlight iPower Force 1106 6000KV brushless motors;
15A BLheli_S Flytower 4in1 ESC;
Emax AVAN Mini 3024 3-Leaf propellers;
Runcam Split Mini 1080P@60fps HD recording & WDR FPV camera;
Status LED bar with Buzzer;
Optional Frsky XM+, Flysky FS-A8S or Futaba FASST MINI SUBS radio receiver;
2S 850mAh or 3S 550mAh recommended battery (about 5 minutes hover time).
Due to the large top plate, you have the freedom to choose different types/shapes of batteries. According to the advertised specs, you can achieve about 5 minutes of hovering time by using a 2S/850mAh or 3S 550mAh LiPo battery.
IFlight iH3 package content
Foxeer Pagoda 5.8G antenna (SMA);
LED strip with buzzer;
Battery strap;
XT30 battery cable;
XT30 to JST adapter cable;
Magic Tie;
Optional radio receiver.