Like the FXT DVR, the ImmersionRC PowerPlay-FPV is also self powered. By default it comes with two 18500 type 1400mAh batteries, but for longer working time it can be loaded with 2040 mAh LIPOs. The DVR can be charged conveniently through the USB type–C port.
While the PowerPlay DVR is specially designed for FatShark FPV goggles, it can be used with any other video source (FPV monitor, 5.8G video receiver or camera). Thanks to the included quick-release mount and straps, it can be easily attached to your FPV gear.
On front, it has a generous 6cm LCD which works as live-view screen as well as playback monitor. AV-in, micro SD slot and DC-out (to power the goggle) are found on the right side of the PowerPlay-FPV DVR.
ImmersionRC PowerPlay DVR features & specs
Specialty designed for FatShark goggles;
Easy to install quick-release mount with straps;
Built-in 6cm LCD display (live-view + playback);
h264 recording with up to 60fps;
720×576 (PAL) or 720×480 (NTSC) video resolution;
USB-C type charging port;
Common 18500 type battery compatible;
Can power the goggle.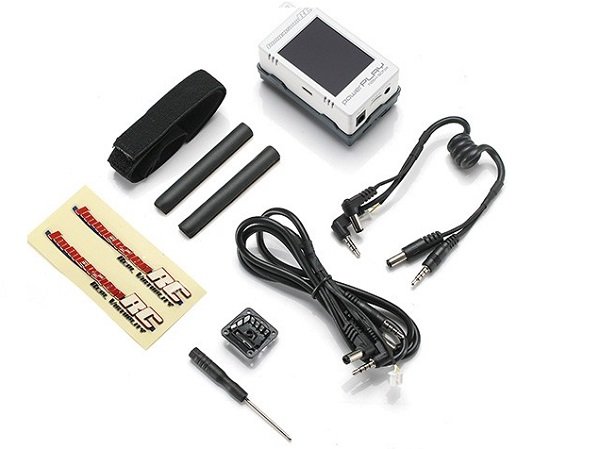 Box content
PowerPlay DVR;
2 pieces of 18500 type 1400mAh Li-ion batteries;
Head Strap Clip;
Over-head Strap;
Replacement fan cover mounting kit w/Strap clip;
Short DC/AV 'Y' cable for head-mounting use (incl. Fan Power);
Long DC/AV 'Y' cable for pocket use (incl. Fan Power).