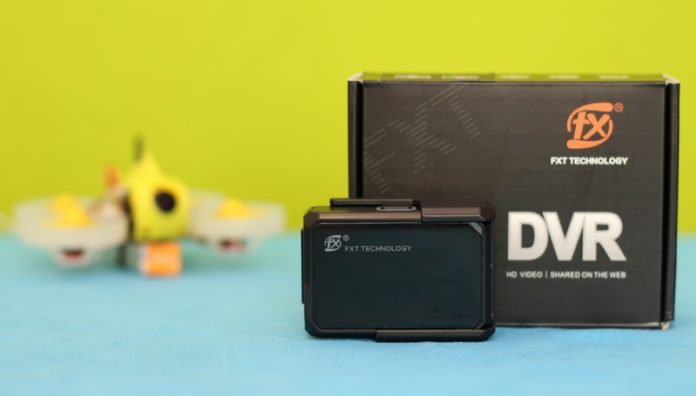 When it comes to recording the journey of your FPV flights, there are two main approaches: on-board and ground station. The FXT DVR is suitable for both thanks to its built-in battery, small size, and low weight.  Moreover, it has a WiFi connection which allows controlling the HD FPV DVR remotely with your mobile device.
For newbies, the FXT brand probably does not say too much, but I think if you are in the "business" for a long time you probably already have at least one FXT product. Personally, I own one of their VTX, but they are also manufacturing many other drone accessories (like cameras, receivers, goggles, and monitors).
FXT DVR review, ratings, and samples
Disclosure: I received this HD FPV recorder as part of a product review collaboration with FXT Technology. Although the product was offered for free, all the opinions in this review remain my own.
I received the package in about 3 weeks after tracking number confirmation. Being curious if I received the latest version with a built-in battery I immediately unwrapped the package. While the box was printed with the most important features, there is no mention of being self-powered. Damn, I said, and switch-it ON – guess what? it turned ON without an external power source :)
At a glance
Besides the DVR and its user manual, there are only two AV cables (Jack to 3 x RCA and Jack to Jack) included in the box. Yes, you will need to make/build/purchase your own power/charging cable. IMHO, a micro USB charging port would be more appropriate instead of that standard DC socket. Here, I should also mention that both cables have 3.5mm 4-pin jacks. This could be an issue if your FPV monitor/goggles have a 2.5mm jack socket like my Eachine LCD5802S.
The FXT DVR measures about 40 x 60 x 19 mm and weighs only 41 grams (without mounting accessory). It comes with a removable belt-clip which allows to attach it to your FPV gear. In the case of on-drone installation, you can remove the clip easily. While on the left side you have AV-In, AV-Out, and DC (7-28V) sockets, on the right side you have a micro SD slot and a two-position Power switch. It has two status LEDs: blue for recording (around the shutter button) and green for WiFi status (right-up corner). Overall, the build quality is excellent and the piano black finish makes it look like a deluxe product.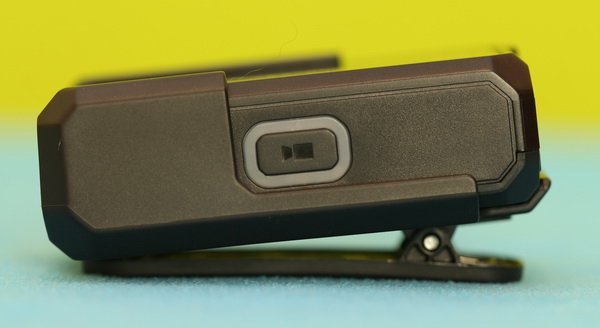 FXT DVR V2.0 highlights
Built-in battery for standalone operation;
720×576 (PAL) or 720×480 (NTSC) with 60fps recording;
H.264 video coding;
1/3/5/10 M video sequences;
Loop recording;
WiFi connection & Mobile device APP;
Wide range of input voltage (7-28V);
Removable belt clip.
FXT-DVR mobile APP
In order to explore the full potential of the FPV recorder, you need to install the FXT-DVR APP on your portable device. The tool is available for both popular mobile operating systems (download from Google Play or Apple APP store). After installation you need to look for "FXT-DVR" hotspot, the default password is "12345678". The WiFi LED has 3 states: OFF – WiFi disabled, flashing – No client connected, ON – Client connected.
In addition to the live view, the APP allows managing recorded files (download, delete, or play). Through the FXT-DVR APP, you can also start/stop recording for both, DVR memory or Phone memory.
The APP has even a built-in SD card speed test. It measures your card performance (read and write speed).
Initial test
Due to the wide range of voltage input, you can use as an external power source any 2-6S LiPo battery. The internal battery allows about 90 minutes of continuous recording. Unfortunately, there is no battery level indicator, just a beeper when the battery is near empty.
I used my FullSpeed TinyLeader drone and Eachine LCD5802S FPV monitor for the tests. In order to connect the DVR to the monitor, I need it to make a 2.5mm to 3.5mm cable.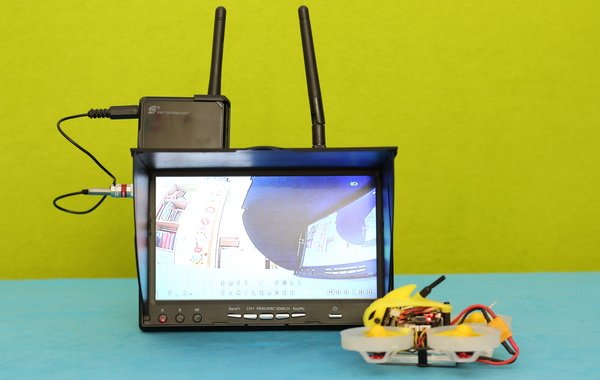 Just to check if its working, I also connected the out of the DVR to the in of the monitor. It worked and thankfully no overlay (OSD) added to the video feed.
Before powering ON:
Make sure to connect video input first, then power ON;
Confirm PAL/NTSC setup for the camera first, then power on DVR;
It is suggested to wait 10 seconds between Power OFF and Power ON again.
While recording, the LED around the "camera" buttons flashes. There is also a recording indicator on the up-left corner of the APP screen. BTW, you can't start recording without SD card nor a valid video source.
Recorded files are silky smooth. The 60 fps makes one hell of a difference. Bit rate is about 16 Mbps. A 4GB micro SD card can store approximately 90 minutes of recording. If you fly and record all day long, 16 GB should be a good option. Later I will upload to YouTube a comparison video between the Eachine and FXT DVR captures.
The WiFi FPV is a nice feature, but due to significant delay and freezes of the stream can be used only to take a peek into the live view.
Price and Availability
You can buy this FPV DVR directly from its manufacturer – either from popular RC retailers like Banggood. The suggested retail price is US$55.99.
Editor's ratings
Price/value ratio

Design and build quality

Recording formats

Battery life

Easy to use
Summary
From now on, the FXT-DVR replaced my two existing FPV recorders and became my go-to option for my all FPV flights. I like that is self-powered and the 60 fps recording makes the videos much smother.
Even if the WiFi FPV is not perfect, it allows my son to take a look into my flights using his big screen tablet.
What I liked
Excellent build quality;
Easy to use;
Built-in battery and a WiFi connection;
60 fps recording.
What I didn't like
NO battery level indicator just a beeper when it's too late;
Lack of HDMI input.
Alternatives
Currently, there is a wide range of FPV DVRs on the market. There are very affordable models with a starting price of $15, but they came without housing and require soldering. If you search for drone DVR's you will find out that most of them feature only VGA (640 × 480) resolutions with 30 fps. Also, none of the DVR's on the market have a built-in battery and WiFi APP control like the FXT DVR.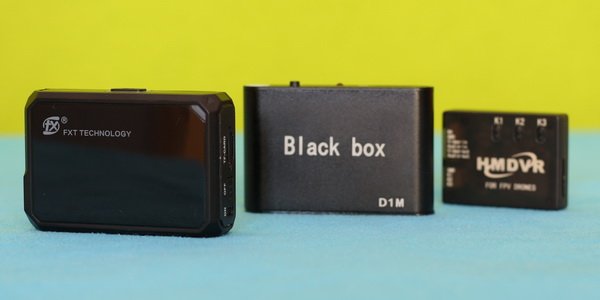 Many popular camera brands offer "split" FPV cameras with DVR. This approach is OK till you want to upgrade the camera – wiring the DVR board with another camera model is quite difficult.
Sample videos