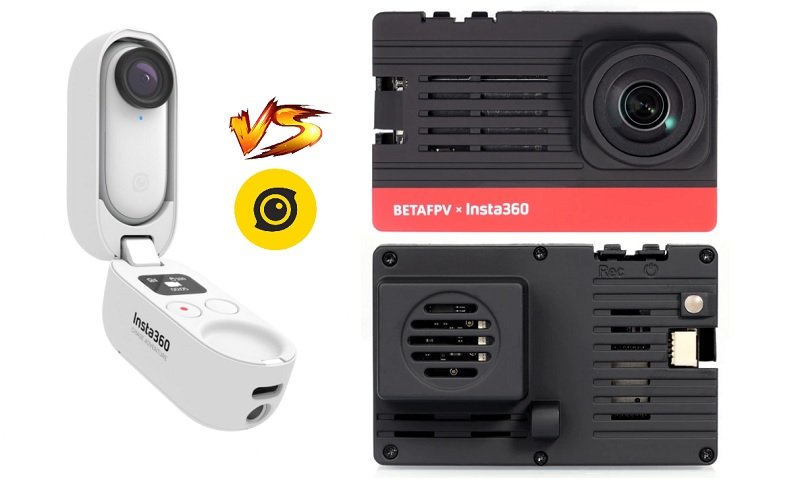 Not sure if you should get the new Insta360 GO 2 or the 'naked' Insta360 x BetaFPV SMO 4K for your drone? Then you're definitely in the right place – in this article, we compare all the features and specs of these two lightweight cameras to help you find the best one for you!
There are lots of things to consider when buying a camera for your drone. When it comes to micro FPV quadcopters, the additionally installed camera's size and weight are critical. The Insta360 GO 2 is not just lighter (26.5g vs 30g) than the SMO 4K but also much smaller. By comparison, the SMO4K measures 61.5 x 39.4 x 29.2mm and the Go2 52.9 x 23.6 x 20.7mm.
The SMO 4K was developed by BetaFPV in collaboration with Insta360. While follows the design of GoPro style action cameras it can't be used for standalone operation. In order to make it as light as possible does not have a built-in battery nor status display. Instead, you need to connect a power cable to your quadcopter's flight controller. The cable can also be used to enable the flight controller to control the Insta360 SMO 4K remotely.
Insta360 GO 2 vs SMO 4K comparison table
In the table below, I tried to compare the most important specs of these two Insta360 cameras. I highlighted with red where the SMO 4K excels and with blue where the GO2 shines.
| | | |
| --- | --- | --- |
| | BetaFPV SMO 4K | Insta360 GO 2 |
| Size | 61.5 x 39.4 x 29.2mm | 52.9 x 23.6 x 20.7mm |
| Weight | 30g (1.06oz) | 26.5g (0.93oz) |
| Internal storage | None | 32GB |
| External storage | Micro SD slot, up to 1TB | No |
| WiFi connectivity | Yes, 5GHz | No |
| Remote control via FC | Yes | No |
| Water-resistant | No | IPX4 up to 4meters |
| Max video resolution | 3840×2160@60fps | 2560×1440@50fps |
| UHD 4K | Yes | No |
| Max video bitrate | 100Mbps | 80Mbps |
| Max recording time | No limit | 30 minutes in FPV mode |
| ND/UV filter compatibility | Yes | Yes |
| HDR mode | Yes | Yes |
| FlowState | Yes | Yes |
| Built-in battery | No | Yes |
| Standalone operation | No | Yes |
| Release year | 2020 | 2021 |
| Price | $229.99 | $319.99 |
Both cameras incorporate gimbal-like Insta360 FlowState stabilization. While the SMO4K is capable of recording 3840×2160@60fps videos with up to 100Mbps, the GO2 2560×1440@50fps with up to 80Mbps.
That charging case is key to the Insta360 Go 2's design and the way it works. Equipped with a 1100mAh battery, it can refill the Go 2's internal battery four times over. Furthermore, It can be used as a remote controller as well.
Insta360 SMO 4K sample footage
Insta360 GO 2 sample footage
Bottom line
Thanks to the built-in battery, the Insta360 GO 2 has much wider usability. It is also water-proof for up to 4 meters allowing it to be used for water sports. Its small form-factor makes it almost invisible when you are wearing it for vlogging.
On the other hand, if you're looking for an ultra-light UHD camera used exclusively on drones, the SMO 4K is a better option since it is much more affordable than its rival.