JJRC's latest X11P SCOUTER+ drone comes with nice foldable design and on-board 4K camera. According to the first rumours, it is capable to record 3840 x 2160 with up to 20 frames per second. Furthermore, the camera features remote camera angle adjustment and 5G wifi real-time image transmission.
Thanks to the fail-safe RTH feature, when the JJRC X11P SCOUTER+ is out of control range it will return autonomously to the take of point. Same happens if the flight battery is nearly empty. The 2s/3400mAh LIPO pack allows up to 20 minutes flight time.
Sponosored AD

While folded arms, the aircraft measures 195 x 115 x 70 mm, with arms extended has 452 x 415 x 70 mm. Take-off weight with loaded battery is 640 grams.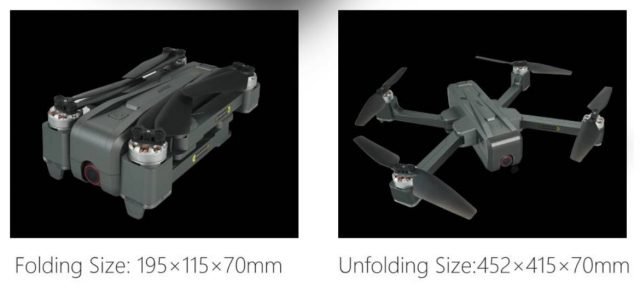 JJRC X11P quadcopter features & specs
Compact size with foldable arms (195 x 115 x 70mm);
GPS positioning system;
Optical flow positioning;
2204 type 1400KV brushless motors matched with 4in1 10A ESC;
On-board 4K camera with remote angle adjustment;
Up to 32GB micro SD card slot;
5G WiFI real-time image transmission (720P@20fps);
Intelligent flight modes (Auto follow, Point of interest and Waypoint flying);
Newbie friendly electronic fence;
Fail-safe auto-return to home (low battery voltage or RC signal loss);
Up to 40Km/h flight speed;
About 20 minutes flight time;
Up to 1600 meters control range.
Remote controller
Just like the Hubsan Zino 2, the X11P JJRC also comes with a nice remote controller with built-in status LCD. Thanks to the dual-antenna system it provides more than 1.5 KM control range. The transmitter is powered by two AA batteries, which allows about 12 hours using time.
In addition to the two control sticks, on front panel you have 4 buttons (RTH, Camera, Lock and Power). In case of week signal or radio interface, the RC's integrated buzzer will send out loud warning beeps.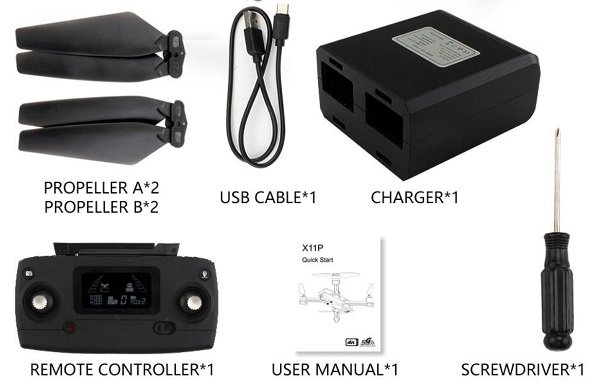 Included accessories with the JJRC X11P SCOUTER Plus drone
Remote controller /w phone holder
1, 2 or 3 flight batteries (2s/3400mAh);
Two channel charger;
USB Cable
1 set of spare propellers;
Screwdriver;
Optional bag.