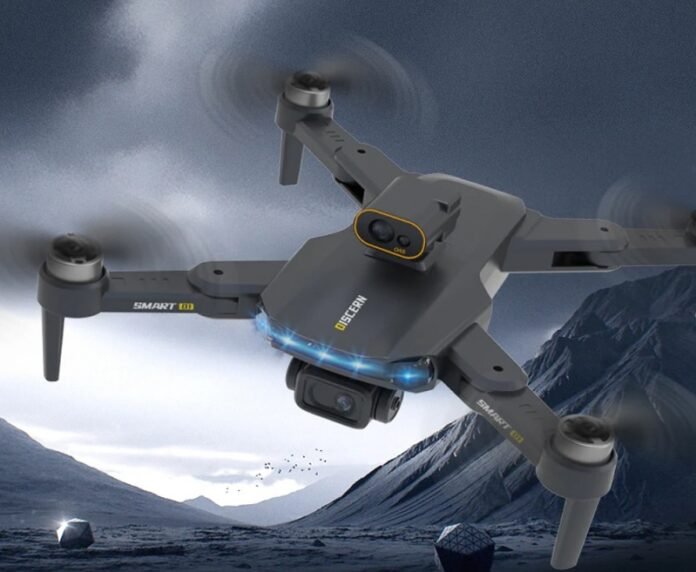 JJRC X21 is added to the long list of DJI MINI 2 alternatives. It has a compact size with folding arms and a wheelbase of 200mm. Its 1503 type brushless motors are equipped with 5″ folding propellers that provide level 5 wind resistance.
The selling point of the JJRC X21 is the 360° Laser Obstacle Avoidance System. Thanks to the OAS module it can avoid collisions with buildings, trees, or other obstacles. Furthermore, it has GPS and Optical Flow positions that allow stable flight in both indoor and outdoor environments.
According to the advertised specs, the 2S/2800mAh battery allows about 20 minutes of flight time. By comparison, the DJI MINI 2 is powered by a 2s/2250mAh pack and has up to 31 minutes of battery life.
Its 4K main camera is installed on a 3-axis gimbal and features 5Ghz WIFI real-time image transmission. The angle of the camera can be remotely adjusted.
Thanks to the fail-safe return to home (RTH) function, in case of remote controller signal loss or low flight battery voltage, the drone will return autonomously to the take-off point.
Price, availability, and options
The JJRC X21 DISCERN is offered with and without the Laser OAS module. While the JJRC X21 Pro with OAS is priced for $139.99 at Banggood, the basic edition without OAS is only $114.99. You can opt for one or two flight batteries.
JJRC X21 features and specs
Foldable arms, small size, easy to carry;
Brushless motors for strong wind resistance;
GPS positioning mode provides a more accurate flight;
Optical flow fixed point hover provides stable flight;
Optional 360° Laser obstacle avoidance, provide safer flight;
Real 4K ESC HD camera, support 90° remote control of lens angle to make the shooting wider;
3-axis Self-Stabilizing mechanical gimbal;
5Ghz WiFi FPV distance up to 500m;
Smart flight modes:

Follow me: the aircraft will fix the controlling cellphone and follow the operator in whichever direction he moves;
Surround action will enable the aircraft to fly in a circle, providing a cooler shooting perspective;
Waypoint flight mode, just draw a route on the phone's screen and the drone will follow the path.

With a 7.4V 2800mAh battery, the flight time is up to 20 mins;
Headless Mode, no need to adjust the position of aircraft before flying;
With One key to return, the function makes it easy to find the way home;
One Key Takeoff/Landing. One press automatically take-off/landing;
3-level flight speed to switch that can make more fun with the flying;
About 500 meters flight distance.
Included accessories with the JJRC X21 drone
Remote controller
7.4V Lipo Battery
USB charging cable
Set of spare propellers
Laser Obstacle Avoidance (Optional)
User Manual
Storage Bag