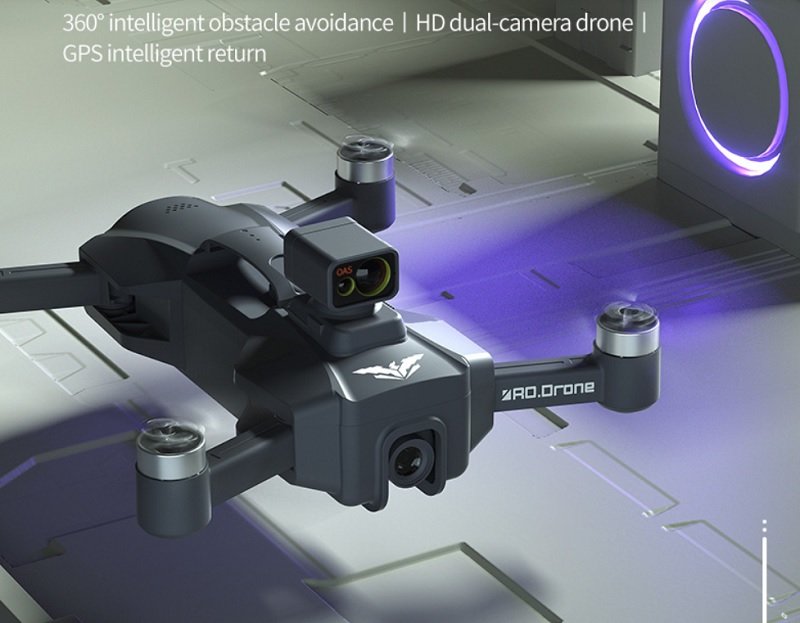 I know that beauty is relative, but JJRC could work more on the design of their new X23 drone. Personally, I found it outdated and even ugly.
The JJRC X23 features a collapsible design with brushless motors. With folded arms measure 155*75*55mm and weigh just 225 grams including battery and OA module. Here I should mention that in most countries, including the US, drones under 0.55lbs do not require special registrations.
It comes on top with a removable 360° intelligent obstacle avoidance system (OAS) that scans the surroundings in order to avoid collisions.
According to the advertised specs, the 7.4V / 2500mAh battery allows about 18 minutes of flight time. While the control range is about 1200 meters, the WiFi video transmission is only 400 meters.
Thanks to the fail-safe return to home (RTH) function, in case of transmitter signal loss or low flight battery voltage, the JJRC X23 drone will return autonomously to the take-off point.
JJRC X23 tehnical specifications
Unfolded size: 335*335*55mm
Folded size: 155*75*55mm
Weight: 225 grams
Material: ABS, hardware, electronics
Flight distance: about 1.2 kilometres
Image transmission distance: about 400 meters
Wheelbase: 200mm
Remote control frequency: 5GHz Remote control: Rechargeable 5GHz folding remote control (3.7V500MAH)
Motor specification: brushless motor 1503
Battery model: 7.4V/2500mAh
Flight time: about 18 minutes
Charging time: 2-4 hours
GPS: Dual Mode GPS/GLONASS
Geomagnetic: built-in module
Propeller model: 5 inch folding positive and negative propellers
Headless mode: remote control button switching
Fence: height 100 meters / distance 300 meters adjustable
Camera pixel: 720P (differential 8K)
Image transmission pixel: 720P/25fps
Front camera: adjustable up and down angle of 90 degrees