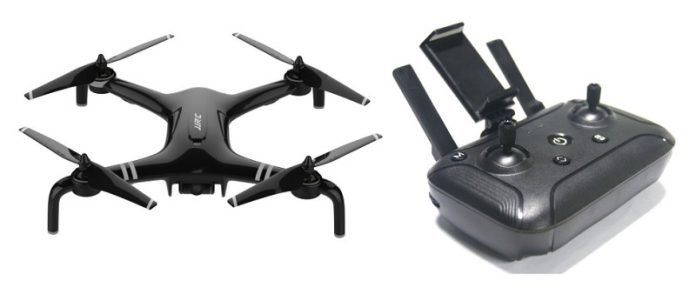 Today, I will introduce you, the JJRC X7 SMART and C-FIY SMART GPS enabled camera drones. Because these quads are apparently identical, I decided to publish one news instead of two separate ones.
While the JJRC X7 SMART quadcotper is promoted in black and white colors, the C-FIY SMART only in white. Both, drones features on-board 1080P camera with 5G WiFi real-time image transmission. In order to capture the best field of view, the angle of the camera can be remotely adjusted.
Starting with JJRC X1, JJPRO equips their "X" product line with powerful brushless motors. According to the advertised specs, the 7.6V/2600mAh battery allows up to 25 minutes flight autonomy. Surely, this is currently the best time from a drone under $200.
JJRC X7 SMART \ C-FIY SMART features & specs;
Dual satellite positioning system (GPS & GLONASS);
Powerful brushless motors;
Dual control mode (RC & APP);
On-board 1080P camera with remote angle adjustment;
5G WiFi real-time image transmission;
Intelligent flight modes (like Orbit mode);
Altitude hold & headless modes;
Up to 500 meters control range and 200 meters FPV range;
About 23~25 minutes flying time.
In my opinion the JJRC X7's dual-antenna transmitter looks very bulky. On front panel besides the usual control sticks it has only 3 buttons (M, Camera and Take-off/Land). No status screen.
Package content
X7 Smart quadcopter;
Remote Controller w/ phone holder;
7.6V/2600mAh flight battery;
USB Charging Cable;
Spare Propellers;
10mm Open-end Wrench;
2mm L-type Hex Wrench
User Manual.