I started my journey in the world of quadcopters with a cheap brushed drone because, at that time, it didn't exist affordable brushless models like this JJRC X1. Based on my experience, the biggest problem with the cheaper brushed DC motors is that after only 10-15 flights they burn out.
When it comes to cheap models, I consider that is enough to read some product reviews before I place my order. But now, as I'm planning to purchase a Phantom 3 Advanced, I wanted to hold it in my hand before I pay $1000 for it, not just to watch a few YouTube test videos.  So I decided to enter for the first time in a drone shop. Frankly, I was surprised how many interesting quadcopters they have in stock, including some that I haven't heard about. The sellers from the store were very helpful and it is good to know that there is a place where I can check models that are way over my budget. Enough now with the off-topic and let's return to the JJRC X1.
Two months ago my attention was captured by two similar products, this X1, and the YIFEI M-250. Except for the remote controllers, these two multi-rotors seemed to be almost identical. Because previously I had some good experiences with the JJRC products, I opted for the JJRC X1.
JJRC X1 review and test
The X1 quad is sold in two different boxes. A smaller compact one, where the props are not installed on the aircraft, and a bigger one that I received too. Just a note, this product was provided by Banggood for a fair review, thanks again for their professional attitude.
JJRC X1 review – First impression
The box is big compared to the size of the aircraft, so no wonder JJ RCToy decided to make a smaller one to reduce the shipping costs, which is probably a significant part of the total price of the product.
Compared with other similar-sized brushed quadcopters, this JJRC X1 has a bigger weight. One hand because of the heavier brushless motors and the other one is because the airframe is made from a thicker plastic.
At first sight, the aircraft has a very good build quality and it feels good in my hand. The glossy black finish grants a very professional look for this remote-controlled toy.
Besides the aircraft and its remote controller I found in the box the following:
2s 7.4 1300mAh Li-Po battery;
2s balance battery charger;
1 set of spare blades;
1 set of propeller protectors;
2 pieces of landing gears;
Small bag of screws;
Wrench tool;
Screwdriver;
JJRC X1 user manual (Chinese and English).
I have to mention that it's a good job to include an extra set of spare propellers. They are often damaged during crashes and who wants to wait 3 weeks till the next flight for a tiny piece of plastic?
The propellers were preinstalled but I had to install the prop guards and landing gears by myself. Being a powerful brushless quad I recommend installing the blade protectors before the first flight. They can prevent crash damages and possible injuries.
On top of the aircraft, there is a small piece of plastic that can be confused with a GPS antenna. It is only part of the design, without any real functionality.
Unfortunately, the JJRC X1 comes without any camera, but there's always hope :D. Under the belly of the aircraft, there are some camera hooks and a tiny connector called "CAN bus", which is a clue about the manufacture's plan to come up with the feature with a X1C model.
For those who don't want to wait for the newer version of the JJRC X1, SeByDocKy (one of the biggest RC enthusiasts on RcGroups.com) confirmed that the X1 is compatible with the Syma X5SC FPV kit. So, for about $170, they can have a complete first-person view brushless quad.
In the future I plan to give it a try for installing my RunCam 2 camera on this quad, hopefully, will endure bravely the additional 50g weight.
JJRC X1 review – Battery
The aircraft is powered by a 2s 1300 mAh Li-Po battery, which allows about 12-15 minutes of playtime. The battery is loaded into the tight compartment from the rear part. Unfortunately, there is no chance to push a larger battery with higher capacity into the battery bay. Those unwilling to wait 90 minutes between flights needed for recharge can opt for a secondary battery for the price of $8.50.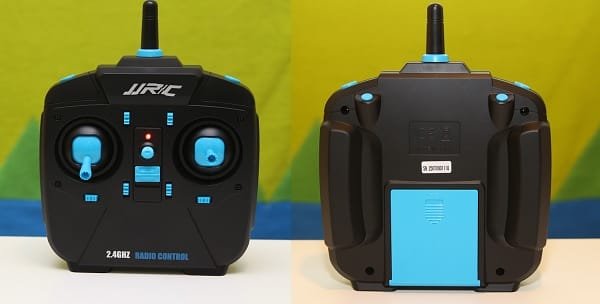 JJRC X1 review – Transmitter
Frankly, although the transmitter has a nice design I don't like it that much. It seems to be a cheap toy rather than an entry-level one. Anyway, the advertised 300-400 meters sound pretty cool. I'm curious if it will be confirmed on the flight field.
With the right-top button, the aircraft can be switched between 3 rate modes (10% – normal mode, 25% – comfortable flight mode, and 45% fast speed mode).
When the supply voltage of the transmitter drops under 4.5 volts, the power LED will flash and a "DiDi" alarm sound will warn the operator that is time to replace the batteries of the remote controller.
JJRC X1 arming
The manufacturer decided to adopt a new two-step arming sequence for this X1 quad, probably in order to prevent the accidental arming of the motors by kids that may end up with painful injuries for them. In order to arm your quadcopter you have to follow these two steps:
push and hold the left stick to the lowest-left position and the right stick to the lowest-right position (both sticks at the same time!) till a "DiDi" sound confirms that the quad is unlocked;
Move the left stick to lowest-right, then lowest-left, and again to lowest-right and the propellers will start spinning.
JJRC X1 review – Test flight
I've just returned from my first flight attempt with this quad. It seemed to be a perfect sunny winter day for some maiden flight, but the -5 °C and moderate wind was to much for this small quad.
As my reviewer fellows said, it is fast, it has a very good control range and flight autonomy but what I found out today is that it is hard to control it against the moderate wind. Becoming bored after 9 minutes of "windsurfing" I decided to land and to go back tomorrow for a second flight…
JJRC X1 review – Final words
If you are asking me whether I recommend this JJRC X1 as the first quadcopter for newbies, I will hesitate with my answer. But as the second one, it is definitely a good choice, especially for sporty pilots. It doesn't promise tons of features but is surprisingly fast and probably there is no other model with brushless motors in its price range. Being lighter than other robust racer quadcopters, I think will successfully survive the small crashes. Anyway, the market is full of spare parts for it, so if something goes wrong the X1 can be repaired easily and inexpensively.
Regarding its price, you can find it on the Banggood website for $119.99. You can also find there the previously mentioned cheap FPV kit for $51.99.
JJRC X1 unboxing and quick test
Pros
Brushless motors;
Nice sporty design;
3 different moderates;
Existence of spare parts;
Excellent control range (about 300-400 meters);
About 12-15 minutes flight time;
Cons
Complicated arming sequence;
Unknown flight controller;
Too lightweight to handle moderate wind;
Poor LED lights;
A bit expensive for what it offers.
JJRC X1G with 5.8G FPV
Finally, JJRC decided to add an FPV system to this nice quadcopter. The new version is called JJRC X1G and it comes with 5.8G FPV 600 TVL camera and 4.3″ FPV monitor.
The new JJRC X1G comes with the same nice design. The transmitter also remains unchanged.