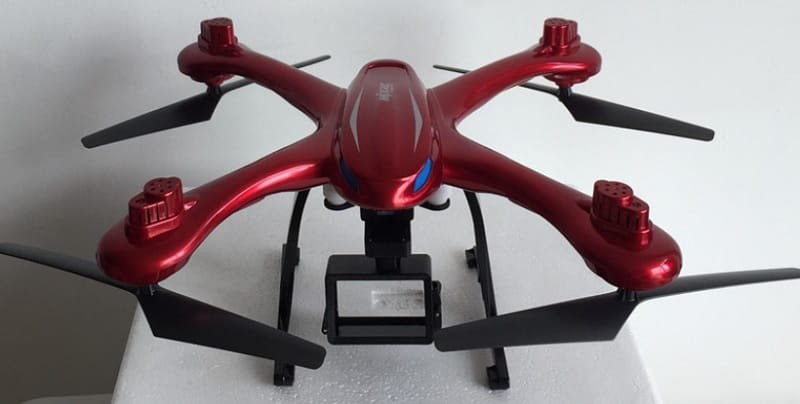 MJX X102H cheap quad for GoPro and alike cameras
New bird on the sky, the Chinese manufacturer MJX R/C just announced their new X102H quad with altitude hold. This model looks like an upgraded version of the popular MJX X101 X-Series.
This new MJX quad features all the latest features like headless mode and key to return to home. The left red shoulder button (the red one) allows to easly take off or land.
While the MJX X102H drone is delivered without any camera you have many options to install one on it. You can opt for one of the MJX R/C cameras (C4015, C4016 and C4018 ) or if you need better video quality you can mount a GoPro, SJCam or Xiaomi Yi camera. Just like the Tarantula X6, MJX X101 and Syma X8C, the X102H has enough lifting power to handle the extra weight of a GoPro camera (about 80 grams).
Thanks to the integrated barometric air pressure sensor, the X102H X-Series is capable to maintain its flight altitude stable at the desired level allowing to the pilot to focus only on the flight directions. This is a nice feature especially if you want to use this quad-copter for aerial filming.
The power source of the X102H quadcopter is a 2 cell 7.4V 1200mAh battery, that allows about 10-12 minutes of flight time.
MJX X102H features and specs
Suitable for GoPro and alike cameras;
Can be upgraded with MJX C4015, C4016 or C4018 cameras;
Altitude hold with precise hovering;
Headless flight mode;
One key return to home (RTH without GPS);
One key to takeoff an land;
Dual flight speed modes (Low and High);
About 11 minutes of play time;
Up to 100 meters control distance.
Included with the MJX X102H
2.4G transmitter (GR-302);
7.4V 1200mAh Li-Po battery;
Battery charger;
1 set of spare propellers
1 set of blade protectors;
1 pair of landing gears;
Set of crews;
Screwdriver;
Camera accessory;
Camera mount suitable for Gopro, SJCam and Xiaomi Yi cams;
X102H user manual.