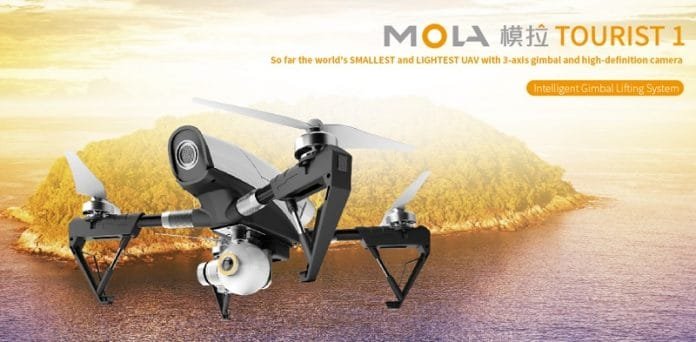 Mola, deluxe division of NineEagles recently announced their first drone with obstacle avoidance system. In order to allow easy transportation the arms of the MOLA TOURIST1 are foldable.
At first sight, my biggest disappointing regarding the specification of the MOLA TOURIST 1 is the lack of 4k-UHD videos. Unfortunately it supports only 1080p@60fps recording and 720p real-time image transmission (FPV). 3-axis brushless gimbals ensure stable vibration-free aerial footage.
Although the aircraft is powered by a relatively small capacity Li-Po battery (3500mAh), the advertised flight autonomy is pretty good (about 25 minutes).
Thanks to the fail-safe features, when the flight-battery is near empty (bellow 10%) the quad-copter will return to the take-off point and safely land. Of course this works only if the GPS signal is stable.
What are the main features of MOLA TOURIST 1 quad ?
Ultrasonic collision avoidance system;
Foldable design;
Dual satellite positioning system (GPS and GLONASS);
Intelligent flight modes (Way-point mission, Trip, Party and Meeting);
Auto avoidance of No-Flying zones;
Real-time image transmission (up to 500 meters FPV);
Emergency auto-return to home and land;
Full HD 1080p video recording;
3-axis camera gimbal with remote angle adjustment (yuntai);
5.8G transmitter with up to 1.5km control range;
About 25 minutes of flight autonomy.
As you can see on the image bellow the "Tourist 1" drone comes with a similar simplistic transmitter as the Phantom 3 Advanced. Even the phone-holders look identical.
Besides the usual control sticks and power button, the transmitter has 6 status LEDs and two shoulder switches.
What are included with the Nine Eagle MOLA TOURIST1 ?
Remote controller with smartphone holder and built-in 1300mAh Li-Po battery;
3s, 3500mAh flight battery;
Battery charger;
User manual.