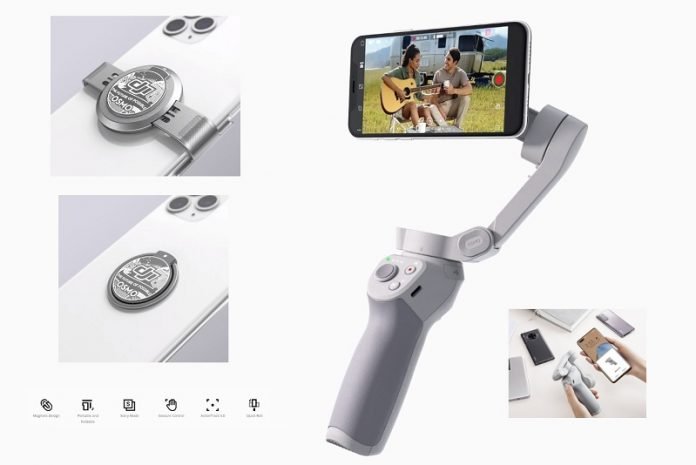 DJI's 4th generation phone gimbal, the Osmo Mobile 4 comes with innovative quick-release magnetic mounts. One is a clamp type magnetic mount that wraps around your mobile device and a second one attaches to the back of your smartphone and doubles as a finger ring for a better grip.
Like its predecessor, the DJI OM4 is also controlled by the DJI MIMO app, and in terms of functionality, everything the older Osmo 3 can do, the new Osmo 4 can do too plus some extras. It features ActiveTrack 3.0 like its flying brother, the Mavic Air 2. It has new pre-programmed smart-modes including Dynamic Zoom, Spin Mode, and a cool 'Clone Me' panorama mode.
The 'cockpit' of the Osmo Mobile 4 has 'function' and 'record' buttons, as well as a joystick, and there's a zoom slider on the left of the grip.
Price and availability
Starting with today, the DJI Osmo Mobile 4 phone stabilizer is available to order from the DJI Store and authorized retailers for $149. It comes with a wrist strap, two magnetic mounts, a tripod, a USB charging cable, and a storage pouch.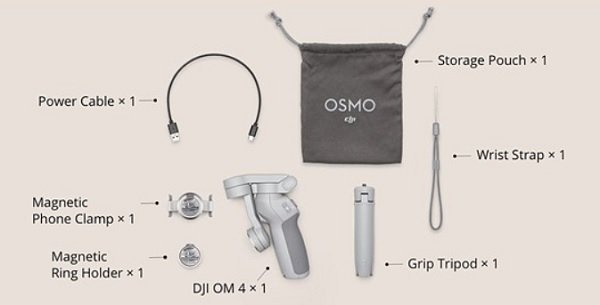 Osmo Mobile 4 phone gimbal features
Compact foldable design with quick-release mounts;
Super stable 3-axis stabilization;
ActiveTrack 3.0 – Can recognize and follow adults, children, and pets with higher accuracy, and you can even fine-tune your image composition with the joystick;
Story Mode – One-tap creative templates to stay in the moment while capturing fascinating footage;
Dynamic Zoom – Allows to create easily Hollywood-grade mind-boggling 'Hitchcock' effects;
CloneMe Pano – By pausing you can create epic panoramas from several photos with you in each frame;
Gesture control – Whether you're taking a selfie or a group photo, hands-free is the way to go!
Hyperlapse, Motionalapse, Timelapse, and slow-motion videos;
SpinShot Mode aka Vortex mode (Barrel Roll);
Versatile DJI Mimo App with a built-in video editor.
DJI OM4 technical specifications
Dimensions
Unfolded: 276×119.6×103.6 mm
Folded: 163×99.5×46.5 mm
Weight
Gimbal: 390 g
Magnetic Phone Clamp: 32.6 g
Magnetic Ring Holder: 11.4 g
Payload (Phone weight)
230 ± 60 g
Battery
7.2V/2450 mAh (18650 Li-ion type)
Working time
Up to 15 hrs
Mechanical Range
Pan: -161.2° to 171.95°
Roll: – 136.7° to 198°
Tilt:- 106.54° to 235.5°
Wireless connectivity
Bluetooth Low Energy 5.0
Price
USD $149