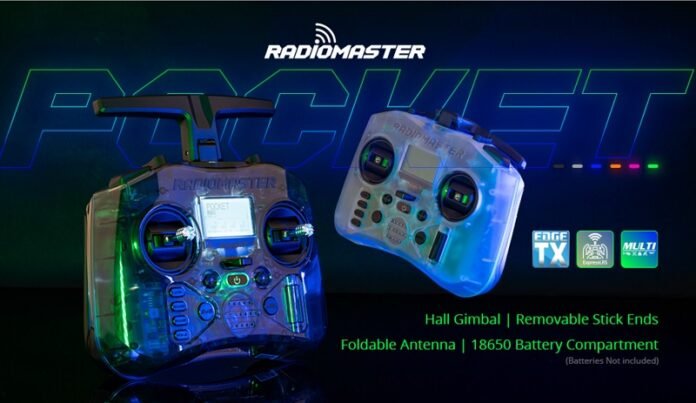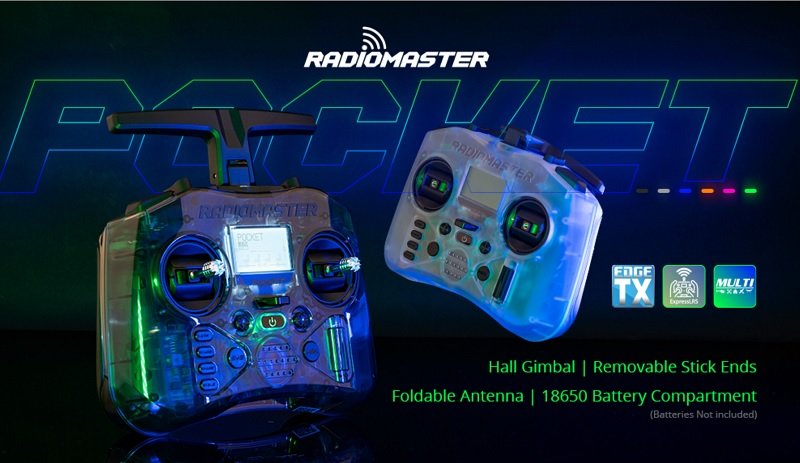 As its name says, the RadioMaster Pocket is a small, lightweight radio controller that packs a big punch. It is available in two versions ELRS and multi-protocol CC2500. Both variants come preinstalled with EdgeTX firmware. The RM Pocket is also equipped with hall-effect gimbals, removable stick ends, and a foldable antenna, making it easy to transport and store. It is compatible with 18650 batteries, which provide long battery life for hours of fun.
In addition to the classic charcoal and transparent case colors, RadioMster has a range of optional color cases available in a selection of vibrant colors, including blue, pink, green, and orange. This allows you to personalize the radio to match your own unique style.
The RadioMaster Pocket is an excellent choice for pilots who are looking for a small, lightweight radio with all the powerful features you have come to expect. It is great for ultra-compact CineWhoop-style drones like the BetaFPV Pavo Pico.
Pricing, availability, and options
The RadioMaster Pocket can be preordered from Banggood with a starting price of $67.99. You can opt for two colors (Transparent or Black), two built-in TX modules (ELRS or CC2500), and two RF regions (FCC\US or LBT\Europe).
RadioMaster pocket: Key Features
Preinstalled with EdgeTX firmware;
Hall-effect gimbals;
18650 Batteries, all the power you need for hours of fun (Batteries not included);
Portable and lightweight design with removable stick ends and foldable antenna;
Features hall effect gimbals as standard for smooth cantering & precise response;
Built-in LED lights help visualize your switch inputs;
Backlit LCD Screen offering a perfect balance of size and functionality;
Trim buttons for easy channel trimming;
External Module Bay compatible with RadioMaster Nano-size modules and TBS Nano Cr0ssfire/Nano Tracer;
2 Stylish Colors of Charcoal & Transparent version and optional case colors in Blue, Pink, Green, and Orange to suit your style.
RadioMaster Pocket: Protocol options
CC2500 (standard) Version supports all CC2500 protocols

LBT Version (Europe) is limited to LBT-compliant protocols FrSKY X/X2 LBT & HoTT LBT

ExpressLRS (standard) is pre-installed with ExpressLRS ISM FW (Max power is hardware dependent)

LBT (Europe) Version is pre-installed with ExpressLRS CE EU domain LBT FW (Limited to 100mw power output)
Technical specifications
Physical dimensions: 156.6*65.1*125.3mm (Folded size) /156.6*73.1*154.8mm (Unfold size
Weight: 288 grams
Operating frequency: 2.400GHz-2.480GHz
RF power: CC2500:100mW Max (20dBm) / ELRS FCC: 250mW Max (24dBm) / ELRS EU-LBT: 100mW Max (20dBm)
Operational voltage: 6.6-8.4v DC
Control distance: > 2km @ 20dBm
Operating system: EdgeTX
Control channels: Maximum 16 (Receiver dependent)
Display: 128*64 Monochrome LCD
Battery: 2pcs 18650 batteries (Not included)
Charging: Built-in USB-C QC3 Charging
Upgradable Firmware: Via USB or the included SD card
Module bay: Nano size (Compatible with RadioMaster Nano-size modules, TBS Nano Cr0ssfire / Nano Tracer)