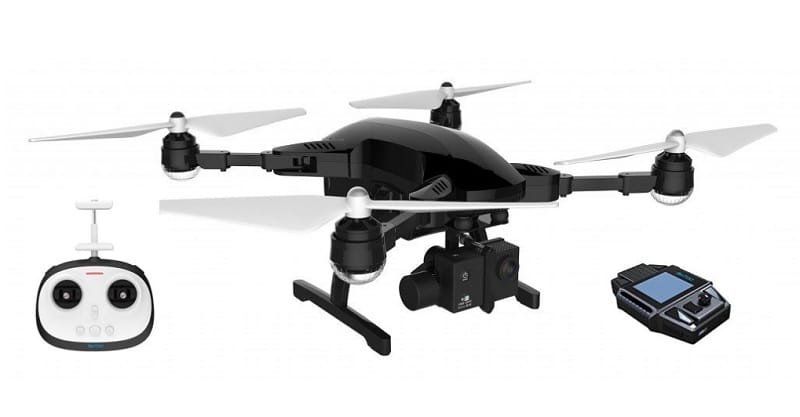 SIMTOO Dragonfly Pro with 3-axis brushless gimbal, 4K camera and RC Watch
If I remember correctly, the SIMTOO Dragonfly Pro quadcopters was firstly revealed one year ago at CES but only now became available for purchase. Besides the nice foldable design it comes with dual control mode. Thanks to the GPS Smart Watch you will enjoy the hands-free operation during outdoor sports activates.
The SIMTOO Dragonfly Pro comes with a 3-axis brushless gimbal and a GoPro alike 4K camera. The camera has a shutter button, so it can be used off-drone like any other action camera.
Powered by a 5200 mAh battery, the advertised flight autonomy of this drone is about 25 minutes.
The biggest advantage of this Dragonfly Pro drone over the FlyPro XEagle is the foldable design. This way you can conveniently carry the drone with you almost everywhere.
SIMTOO Dragonfly Pro highlights
Ultra-compact foldable design;
9" self-tightening propellers;
3-axis brushless gimbal;
GPS/Glonass positioning system;
4k@25fpv and 1080P@60fps video recording;
16MP photo mode;
Hands-free mode with RC GPS Watch;
Auto take off/land;
Circle hovering;
Follow-me flight mode;
Up to 25 minutes flight autonomy;
Up to 1KM control range with RC.
Included with the SIMTOO Dragonfly Pro quad
Transmitter;
GPS Smart RC Watch;
5200 mAh 3s Li-Po battery;
Balance battery charger;
USB cable;
1 set of propellers;
3-axis brushless gimbal;
4K, 16MP camera;
8GB Micro SD memory card;
Deluxe hard-shell case;
User manual.
First images with the Dragonfly Pro drone
[ngg_images source="galleries" container_ids="322″ display_type="photocrati-nextgen_basic_thumbnails" override_thumbnail_settings="0″ thumbnail_width="240″ thumbnail_height="160″ thumbnail_crop="1″ images_per_page="60″ number_of_columns="0″ ajax_pagination="0″ show_all_in_lightbox="0″ use_imagebrowser_effect="0″ show_slideshow_link="0″ slideshow_link_text="[Show slideshow]" order_by="sortorder" order_direction="ASC" returns="included" maximum_entity_count="500″]