SpeedyBee F745 35A BLS claims to be the world's first AIO flight controller with built-in wireless connectivity (Bluetooth and WiFi). It allows changing everything right on the flight field using your mobile phone. You can configure a new radio receiver, motor layout, PIDs, and other things.
The flight controller measures 36.5×36.5×7 and it has a 25.5×25.5 mounting pattern. Weighting just 10 grams it is perfect to build FPV drones that weigh less than 250 grams. It supports PPM, Crossfire, and ELRS radio receivers. Thanks to the 4 UART ports it can be equipped with GPS and other types of sensors. Another great feature is the onboard DJI Air Unit plug.
The integrated 35A ESC has powerful and durable Toshiba MOSFETs and supports full BLHeli_S configuration.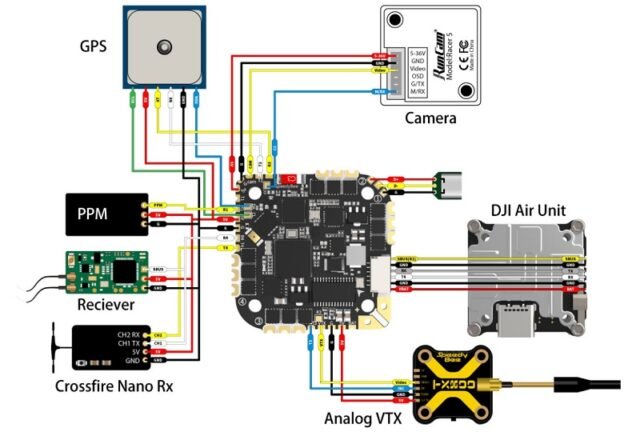 SpeedyBee F745 AIO FC technical specifications
Power Input
3S – 6S Lipo
Mounting
25.5 x 25.5mm, 3mm hole diameter
Dimension
36.5mm(L) x 36.5mm(W) x 7mm(H), recommended for quads at 3.5″ or above
Weight
10.1g
FC
MCU
STM32F745
IMU(Gyro)
MPU6000
USB Connection
Need to solder a USB TYPE-C module to D+, D-, GND pads.
Barometer
BMP280
OSD
Supported
BLE Bluetooth
Supported. Used for parameter configuration
Flash FC Firmware Wirelessly
Supported
Download/Analyze Blackbox
Supported
DJI Air Unit 6-pin Connector
Built-in
Flash(for BlackBox)
8MB
Current Sensor
Supported. Scale=256
BetaFlight Camera Control Pad
Yes (CC pad)
5V Output
4 groups of 5V output. The total current load is 2.5A.
9V Output
None
3.3V Output
Supported. Up to 500mA current load.
ESC Signal Pads
M1 – M4
UART ports
Full UART * 4(UART1, UART2, UART3, UART4)
ESC Telemetry UART
None
I2C
Supported.
LED Pad
Used for WS2812 LED
Buzzer
BZ+ and BZ- pad used for 5V Buzzer
BOOT Button
Used to enter DFU mode
RSSI Input
Not supported
SmartPort
Use any TX pad of UART for the SmartPort feature.
Supported Flight Controller
BetaFlight(Default)
Firmware Target Name
SPEEDYBEE F745AIO
ESC
Power Input
3-6S LiPo
Continuous Current
35A * 4
Burst Current
45A(5S)
ESC Protocol
DSHOT300/600
Power Output
VBAT
Current Sensor
Supported(Sacle=256)
Firmware
BLHeli_S JH40