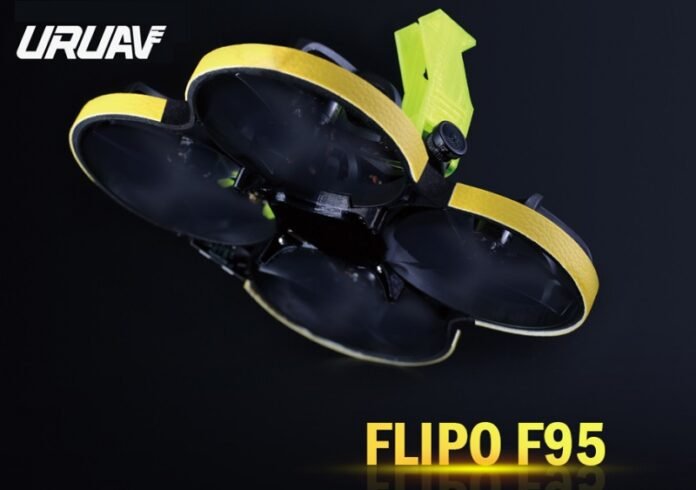 Similar to the Beta95X V3, the URUAV Flipo F95 also features a Pusher design (up-side-down motors). This approach provides better performance and greater stability.
In addition to the frontal Runcam Nano 2 camera, the URUAV F95 is capable to carry an ultra-light 4K camera such as a naked GoPro or Insta SMO 4K. The real-time image transmission is achieved using a 5.8GHz 40CH FPV transmitter (VTX) with up to 300mW broadcast power. Thanks to the TBS Smart Audio feature, transmission power, and band can be adjusted even remotely.
Its tiny 4500KV brushless motors are matched with Gemfan D63 2.5-propellers propellers. According to the advertised specs, with a 4S 450mAh battery, you can achieve about 4 minutes of flight time.
URUAV Flipo F95 features and specs
95mm size carbon-fiber frame with Pusher (inverted motors) design;
CineWhoop duct bladed guards with protective EVA foam;
F4 AIO flight controller with integrated 20A ESC;
1106 4500KV 2-4s brushless motors with Gemfan D63 2.5″ propellers;
Runcam Nano 2 1200TVL FPV camera;
XF5805 5.8G 40CH 25/100/300mW VTX;
Naked GoPro, SMO 4K, and Insta360 GO compatible;
4S LIPO compatible (~4minutes of flight time with 4s/450mAh);
Optional FrSky XM+ radio receiver.
Product details
Flight controller specs
CPU: STM32F405 (168MHz);
IMU: MPU6000 (SPI connection);
Firmware: GEPR/GEPRCF405;
OSD: Built-in OSD (STM32 controls the OSD chip via SPI);
Support programmable LED such as WS2812;
Built-in current sensor;
Reserved buzzer interface;
Support Frsky/ Flysky/Futaba/TBS Crossfire radio receivers;
Size: 30x30mm (26x26mm mounting holes);
Weight: 6.4grams.
Integrated ESC specs
Input Voltage: 2-4S Lipo;
Constant Current: 20A;
CPU: EFM8BB21F16G;
Motor Connector: 1.25mm pin header connector;
Firmware: G-H-30-16.7;
Support BLHELI_S all functions;
PWM, Oneshot125, Oneshot42, Multishot, Dshot150, Dshot300, Dshot600 compatible.
Motor specs
KV: 4500rpm/volt;
Lipo Cell: 2-4Sl
Idle Current (IO/10V): 0.185;
Max Continuous Current: 7.0A;
Max Continuous Power: 110W;
Max thrust: 269g (16.8V/4024R);
Configuration: 12N/14P;
Motor Resistance (Rm): 0.481Ω;
Stator Diameter: 13mm;
Stator Length: 6mm;
Motor Dimensions: Φ14.2×14.5mm;
Overall Shaft Length: 4mm;
Shaft Diameter: 1.5mm;
Bolt holes Spacing: 9*9mm;
Bolt thread: M2;
Recommend Propeller: 2.5 Inch;
Weight: 10.8grams.