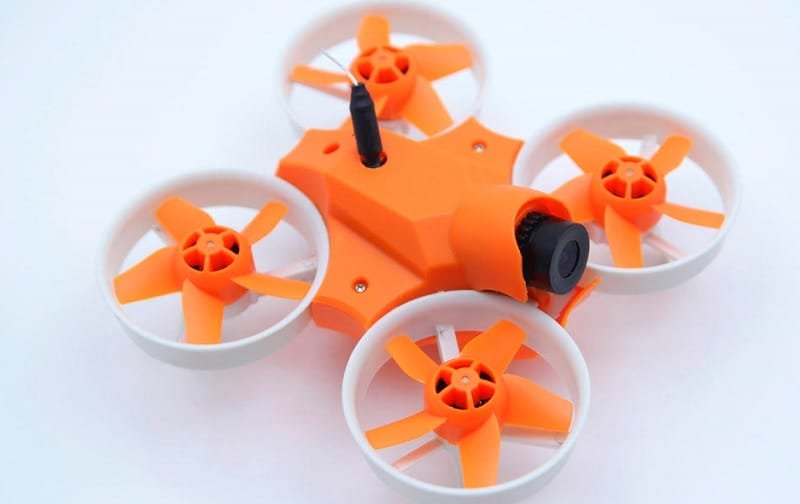 Lately I introduced many mini drones with ducted props, but this Warlark Pro will be the first which features penta-blade propellers. Frankly, I would be curious to test one because till now I was totally disappointed by all props over 3-blades. They are much more noisy.
According to your existing transmitter you can opt between 3 type of radio receivers: A-DSMX/2, B-SFHSS/FRSKY and C-FLYSKY/Hubsan. The RX is integrated into the flight controller and cannot be replaced.
In front of the aircraft is located a 600TVL camera which is paired with 5.8G 25mW VTX.
Compared to other Tiny Whoop alternatives, this Warlark Pro is powered with 2s Li-Po instead of 1s. Higher voltage means more punch but usually also shorter motor life.
The Warlark Pro-85 is available in two colors, blue and red. The included canopy will protect all the electronic parts during crashes.
Warlark Pro features and specs
85mm Wheelbase (rotor to opposite rotor);
Ducted propellers (Whoop design);
Flight controller with STM32F303CCT6 and optional radio receiver;
1103 brushless motor(KV6400);
4in1 ESC that can reach 4.5A;
5.8G, 25mW, 40CH VTX;
600TVL camera with angle adjustment;
Built-in buzzer;
Up to 4.5 minutes of flight time.

Included with the Warlark Pro
330mAh 7.4V Battery;
1set of spare propellers (40mm 5-blade);
Battery Velcro tape;
Charging harness.
Additionally you will need a battery charger and compatible transmitter (remote controller).