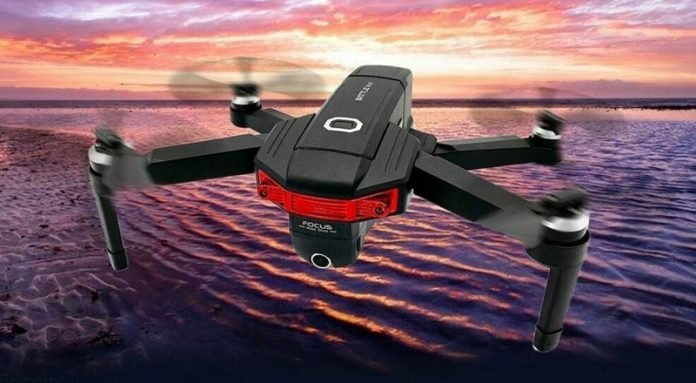 Like the VISUO ZEN K1, this new X46G-4K also features pseudo 4K camera which means that the drone is capable to take only photos with 4K resolution. Videos will be recorded with 1920 x 1080 pixels. Under the belly of the quad there is a second 720P camera which serves as optical flow positioning.
According to the advertised specs, the large capacity 7.4V/3500mAh battery allows up to 25 minutes hovering time. Unfortunately, using the included USB charger cable, the charging process takes more than 6 hours.
Thanks to the fail-safe return to home feature, the Battle Wolf X46G-4K quadcopter will autonomously return to the take-off point if battery is near empty or aircraft is out of transmitter range (RC signal loss).
X46G drone features & specs
Foldable design;
GPS positioning system;
Optical flow positioning for stable indoor hovering;
Intelligent flight modes (Smart Follow, Trajectory flight, Surrounding and V-sign);
Fail-safe return to home (Low battery or out of RC range);
Powerful 1806 type brushless motors;
On-board 4K camera (1920 x 1080P video and 4096 x 3072 photo resolution);
5G WiFi real-time image transmission;
Remote camera angle adjustment;
About 300 meters FPV range and 500 meters control range;
Up to 25 minutes flight autonomy.
Battle Wolf X46G transmitter
As you can see in the image above, the X46G drone is packed with a nice transmitter with built-in phone holder and more than 500 meters control range. On front panel, besides the usual control sticks and power switch, you have 6 buttons (Camera Up/Down, Lock/Unlock motors, RTH/Headless Mode, GPS mode and Geomagnetic calibration). While the left shoulder button allows to toggle between speed rates, the right one controls the camera (photo/video).
The status LCD will show you permanently the actual aircraft battery level, flight distance, altitude, flight mode (GPS On/Off), number of satellites and RC signal strength.
X46G drone coupon deal
Now, using this "BGX46G4K88" coupon code you can have the X46G-4K with 8% from here. Note: this is a limited time offer and it is valid for 100 pieces!
What you get for US$142.99?
Remote controller with foldable phone holder
1 set of spare propellers;
7.4V/3500mAh flight battery;
USB charging cable;
Storage bag;