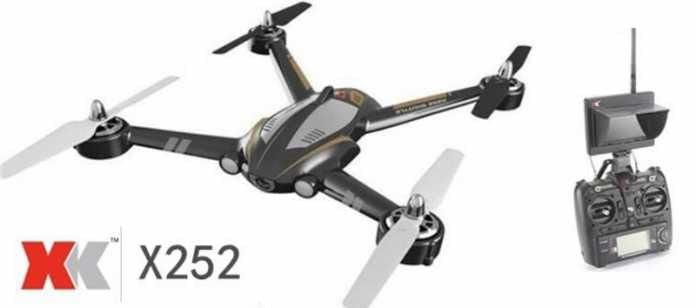 XK X252 cheap brushless quadcopter with 7CH transmitter
It seems that the Chines quadcopter manufacturers were put to work after their longest holiday. They announce almost every week some new models. Together with the XK X252 where also announced two cheaper brushless models, the XK X251 and X251-A.
This XK X252 quadcopter comes with brushless motors and complete 5.8GHz first person view system. The design of the quad is very simplistic and apparently will use the same 7 CH transmitter as the XK X380 guad.
Although it is powered by a small capacity 950mAh battery, the XK X252 is advertised to have up to 12 minutes of flight time. Hopefully, I will get one for review and test this hardly credible flight autonomy.
In the front part of the aircraft there are two bright LED lights and a 720p first person view camera. The real time images from the onboard camera can be displayed on the 5.8GHz FPV screen which is installed on the top of the remote controller.
XK X252 features and specs
Powerful brushless motors (1804);
Innovative 3D propellers;
Up to 20m/s flight speed;
720P camera with 140 ° wide-angle lens;
Complete 5.8GHz real-time image transmission (FPV);
No landing skids design;
LED lights for better orientation in dark conditions;
Compatible FUTABA S-FHSS transmitters;
Up to 12 minutes flight time;
About 300 meters control range;
Near 250 meters FPV distance.
XK X252 package includes
X252 quadcopter;
2.4GHz 7CH transmitter
5.8G FPV monitor;
7.4V 950mAh 20C Li-Po battery;
1set of propellers;
1set of 3D blades;
Battery charger;
Power adapter;
Propeller removing wrench;
XK X252 user Manual.