These days, 3D printers are used in various applications, from education and prototyping to advanced things like bioprinting organs. In the drone hobby, many DIY enthusiasts started to print their spare parts and accessories for long time ago. Lately, Free Zillion, founder of RaceWhoop Facebook group, designed a ducted drone that is almost entirely 3D printed. The concept became quickly popular due to its durability and simplicity in build. For this project is recommended to use filaments with good impact resistance and an Artillery Hornet like FDM 3D printer.
Artillery Hornet adopts Cartesian design which is the most common approach for consumer 3D filament printers. Based on the Cartesian coordinate system in mathematics, this technology uses three-axis: X, Y, and Z to determine the correct positions and direction of the extruder head. While the printing platform moves on the Z-axis, the print head is working two-dimensionally on the X and Y-axis.
Technical specifications
| | |
| --- | --- |
| Printing technology | Fused deposition modeling (FDM) |
| Filament Compatibility | PLA, PETG, and TPU |
| Print Volume | 220x220x250mm |
| Stepper Motors | 1.8° step angle with 1/256 micro-stepping |
| Build Surface | Glass + Aluminum plate |
| Layer Resolution | 100-300 microns |
| XY Positioning Precision | 10 microns |
| Z Position Precision | 100 microns |
| Print file type and location | G-code, SD card |
| Construction | Aluminum and ABS |
Artillery3D Hornet: A great budget FDM printer
Disclosure: I received this 3D printer as part of a product review collaboration with Artillery (Shenzhen Yuntuchuangzhi Technology Co). Although the product was offered for free, all the opinions in this article remain my own!
I got the printer about two weeks ago, but I decided to wait with the unboxing until the ordered test filaments arrive too. I opted for Thermoplastic Polyurethane filament because they are the most commonly used for drone accessories such as camera mounts and antenna holders. TPU filaments are known to be flexible, abrasion-resistant, and can withstand impacts.
The Artillery Hornet is packed nicely and safely in a reasonable size cardboard box. It has dense foam protection on all sides. At a glance, you have access to the user manual, and tool bag with the following accessories and spare parts: USB Cable, 4GB Micro SD card with adapter, SD Card reader, 8/10mm wrench, lots of hex wrenches, zip ties, and spare nozzle, PTFE tube, and V-slot wheels.
First impression and assembling
Artillery Hornet comes ~90% build to save space during shipping. Practically you just need to mount the XZ gantry onto the base unit, install the spool holder and printer head. Few cable connections and minor adjustments are also required prior to the leveling process. Artillery did an excellent assembling video tutorial for their Hornet 3D printer.
Fully assembled, the printer dimensions are 470 x 410 x 450 mm and it weighs 8 kg (17.6 lbs). It fits perfectly on my desk.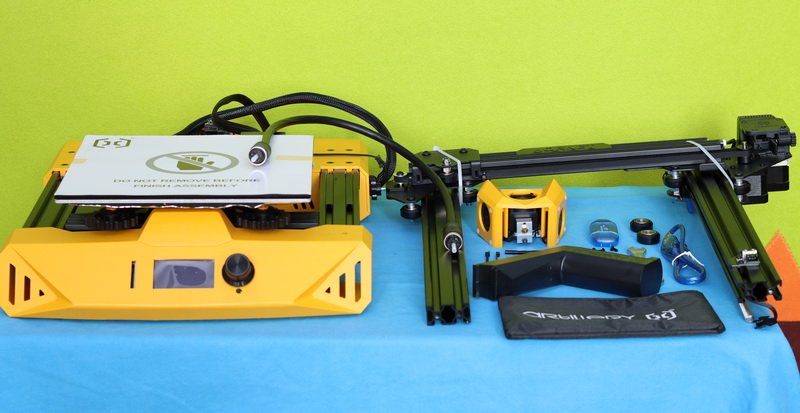 Hornet is based on the in-house developed Ruby 32-bit mainboard that, combined with their stepper driver, delivers a great printing experience. All the electronics are integrated into a stylish yellow injection-molded housing that grants a futuristic look for the product. Everything looks well-wired and routed with no exposed mains at any point. In order to avoid connections getting rattled loose, most of the plugs are hot glued in their place.
Its 24V/300W power supply features overcurrent, overvoltage, short-circuit, and thermal protection and accepts a wide range of AC input (115/230V with adjustable switch).
On the front panel, there is an old-school dot-matrix LCD screen, encoder wheel, and an SD card slot. On the back, there is the AC plug, system cooling fan, and power switch with a fuse.
Tempered glass heat bed
The Hornet has a 23×23 cm size tempered glass print platform with a glued aluminum DC heat plate below. The porous top helps the first layers to adhere well when heated properly (up to 140 °C). Also, the models pop off easily once the glass is cooled down, so there is no need to scrape it with a spatula, risking damaging the printing surface.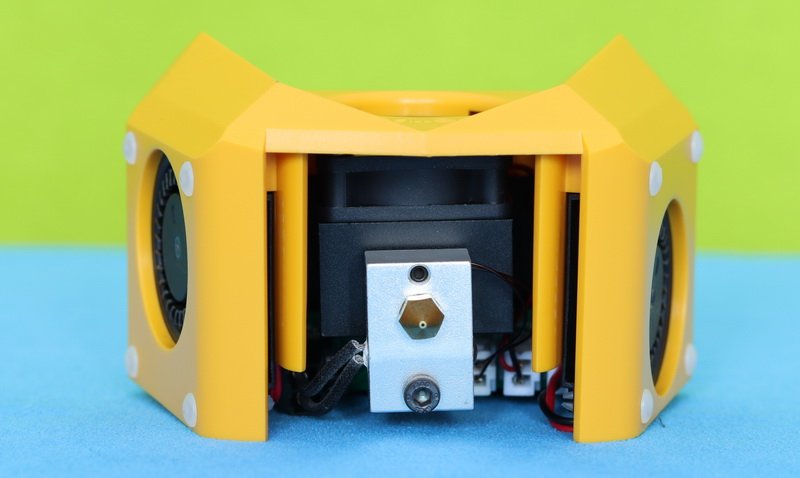 Print head (Extruder & Hot end)
Hornet adopts a new titan extruder with stronger extrusion and stable filament feeding.  The modular hot-end has copper nozzles and three fans: an axial fan upfront to cool the hot end and two radial fans on either side for additional cooling. The printable materials (filaments) are pushed into the copper hot end through a long PTFE tube (Bowden). The print head connects to the rest of the system through a new multi-purpose cable system that includes power, signal, and filament feeding.
Must have leveling steps for quality prints
To ensure the best printing quality you need to level the print platform. For the process, you will need a sheet of A4 paper to create an approximate 0.1mm distance between the nozzle and build plate. Getting the perfect first layer is crucial so take your time and repeat the steps below till you get a well-leveled print bed.
Select Temperature -> Preheat PLA -> Preheat PLA. This will heat
up the bed and the nozzle temperature to printing conditions, making the
leveling more accurate. Wait for 1 minute after the machine reached
the target temperature;
Select Motion -> Level Corners. This will home the machine first,
then move the nozzle to the first corner;
Slide a piece of A4 paper between the nozzle and the build plate;
Rotate the leveling knob under the bed closest to the nozzle until the
piece of paper slides, with just a bit of drag;
Choose Next to move to the next corner, and repeat the previous step. Leveling is completed after all 4 points are leveled;
Repeat the last two steps 2-3 times for best results;
You may need to make fine adjustments to the bed level when
you start printing. The first layer of the print will show whether the
distance between the nozzle and the build plate is correct.
Initial setup
The Artillery3D Hornet ships with a TF memory in an SD card adapter that contains a PDF user manual, configuration files, Cura slicing software, and a demo model in .gcode format. The test file can be printed by simply inserting the card into the printer and selecting a model. Unfortunately, there is no preview on the screen.
3D designs that you can find on Thingiverse and Cults3D are STL files and they need to be converted into gcode format, in order to be 'digested' by the Marlin firmware. The slicer will also tell you how much filament (in weight and length) is needed to print your model.
Despite that the Ultimaker Cura slicer is recommended by Artillery, it does not have an initial profile for the Hornet printer. Following the user manual, you need to create a new machine with the mentioned settings. Start and End gcodes as well as some basic print profiles are also provided on the memory card. Of course, you can use also other tools, if you are familiarized with a specific one.
If you level it correctly and used good quality PLA filament, the Cube demo model should be printed in less than 1 hour. Till you are sure that everything works correctly, I suggest supervising the printer, because if it fails, it continues to work and melting the filament -making a mess on the print bed and the nozzle.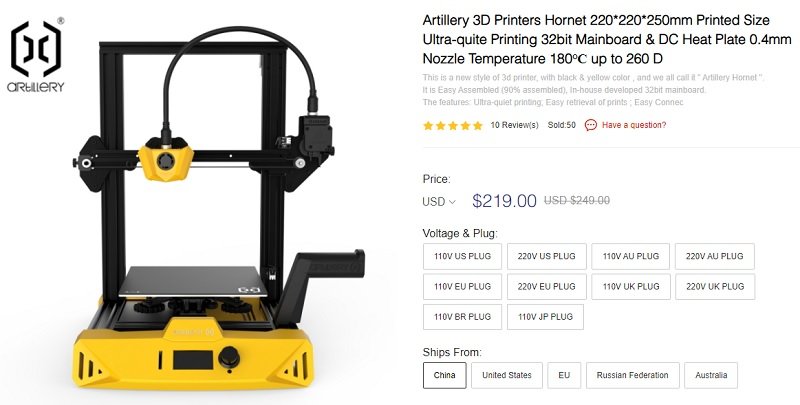 Price and availability
Released in November 2020, Artillery's Hornet can be ordered from many popular electronics online retails. At this time, Artillery's Hornet can be purchased directly from the manufacturer's website with $30 off for $219.00. You can opt for Chinese, United States, Europe, Russian Federation, or the Australian warehouse. All Artillery products can be also purchased from their official Aliexpress store.
User experience
When I reviewed the ELEGOO MARS 2 PRO I thought that is complicated to work with resin 3D printers due to consumable toxicity, but I quickly found out that FDM printers also have their 'problems'. Filaments need to be kept dry in airtight compartments. 3D Filament with moisture trapped in it can cause quality issues with your prints. Another issue I found is the compatibility between 3D printers and filament. For example, using TPU with the Artillery Hornet is quite complicated, even experienced users need time and multiple tests to get them to work together. There are different temperature (nozzle and bed) and printing speed settings for different filament types. During printing, the filament can also be stuck on the spooler.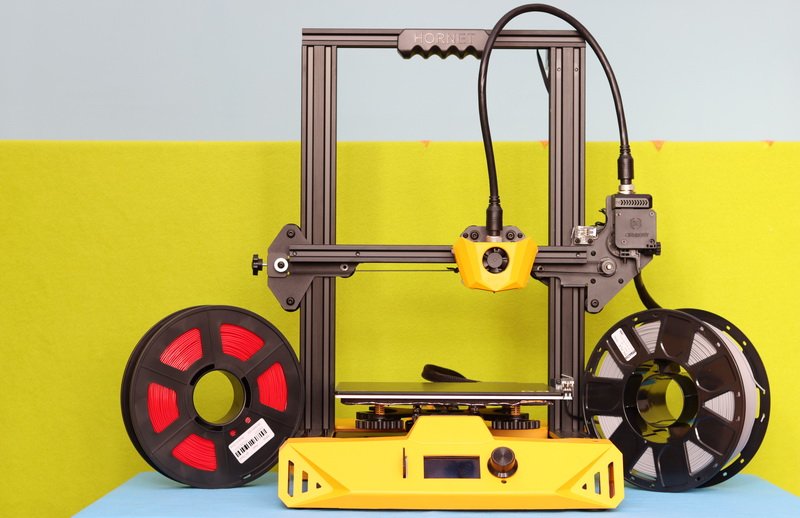 During countless leveling attempts, I noticed that the print bed had some wobbles. This can be fixed by adjusting the tension of the eccentric nuts under the platform (right side). Another issue out of the box was that one end of the printing platform's belt had been left loose.
Till now, I tried to print with SUNLU TPU and Creality PLA filaments. I had zero success rate with the first one, despite the many temperature settings I tried (bed and nozzle). On the Artillery Hornet owners Facebook group, I found out that it is very complicated to use TPU with this 3D printer out of the box. TPU is too soft and does not like being shoved a long distance through the feeding tube.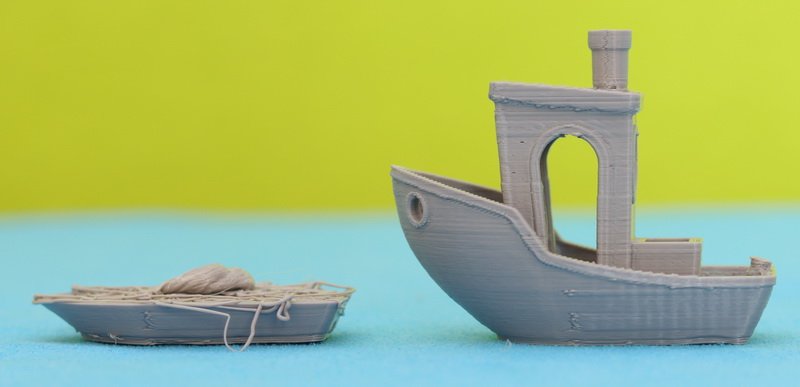 Using PLA filament, I managed to print 3D models with a good 'foundation', but workpieces with a small footprint (contact area with the bed) fail almost all the time. Curiously, the same print file with the same settings sometimes fails and sometimes works. Maybe I should use some glue or baby-stepping for fine-tuning.
A few times printing failed at 30-50%, which is quite frustrating. I burned my finger a few times till I learned how to clean the print nozzle safely.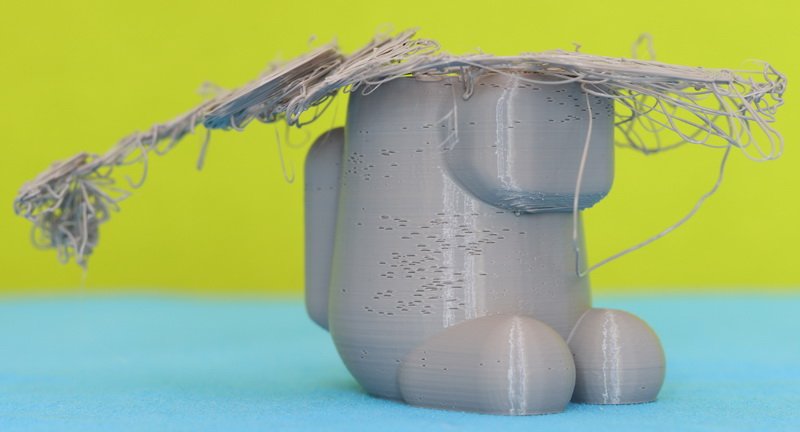 To be honest, in the last few days I watched working the Hornet printer so many that in the morning I felt my head moving like the hot-end :))
Printing speed
Volum and infill patterns of the model are the most important factors that determine the printing time. By machine settings, you can balance between quality and printing time. The Artillery Hornet comes with 3 profiles (Normal, Fine, and Fast) on its SD card. As a reference, printing the 12x12x3.5cm size clamp-it assembly square tool took almost 8 hours.