Due to the weight regulation, everyone started to look for 250-gram class drones, but based on my experience, they have a massive problem with flight performance in windy conditions. Instead, from my first flight with the Autel EVO Lite+, I felt its mighty power. Also, featuring a big one-inch sensor, the FOV and quality of the footage is changed.
Autel Robotics has three consumer drone lines: Nano, Lite, and EVO II. The EVO Lite series is a direct competitor of the DJI Air 2S and comes in two versions in which only the camera makes the difference. While the standard (basic) has a 1/1.28 inch 50MP image sensor, the 'Plus' edition shown in this review has a bigger 1-inch 20MP sensor. Both are advertised with a 12KM range and about 40 minutes of battery life.
Due to the freedom of airspace, many chose Autel over DJI. This summer, I attended a Bosch Power tools expo located near the local Airport (across the road, just 100 meters away). While you can't even arm the motors of a DJI drone in these conditions, an Autel drone recorded the entire event from about 10 meters in height. I do not encourage irresponsibility, but there are some situations when you are limited to taking off without a real reason.
Autel Lite Plus hands-on review
Disclosure: I received this foldable drone as part of a product review collaboration with Autel Robotics. Product specs and quality may vary according to the manufacturer's reliability, so I cannot guarantee that you will get a product that performs the same as seen in my article. I received the EVO Lite+ for one month of testing. Unfortunately, according to the loaning agreement, I need to send it back after finishing the testing period.
They sent me a Premium bundle edition with two extra batteries, an ND filter set, and other goodies, including a handbag to store and carry your new drone with all its accessories. The high-quality bag has velcro dividers inside and a zipped pocket outside. Tons of spare propellers are also provided. I hope l never need to use them. Autel includes three phone-to-RC data cables. Micro USB and Type-C for Android, and Lighting for Apple devices.
A removable transparent gimbal guard protects the precious and sensitive stabilized camera system when in the bag.
Autel EVO Lite+: Design and build quality
It features a folding design that makes it compact for storage and carrying. With folded arms, it measures 210 × 123 × 95 mm and 427 × 384 × 95 mm unfolded (368mm wheelbase). Propellers are foldable as well. The front arms sit slightly higher, with feet that rest on the ground to ensure the camera has enough space beneath it. The 6K camera is mounted on a three-axis mechanical gimbal, meaning that any movement or shakiness is counteracted -resulting in buttery smooth footage.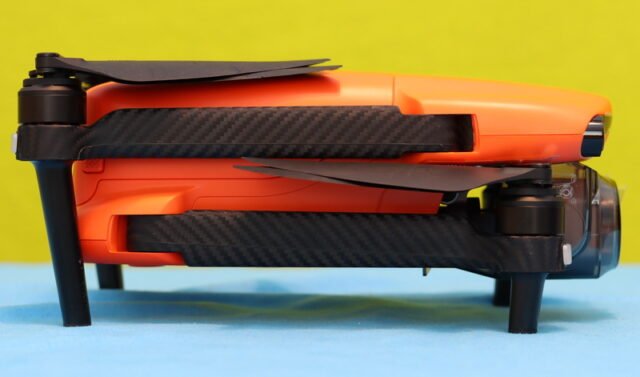 Despite what the model name suggests, the Evo Lite is not a lightweight drone. The take-off weight with the battery is 835 grams. Build quality overall is excellent, and you can choose from three available colors – Autel Orange, Deep Space Gray, and Arctic White. The arms appear to be made of carbon fiber and have a matte finish.
The Evo Lite+ features six obstacle avoidance sensors (2x Forward, 2x Backward, and 2x Downward) to aid in safe flight. During my tests, they worked pretty well. Every time is close to an object, it gives a warning and stops the drone before it can hit anything.
On the bottom of the aircraft, there are two optical flow sensors, two ultra-sonic sensors, and an auxiliary light that is especially useful at night.
The intelligent battery pack is loaded from the top and makes up part of the drone's body. It's held in place by a pair of internal clips that you can release by pressing a button on either side of the battery. It's a secure system and keeps the battery in place unless you need to remove it for charging.
A Micro SD slot and USB Type-C port are on the side of the drone, behind a protective flap. On the back, under the battery bay, some vent holes ensure the cooling of the inside electronic parts.
Controller and range (max flight distance)
Although the Lite series has a higher price tag than the Nano models, they share the same basic entry-level transmitter. Besides the lack of a status screen, my biggest issue with the controller is that there's nowhere to store the stick ends. There is a big chance of losing them as they must be removed when loaded inside the backpack. The RC has two USB Type-C ports, one at the bottom for charging and a second one on top for mobile device connection.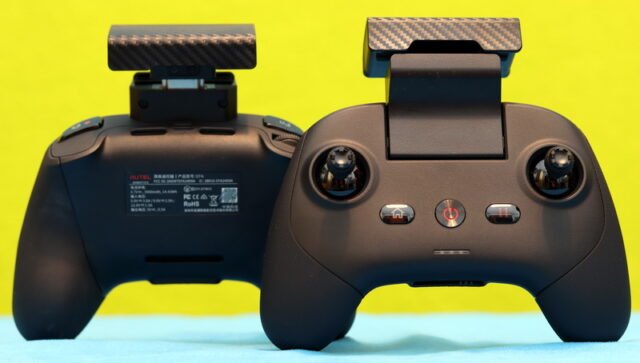 On top of the transmitter, there is a retractable phone holder that doubles as a communication antenna. According to Autel Robotics, FCC mode has up to 12KM (7.45 miles) range, and in CE mode, 6KM.
I made the flight range test for every drone I reviewed in the same place -an unpopulated open field without obstacles. It is also outside the flight lanes. Of the more than 100 drones I evaluated, the Autel Lite+ had the best range so far. When it was 7599 meters (4.72 miles) far from the take-off point, I needed to return due to a low battery warning (it reached 60%). RC signal was still three lines from five, so if you don't need to return home, just fly one way, 9-12km is realistic. In optimal conditions (no wind), one charge could last 16-18km.
Autel Lite Plus: Battery life
Being powered with a high capacity of 6175 mAh 3S battery, the Lite Plus is advertised as having a flight time of 40 minutes. In real-world flying conditions, you can expect a battery life between 32-36 minutes, which is still impressive. On the back of the battery pack, there are four LED charging level indicators in a circle shape.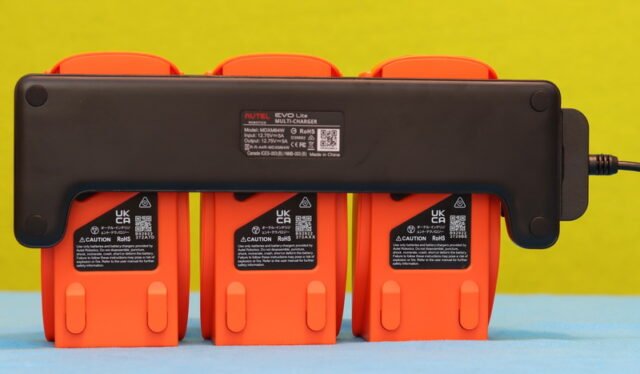 The Lite+ Premium bundle includes three flight batteries and a 3-way charging hub. Unfortunately, it charges the batteries in sequence only one at a time, not all three simultaneously, as you would expect.
During my hovering battery life test, the drone stayed in the air for 34 minutes. When the drone force landed, it had only 6% left. The default fail-safe Return to Home (RTH) low-battery level is set to 25%, this can be adjusted in the AutelSky App, but it's best not to modify this parameter in order to ensure a safe RTH. Also, over-discharging LIPO batteries can reduce their lifespan.
Autel Lite+ review: Flight performance
The Autel Lite Plus is a super stable drone – its precise outdoor positioning is provided by connection to GPS, GLONASS, and Galileo satellites, for indoor positioning uses ultrasonic and optical flow sensors. It's undoubtedly not slow either, with a top speed of 40 mph (64 km/h) possible in Ludicrous Mode, while Normal Mode with 22mph provides a more calm yet reliable snappy flight experience. Smooth Mode (11 mph) provides a further speed reduction for cinematic footage.
While the Nano series has a 10m/s (Level 5) wind resistance rating, the Lite series has 12m/s (Level 6).
The only thing that worries me is that the left front motor starts slower than the other three. Midflight, I did not notice any power loss or wobbling. The slower spinning speed is noticeable only when arming the motors.
Initially, the Evo Lite+ and Evo Nano+ were shipped without active tracking. The Lite series recently received this feature via firmware updates, which is limited to subject tracking, so it can't follow a car. As you can see in the video below, the drone could follow without any issues. I also did a second test on the bike. The Lite+ managed to track me this way, although I tried to leave it behind with sudden direction changes. Remember, the drone does not have OA sensors on the sides or top and will not avoid collisions with obstacles if it needs to move laterally or raise its altitude under a tree.
The Autel EVO Lite Plus has several automated flight modes that allow cinematic shots proficiency with a single click. From AutelSky App, you have access to the following QuickShot modes: Flick (Helix), Rocket, Fade Away (Dronie), and Orbit (Circle).
Autel Lite+ review: Photo and video quality
The camera on the Lite Plus has a big 20MP 1-inch (13.2 x 8.8mm) CMOS sensor mounted on a 3-axis gimbal. It has a 29mm (35mm equivalent) lens with an 82º FOV. Larger sensors mean bigger pixels, capturing more light essential for night shooting. In night scene mode, ISO is up to 48000, which is impressive. The internal 6GB memory can be extended with up to 256GB micro SD card.
Overall, the Autel Evo Lite+ produces sharp, vibrant, and pleasing images straight from the camera. The variable aperture (f/2.8 ~ f11) is a premium feature available only with much more expensive models, and it is essential to maintain your desired shutter speed. Defog mode works excellently on foggy days and smoky areas, making things clear.
As for the video, it can go up to 6K (5472×3076) resolution at 30fps, 4K (3840×2160) at up to 60fps, or FHD (1920×1080) at up to 120fps. HDR mode is limited to 4k@30fps or FHD@60fps. Digital zoom is impressive. It has 1.3 times lossless zoom in 4k mode or three times in 1080p. While recording video, it is still possible to zoom in up to 16x digitally, but this high magnification loses detail and pixelates the image.
Photos can be shot in both JPG(8-bit) and DNG (10-bit), with functionality including Auto exposure bracketing (AEB), Burst shooting 3/5, HDR, HyperLight, and Panoramic (Horizontal/Vertical/Wide-angle/Spherical) images – there's plenty of functionality for photographers.
The Premium bundle includes a little case with four neutral density (ND) filters. If you're shooting on a bright day, it's worthwhile to have an ND filter in front of the lens to reduce some of the harsh light and highlights.
FPV (wireless video feed) quality is outstanding. Till 1km, you have 2.7K, and after, it is switched to 1080p. The transmission bit rate is 90Mbps with a latency of less than 200ms.
EVO Lite Plus pricing and options
As of the writing of this review, there are two pricing structures in place for all types of budgets and needs. The packages and pricing in USD are as follows:
Base Package with one battery: $1,079.00
Premium Bundle (Fly More Combo) with three batteries, storage bag, and other extra goodies: $1,199.00
I would always encourage hobbyists, if the funds are available, to opt for the Premium bundle of Autel drones, so they don't have to buy more batteries in the future. For those that shoot mostly videos in sunny conditions, ND filters are a must, and the Premium package includes a set of four ND filters (ND4, ND8, ND16, and ND32). If you already own an EVO Lite drone, the "On the Go Bundle" upgrade pack can be purchased separately for $425 (available in orange and grey colors).
What's exactly included in the Autel EVO Lite Plus Premium bundle?
EVO Lite+ Drone
Remote Controller
3 Intelligent Flight Batteries
Three-channel Charging Hub with USB port
AD/DC power adapter / Charger
RC USB-C Charging Cable
ND filters set w/case (4, 8, 16, 32)
RC-Phone data cables (Lightning, USB-C, and Micro USB)
3 Pairs of Spare Propellers
Autel Bundle Shoulder Bag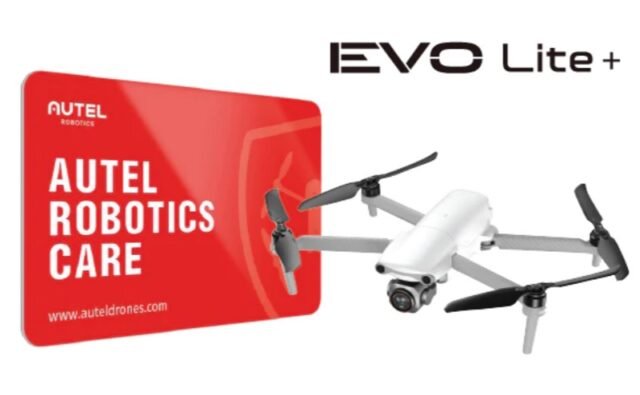 What is Autel Robotics Care, and how much does it cost?
Autel Care Refresh is a damage and flyaway insurance policy that extends the standard warranty. This premium service is available for select Autel drones (EVO II, EVO II Pro, EVO Nano, and Lite series). It offers you up to two replacement units in the 12 months that are covered by the plan. The EVO Lite Care service is priced at $149 for one year. Remember that the Care service needs to be purchased within 48 hours after you activate the aircraft. Eligibility can be checked here using the drone's serial number. During Autel's New Year Sale, using this 'XMASFREECARELITE' coupon code, you can get a free year of Care subscription together with your drone purchase (the offer is limited for the first 20 orders).
Technical specifications
Aircraft
Dimensions
Folded: 210×123×95mm
Unfolded: 427×384×95mm
Wheelbase: 368mm
Weight
835 grams
GNSS
GPS, GLONASS, Galileo
Sensing system
2x Forward
2x Backward
2x Downward
Max flight speed
Ascent: 5m/s (ludicrous), 4m/s (standard), 3m/s (smooth)
Descent: 4m/s (ludicrous), 3m/s (standard), 2m/s (smooth)
Horizontal: 18m/s (ludicrous), 10m/s (standard), 5m/s (smooth)
Wind resistance
12 m/s (Take-off and landing)
Top flight time
40 minutes
Max transmission distance
FCC:12km
CE:6km
Realtime transmission
System: Autel SkyLink
<1km:2.7K 30fps
>1km:1080P 30fps
Bitrate: 90Mbps
Delay: ≤200ms
Camera
Sensor
CMOS: 1 inch
Effective pixels: 20M
Pixel size: 2.4μm*2.4μm
Lens
FOV: 82°
Equivalent focal length: 29mm
Aperture: f/2.8 ~ f11
Focus range: 0.5m ~ ∞
Focus mode: CDAF/MF
ISO range
Video: ISO100 ~ ISO6400
Photo: ISO100 ~ ISO6400
Night scene mode: ISO up to 48000
Zoom range
Digital zoom: 1 ~ 16 times
Lossless zoom: 4K: 1.3 times; 1080p: 3 times
Photo format
JPG(8-bit) / DNG(10-bit) / JPG+DNG
Photo resolution
5472×3648 (3:2)
5472×3076 (16:9)
3840×2160 (16:9)
Video
Codec: H265/H264
Format: MP4/MOV(8-bit)
Max bitrate: 120Mbps
Video resolution
5472×3076 p30/25/24
3840×2160 p60/50/48/30/25/24
2720×1528 p60/50/48/30/25/24
1920×1080 p120/60/50/48/30/25/24
HDR:
3840×2160 p30/25/24
2720×1528 p60/50/48/30/25/24
1920×1080 p60/50/48/30/25/24
Storage
Built-in storage: 6GB
SD storage: Max. support 256GB(UHS-3)
Happy New Year!