Following the great success of the H37 sElfie drone, JJRC announced a more compact version with innovative one-handed gyro control. The newer generation JJRC H37 Mini Baby Elfie is with about 2 cm shorter and 16 grams lighter than its predecessor.
While the first generation of Elfie drone featured only APP control, the Mini Baby Elfie comes with dual control mode (Gyro RC and smartphone APP).
Selfie drones have been causing so much waves in 2017. The popularity of these gadgets was increased by their low price and "well" done promo videos which showed almost self piloting drones and often fake high quality selfie videos.
In-depth review of the Baby Elfie drone
Disclosure: I received this Baby Elfie drone as part of a product review collaboration with GeekBuying. Product specs and quality may vary according to the manufacturer's reliability, so I cannot guarantee that you will get a drone that performs exactly the same as seen in my review.
Inside the box I found a waterproof carry case that holds the drone, remote controller and all the accessories (flight battery, USB charger, 1 set of spare propellers, 8 pieces of landing pads and user manual).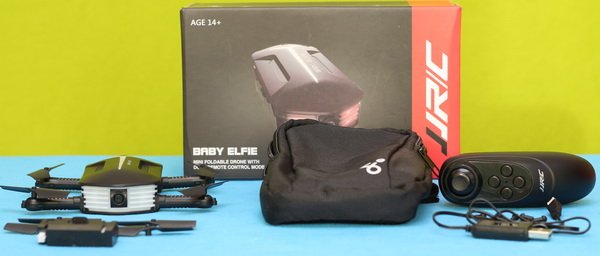 Included arm bag allows to conveniently carry as well as store the JJRC Baby Elfie. Thanks to an aluminium climbing hook you can easily attach the bag to your backpack or belt.
Key features and technical specs of the Baby Elfie:
Pocket size with foldable arms;
Innovative one-handed control;
Multiple control modes (Gyro RC and smartphone APP);
Altitude-hold (auto hover);
Headless flight mode (Intelligent orientation);
Trajectory flight (virtual path flight);
Beatty mode (don't ask me what exactly does this feature);
Emergency stop button;
Multiple speed rates;
720P camera with WiFi FPV;
About 6 – 7 minutes of play time.
With folded arms, the fuselage measures only 11.3 x 5.7 x 3 cm and weights about 57 grams. Arms can be easily folded/unfolded just in seconds.
The 400 mAh Li-Po is loaded from the belly of the aircraft. Battery pack has no wires and can be swapped easily with a new charged one.
Like the JJRC H37, the Baby Elfie also has "soft" power button. I suggest to remove the Li-Po when the drone is stored for longer periods of time, otherwise it may excessively discharge resulting in permanent damage of the battery.
In order to allow better visibility on the orientation of the aircraft during night flights, the JJRC Mini Baby Elfie has two white LEDs in front and one red light-bar on the back. In addition, a bright blue LED on top of the drone makes your after sunset flights even more spectacular.
JJRC Mini Baby Elfie review: Remote controller
Now lets talk a bit about the one-handed transmitter. Instead of two control sticks it has only one, which acts like a throttle stick from a regular RC. While moving the stick up/down you can increase/decrease the flight altitude&speed (throttle), moving it left/right will rotate the drone around its own axis (yaw).
Thanks to the built-in gravity sensor you can change the direction of flight to right or left simply by waving the transmitter on the desired direction. This is cool, isn't it? Trust me, children will adore to pilot this way.
However let me remind you that you don't necessarily need the controller to fly the Mini Baby Elfie. You can fly it using a smartphone or a tablet. It's great for newbies who are not familiarized with remote controllers, but this experience might not be ideal for professional  FPV pilots who need the tactile feel of the transmitter.
JJRC Mini Baby Elfie review: Camera and WiFi FPV
As you can expect from such a small drone, the camera is integrated. Slight angle adjustment of the lens is possible. No micro SD slot, the captured videos and photos are stored on the phone's memory. Therefore if you want to capture selfies you will need to use your phone. I didn't find it too comfortable to hold the phone in one hand and the transmitter in the other one.
In terms of image quality there is a slight improvement compared to its predecessor. The 720P camera offers higher resolution (more details) over the 480P camera. Anyway, for enjoyable selfies, the recorded videos could be more sharper and colorful.
Six minutes of 1280 x 738 @ 25 FPS video  (H264 codec) occupies about 60 MB.
The camera's live-video feed can be displayed on your smartphone through the JJRC APP (available for: Android and iOS). Since it adopts WiFi FPV instead of 5.8G, the latency is significant. Anyway, kids will love the fact that they can spy the neighbor's dog. BTW, "stealth mode" can be activated through the RC's left control button ("Light switch").
How this Baby Elfie drone performs in the sky?
A lot of drones are fun to fly, but using the one-handed gyro controller it is even more entertaining. I have to admit that, compared to dual stick transmitters, is not that accurate.
Altitude hold works very well. Mini Baby Elfie hovers nicely. With headless mode enabled, selfie videos are more easy to capture.
Like most of the small and lightweight drones, the Baby Elfie also fails on windy days. Even at full speed rate can't stand against moderate wind.
Toggling between speed rates can be done using the shoulder button. In case of emergency you can halt all the motors by the remote controller's lowest button. Finally a drone where this feature truly works as it should!
After few test flights I got an average of 6 minutes play time. Seems like one of the best result among the many pocket selfie drones that we reviewed.
If the aircraft begins to fly abnormally you can try to re-calibrate it by long pressing the RC's right control button.
Should you buy the JJRC Baby Elfie?
Price/performance ratio

Build quality

Camera and WiFi FPV

Remote controller

Flight performance
Summary
Broadly speaking, the Mini Baby Elfie boasts all of the features as its larger sister, the JJRC H37, and some extras. The upgraded 720P camera has better image quality over its predecessor. Due to its lighter weight, it has one of the best flight time among its product range.
With a price tag under $40, is an excellent option for some fun time.
In conclusion I would recommend this second generation Elfie drone for first-time pilots with limited budget. Now, you can find it here with 33% discount for only $35.69. Spare batteries are available for $6.99.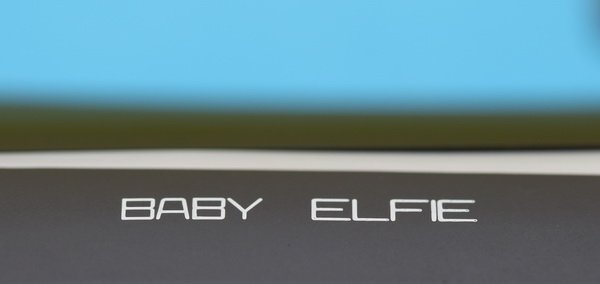 What I liked
Ultra portable with included carry bag;
Nice price tag for a wannabee selfie drone;
Innovative one-hand control;
Easy to fly;
Cool LED lights for night flights;
Spar parts availability.
What I didn't liked
Poor wind resistance;
No internal DVR.