The BetaFPV Meteor75 Pro HD drone combines impressive visuals and powerful performance in an ultra-small size. The upgraded frame can now fit larger 45mm propellers, which gives the power to carry a digital FPV system on a 1S LIPO battery. In this review, we will have a closer look at the Meteor75 Pro HD Walksnail, but there is also available an HDZero edition that, due to its fixed latency design, will probably be more appreciated by racing pilots.
BetaFPV's Meteror series includes three sizes: M65, M75, and M85. Usually, the number in the FPV drone's product name represents its wheelbase (motor-to-motor distance in mm). Therefore with an 80mm wheelbase, the Meteor75 Pro should be named Meteor80. While the M65 and M75 run on 1S LIPO, the M85 uses 2s batteries for more power. In the table below, you can find the difference between the Pro and non-Pro Meteor75 HD.
Meteor75 Pro HD
Meteor75 HD
Wheelbase
80mm
75mm
Propeller size

45mm

40mm
Weight

35.77g

(Walksnail)
34.87g (HDZero)
40.50g (Walksnail)
36.40g (HDZero)
Canopy
Micro Canopy

Lite

Micro Canopy for HD
Motors
1102

22000KV

1102 18000KV
FC&ESC
F4 1S 5A FC
F4 1S 5A FC
Battery

1S 550mAh

1S 450mAh
Price
from $219.99
from $219.99
BetaFPV Meteor75 Pro review
Disclosure: I received this digital FPV Whoop as part of a product review collaboration with BetaFPV. Product specs and quality may vary according to the manufacturer's reliability, so I cannot guarantee that you will get a drone that performs the same as seen in my article.
BETAFPV was established in February 2017 with a primary focus on creating FPV drones and parts with superior quality. Besides the Meteor series, they have a larger Whoop family named Pavo and a couple of other FPV quadcopters. BetaFPV was among the first manufacturers that joined ExpressLRS by providing compatible receivers, TX modules, and remote controllers.
The Meteor75 Pro comes in a stylish compact cardboard box with two batteries, a USB charger, a USB Type-C cable, a Walksnail USB cable, a set of spare propellers, and some bonus stickers.
Design and build quality
Like most similar Whoops-tyle micro FPV drones, the Meteor75 Pro also adopts a unibody polypropylene (PP) frame. Spare frames are available in seven colors: black, blue, cyan, orange, white, yellow, and red.
Under the protective canopy, there is the F4 5A AIO brushless flight controller and the Avatar HD MINI digital VTX. The tiny Walknsnail FPV camera is installed directly into the canopy, and its angle can be adjusted within 0-40°. For indoor flying, you should adjust it all the way down for slower cruising. In this position, the ducts are slightly visible in the camera footage. A simple red wire serves as an antenna for the built-in serial 2.4G ELRS receiver.
Its tiny 1102 22000KV brushless motors are equipped with black 45mm 3-Blade propellers. In my opinion, this propulsion system should allow carrying an additional small camera such as the Insta360 GO2 or RunCam Thumb.
The drone has a footprint of about 110×110 mm and weighs just 36 grams without the battery or 50g with the 1s 550mA LIPO. It is a bit wider than its predecessor (w/o Pro) but also 4 grams lighter. The overall build quality is very nice, designed with simplicity and easy maintenance in mind. The FC has an easy-to-access micro USB port for configuration and firmware updates. Each motor has a connector, so they can be replaced in less than 5 minutes without any soldering required.
Price, availability, and options
The Meteor75 Pro HD is available with two FPV options. The Walksnail version shown in this review is priced at $229.99, and the HDZero edition for $219.99. You can opt for ELRS 2.4GHz, FrSky/PNP, or TBS radio receiver according to your existing transmitter. You get two flight batteries and a 2-ch USB charger at this price. In case you need more fun time, a set of four 550mAh batteries is available for $23.99, and a 6-port parallel charger for $19.99. If you are on a tight budget, the analog version is available with a starting price of $109.99.
HD Digital FPV system
The Meteor75 Pro HD is equipped with a Walksnail Avatar HD Mini 1S Lite Kit that weighs just 7.8 grams. The system is intended for 65-75mm FPV drones and provides 1080@60fps onboard recording, 22ms low latency, and amazing Canvas mode. It has a mini linear polarized antenna and 350mW transmission power.
According to Caddx, the Avatar HD Mini 1S Lite can be powered from 3.1 to 5V, so when the battery level drops under this value, the VTX shuts down. This can occur midflight, when the battery level is below half and you push the throttle at the highest position.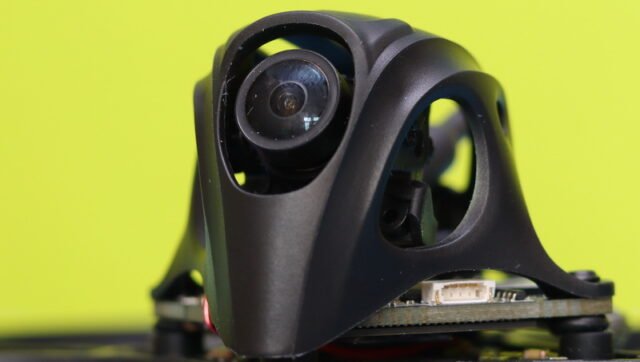 The VTX has 8GB of built memory that can store at least five flights. The footage can be transferred using the dedicated USB cable. During the copy process, it becomes super hot, so a mini cooling fan is welcomed.
Initial setup, BetaFlight configuration, ELRS Binding, Walksnail pairing, and OSD Canvas mode
The M75 Pro HD is equipped with the second-generation F4 1S 5A AIO flight controller. The newer FC has a built-in serial ELRS receiver, while the older one has an SPI-RX. Out of the box, the RX comes with ELRS V2.4, and I had to upgrade to V3.x to be able to use it with my BetaFPV ELRS Nano TX module that runs on the latest software version. The upgrade process can be done quickly via WIFI connectivity using the ExpressLRS configurator. To put the RX module in bind mode, you need to power on/off the drone three times.
The next step was connecting the FC with the BetaFlight configurator, customizing OSD, and switch&button functions (modes). I did not touch the PID values for the first test flights, but if you fly exclusively indoors, Drone Camps RC shared in its review video fine-tuned rates that eliminate throttle jumps.
As the Avatar HD Mini 1S Lite inside the Meteor75 PRO HD comes with the latest firmware version (V32.37.10) and it paired with my Walksnail VRX module with no issue. You just need to press the bind button on both VTX and VRX and, in a few seconds, the FPV feed will show on your monitor\goggles.
The Walksnail digital FPV system fully supports Betaflight OSD and LUA scripts. You can operate the OSD menu using your sticks, and all the OSD elements can be displayed. To display BetaFlight telemetry information on your FPV goggles, you need to perform the following two commands:
set osd_displayport_device = MSP
set displayport_msp_serial = Y (Where Y is one less than the number of the serial port. e.g. Y = 2 for serial 3)
save
If you got this "###ERROR IN set: INVALID NAME: displayport_msp_serial" error message, it means that you run on the latest BetaFlight V4.4 firmware, and you can skip over the second command. Instead, in the "Ports tab" under the "Peripherals", you have to select the "VTX(MSP+Displayport)" option.
Meteor75 PRO HD battery options and flight time
By default, the Meteor75 PRO HD comes in the box with two 1s 550mAh high-voltage LIPO batteries. BetaFPV says that their BT2.0 450mAh batteries are also compatible with the M75. LiHV batteries are similar to standard LIPOs but allow you to charge them up to 4.35V per cell safely, and regular LIPOs can be charged up to 4.2v only. LiHV can store more energy than LiPo per weight, so you get longer flight time per charge. In theory, a high-voltage lipo has lower voltage sag on full throttle.
The Meteor75 PRO HD comes in the box with a dual-port charger that doubles as a battery meter. When you insert the battery in the 'Test' port, its voltage will be shown on a built-in screen.
During my tests, I got an average flight time of 5 minutes. If you are cruising in no wind conditions, you can probably get six minutes or maybe even more by a few seconds. Not an impressive flight time, but for a 50g digital FPV drone is not bad at all. If you want to try a different battery, you should consider that you are constrained by the BT2.0 plug and the size of the battery cage on the belly of the drone.
Flight experience
After I finished the configuration part, I went out for some test flights. In no wind conditions, it flies great. It's a pleasure cruising around your yard. I had no range issue with the video feed and radio signal within 200-400 meters. The stock rates are perfect for outdoor flights. It's ideal for close-proximity flying and is perfect for beginners looking to improve their flying skills. You can fly in tight spaces with no worry. Nothing will happen if you bounce in something due to its low weight and Whoop blade protectors. At higher altitudes (10meter+), you can barely hear it. It's like you fly in stealth mode.
For indoor performance, check Nick Burns's test video. I have to admit that he is a much more talented pilot than me :)