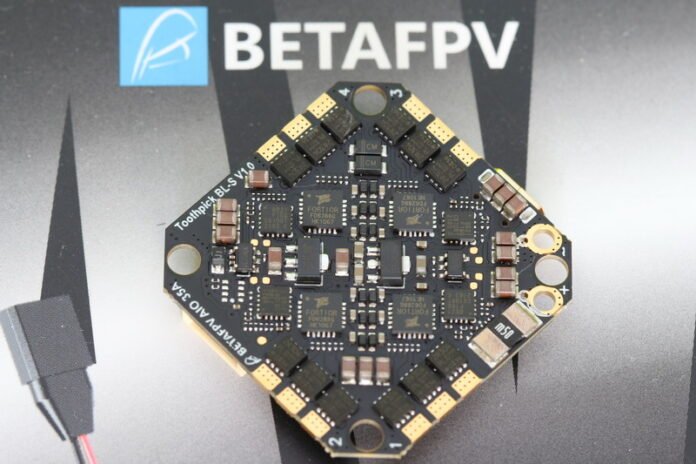 A few weeks ago I reviewed the BetaFPV Pavo30 drone that was based on this Toothpick F722 flight controller. Due to some accident, a few of the MOSFETs on the board fried and I decided to order a new one.
In a nutshell, a flight controller (aka FC) is the brain of the drone. Its central processor receives data from a wide range of onboard sensors (Gyroscope, Accelerometer, Barometer, and Compass), as well as pilots' commands, and controls the speed of each motor directly or via an ESC to make the aircraft move as instructed.
The BetaFPV Toothpick F722 is a versatile and powerful flight controller designed for 3-5″ quadcopters (it has 4 motor outputs). It can be used on CineWhoop style drones as well as on Thootpick ones. Thanks to the six UART ports, can be interfaced with a wide range of devices, such as GPS, LED boards, VTX, and FPV camera.
BetaFPV Toothpick F722 review
Disclosure: I received this flight controller as part of a product review collaboration with BetaFPV. Technical specs and quality may vary according to the manufacturer's reliability, so I cannot guarantee that you will get a product that is identical as seen in my article.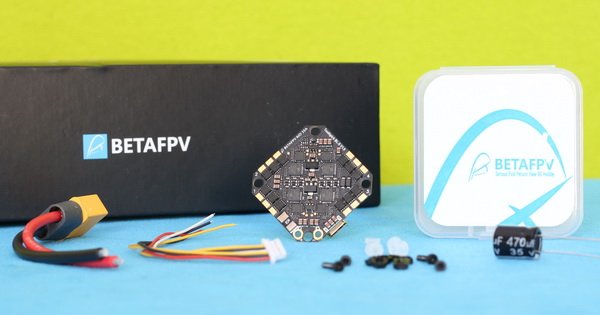 The Toothpick F722 flight controller comes in a nice plastic box with 14AWG silicone XT60 power cable, RF filter capacitor, 6-Pin Connector for DJI Digital VTX, and mounting accessories  (4 pieces of M2x10mm screws with nuts and silicone grommets) included.
The board measures 33x33mm and it has a 25.8×25.8mm mounting pattern. The arrow near the STM32F722 high-performance CPU indicates the installation direction of the FC. It has large soldering pads for motors and safe space between battery wiring holes. Additionally, you have dedicated holes for the 470uF 35V capacitor. There is a standard micro USB port for firmware upgrade and configuration.
Near the MPU6000 motion processing unit (3-axis gyroscope + 3-axis accelerometer) there are two status LEDs (Power and Mode).
Its integrated BLHeli_S 4-in-1 ESC is rated at 35A with 40A peeks. It has six (3 on each side of the board) TPN2R304PL MOSFETs for each channel.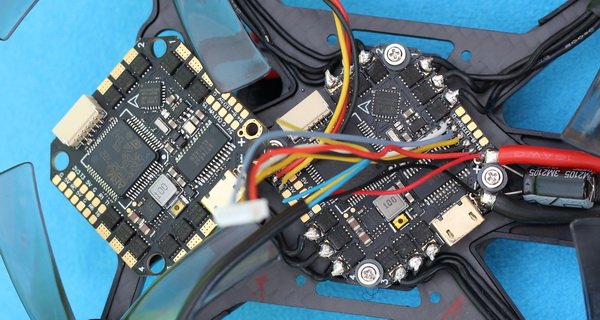 BetaFPV Toothpick F722 specs
CPU: STM32F722RET6;
Six-Axis gyro: MPU6000 (SPI connection);
Firmware version: BetaFlight_4.2.x_BETAFPVF722;
OSD: Built-in BetaFlight OSD (OSD chip: AT7456E);
Support programmable LED like WS2812 etc;
6-pin connector for DJI Digital\Caddx VTX;
Built-in current sensor;
Integrated 35A ESC:

Continuous current: 35A;
Peak current: 40A;
ESC firmware: BLHeli_S;
Signal support: PWM, Oneshot125, Oneshot42, Multishot, Dshot150, Dshot300, and Dshot600.

Input voltage: 2S-6S Lipo;
Mounting pattern: 26 x 26mm;
Size: 33 x 33mm;
Weight: 7 grams (without any cable).
Wiring pinout (wiring diagram)
The BetaFPV's Toothpick F722 AIO flight controller has battery input (+-), 4 motor outs, 2×5 pin raws (TX5/GND, CAM/5V, VTX/LED, GND/BUZZ+, and 5V/BUZZ-), and a 5/6 pin pads (3.3V, TX3, 5V, GND, RX1, and TX1 / GND, 5V, RX3, 5V, GND, RX6, and TX6). It also has a 6pin connector for DJI\Caddx digital VTX (SBUS\RX3, GND, RX2, TX2, GND, and BAT+).
Price and availability
Priced for $84.99, it isn't the cheapest flight controller right now. It has almost half the price of a drone that comes with the F722 AIO 35A FC onboard. You can order it directly from BetaFlight or other popular RC hobby shops.
Editor's ratings
Price/performance ratio

Compatibility

UART Ports
Conclusions
Personally, I love the all-in-one design because it's super compact in terms of size, it has reduced weight, requires less soldering/wiring, and theoretically is more economical. However, if anything burns out on an AIO flight controller, you'd have to replace the whole board, which means the FC as well as all the ESC's, and that can be quite expensive.
Pros
AIO concept (FC + ESC);
Suitable for 3-5″ drones;
DJI VTX ready (6 pin conector);
Can be implemented in 2-6S systems;
Comes with XT60 power cable and 470μF/35V capacitor included;
Cons
No XT30 power cable included nor DJI AIR Unit cable;
Lack of Bluetooth connectivity (wireless configuration).