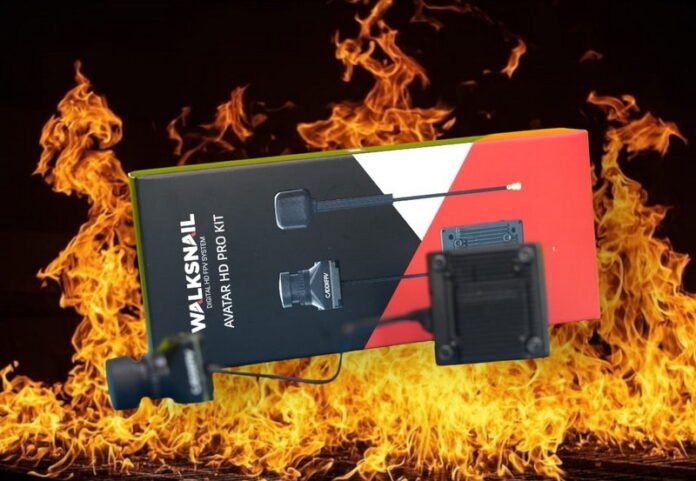 Last week, Caddx's sub-brand Walksnail officially released their second generation digital FPV system. Our Avatar HD Pro review covers features, specs, wiring, and low-light performance.
A few years ago, DJI introduced the world's first HD digital video transmission system intended for consumer FPV drones. Caddx was the first brand to join the platform and provide compatible cameras and VTXs. Last year, this marriage broke, and from its ash, like Phoenix, the mythological bird, Walksnail was born. This technology seems to be also behind FatShark's Digital FPV System.
The new Walksnail Avatar HD VTX V2 comes with some important features, but still can't compete with the DJI O3 Air Unit due to its lower recording resolution (FHD vs 4K). Instead, if you often fly at night, the Avatar HD PRO Camera could be what you need to make your flight experience more enjoyable. Featuring a 1/1.8 inch Sony Starvis Ⅱ sensor, it sees much better in dark conditions, even better than the human eye. The low light performance is measured by a parameter called "LUX" and the lower the value, the better. Like most "Starlight" FPV cameras, the Avatar PRO also has 0.00001Lux minimum illumination.
Key features
[Support 1080P/120fps high frame] First high frame night vision HD camera in FPV market.
[1/1.8 inch Sony Starvis Ⅱ sensor] Extremely clear night vision as well as day vision.
[Gyroflow] Uses motion data from a gyroscope for more stable and smoother footage.
[32G built-in storage] Can record more than one hour of footage without the need for a micro SD card.
[Dual mounting pattern] Adopting 25.5*25.5mm and 20*20mm can be installed in almost any FPV drone frame without the need for an additional adapter.
[Dual connectivity modes] Dedicated data+power socket and extra soldering pads.
[Solo antenna] One antenna, same performance. The compact and convenient single-antenna design makes it easier to assemble your FPV drone.
[Canvas mode] Telemetry data overlaid onto their FPV camera feed with easy. BetaFlight compatible OSD.
Avatar HD Pro V2 digital FPV system review
Disclosure: I received this Avatar HD Pro digital FPV kit as part of a product review collaboration with CaddxFPV. Technical specs and quality may vary according to the manufacturer's reliability, so I cannot guarantee that you will get an identical product, as seen in my article.
A few days before the official release of the Avatar V2 system, I was contacted by Caddx regarding the possibility of reviewing their upcoming products. To be able to test Walksnail hardware, they also sent me an Avatar VRX module with HDMI-out. Caddx recommended me, before starting the tests, to upgrade the firmware to V32.37.10 and also use 1080P@60fps resolution. They said that 60 fps gives a better display than 100 fps.
The Walksnail Avatar Pro kit includes the V2 VTX, Pro camera with lens cap, MIPI cable, Antenna, USB-Type C data cable, FC cable, and a bag of mounting screws.
At a glance
At first look, visually, except for the darker color, there is not much change between the V1 and V2 -both look like a heatsink. Caddx says the radiator is now properly grounded to reduce GPS interference and make the satellite lock faster. The position of the binding button has been changed to make the pairing operation with the FPV Goggles/VRX more convenient.
The Walksnail V2 Avatar HD VTX measures 33*33*10.5mm and has two mounting patterns (25.5*25.5mm and 20*20mm), making it compatible with most FPV drones. Only the 25.5*25.5 mount allows the screw go through the VTX. In 20*20 systems, the VTX can be installed only on the top of the stack. The Pro camera comes already connected with the VTX using a 12cm MIPI cable. Including the antenna and all the cables, the kit weighs 33 grams.
While its predecessor had two antennas, the V2 has only one. The U.FL antenna connector has a metal retention bar to keep them from popping off. A similar metal bar is used for the camera MIPI cable.
You can record 1080p footage inside the Avatar V2 video transmitter. The 8GB version can store for about 20 minutes, and the 32GB edition can do it for more than one hour. The advantage of the built-in memory is that you don't need a micro SD card that you can potentially lose or forget at home. The downside is that if it becomes faulty, you can't record anymore, and you need to replace the entire VTX. Unfortunately, the module is not powered through the USB, so you need to connect the drone's battery. The file transfer is made by 20-30 MB/s, so if you have to copy 30GB will take some time, which can cause overheating of the entire drone.
Wiring and pinout
Unlike DJI systems, there are only four-wire connections to the flight controller: voltage, ground, and UART (TX + RX) for the MSP connection (OSD). In addition to the JST connector, now it also has solder pads, allowing a more secure and clean connection with the flight controller. It is very important to remember that these two wiring options have different pin orders! The pin-out is labeled on the side of the VTX.
As most of my flight controllers have a DJI digital FPV port, I opted to solder a compatible cable (to look cleaner, I removed the 3 unused wires) on the Avatar V2 VTX. To comfortably access the solder pads, you need to remove the top cover secured by four super tiny screws.
Instead of a common USB port for firmware upgrades and file transfer, it has a 4-pin connector to which you can connect the Type C extension cable. Personally, I don't like this approach. A Type-C onboard socket that can also power the VTX would be much more convenient.
Canvas OSD
The Walksnail Avatar HD system fully supports Betaflight OSD and LUA scripts. You can operate the OSD menu using your sticks, and all the OSD elements can be displayed. Here I should mention that at this moment, OSD can't be recorded either by the VTX or Goggles.
To display BetaFlight telemetry information on your FPV goggles, you need to perform the following two commands:
set osd_displayport_device = MSP
set displayport_msp_serial = Y (Where Y is one less than the number of the serial port. e.g. Y = 2 for serial 3)
If you got this "###ERROR IN set: INVALID NAME: displayport_msp_serial" error message, it means that you run on the latest BetaFlight V4.4 firmware, and you can skip over the second command. Instead, in the "Ports tab" under the "Peripherals", you have to select the "VTX(MSP+Displayport)" option.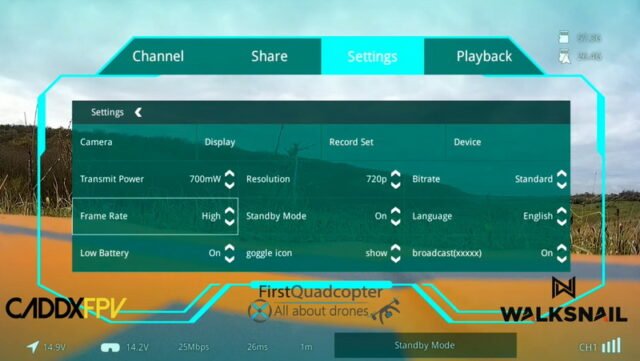 Even with the stock fonts, the interface looks really nice. The configuration menu reminds me of a console games menu system. You have four main tubs: Channel (TX power, Resolution, Frame rate, and more), Share, Settings, and Playback.
Technical specifications
Avatar V2 VTX (FPV HD digital video transmitter)
Communication Frequency
5.725-5.850GHz
Transmitter Power (EIRP)
FCC:<30dBm;CE:<14dBm;SRRC:<20dBm;MIC:<25dBm
I/O Interface
JST1.0*4 (Power in) JST0.8*6 (USB)
Mounting Holes
25.5*25.5mm; 20*20mm
Dimensions
33*33*10.5mm
Storage
8G/32G
Recording
1080p/60fps, 720p/100fps/60fps
Weight
17.6g
Operating Temperature
-20-40℃
Channels
8
Wide Power Input
6V-25.2V(2S-6S)
Supported FC System
Betaflight, Inav, KISS, Fettec, ArduPilot
OSD
Canvas mode
Latency
Average delay 22ms
Antenna
1(IPEX)
Avatar Polar Pro camera
Image Sensor
1/1.8-Inch Sony Starvis sensor
Resolution
1080P/60fps,720P/120fps,720P/60fps
Image ratio
16:9 / 4:3
Lens
8Mp
FOV
160°
Aperture
F1.6
Shutter
Rolling shutter
Min. Illumination
0.0001Lux
Dimensions
19*19*24mm
Weight
9.5g
Pricing, availability, and options
The latest Avatar V2 VTX is available with two camera options. While the combo kit with the "Pro" camera, 32G storage, and Gyroflow can be ordered for $159, the basic Avatar HD Kit V2 with the standard camera, 8G, and w/o Gyroflow for $139. Both variants come with the new upgraded solo antenna and power+data cables. For the smaller builds, the older Avatar Mini 1s kit is still available for only $99.
Avatar system firmware update
As I previously mentioned, before testing, I upgraded the firmware to the latest version. Following this guide, the process was straightforward and could be done in 15 minutes on both VTX and VRX. Practically you need to copy the appropriate firmware file (Avatar_Sky_32.37.10.img for VTX and AvatarSE_Gnd_32.37.10.img for RVX) into the device and long-press the bind button. If the process fails, just restart the process. The only inconvenience I found, is that you need to power the Walksnail V2 from the drone's battery during the process.
Date: 3/21/2023, V32.37.10, download from here
Added support for Avatar V2 VTX;
Added support for Avatar camera V2 and Avatar Pro camera;
Added support for Gyroflow (must be Gyroflow 1.5 version);
Added 4:3 full mode;
Fixed some known issues.
Walksnail range hack and FCC mode
By default, the Walksnail Avatar system is limited to four channels and a max of 700mW transmission power. Unlocking FCC mode (all 8 channels) and enabling the 1000mW and 1200mW consist in copying some text files into the Avatar headset's memory card. The Avatar HD hack files can be downloaded from here.
For FCC mode and to unlock all 8 channels, copy 'Avatar_std.txt'
Copy 'Avatar_pwr.txt' to unlock 1000mw and 1200mw transmit power (extended range)
Note: Only perform this procedure if the channels and power levels are in accordance with the rules and regulations of your region and you hold any necessary licenses to broadcast on these channels and power levels. Also, increasing the transmission can damage the hardware due to overheating.
Avatar HD Pro: First flight after sunset
After I updated the firmware, I installed the kit on my HGLRC Veyron 3 drone. I mounted it on top of the F4 AIO controller. I had everything up and running in less than one hour.
The Avatar HD Pro is optimized for low-light conditions, so I had my first test flight after sunset. My flight was very pleasant, except for some situations where the image was out of focus and grainy due to the higher ISO. Even flying in almost completely dark, the camera did not switch to night mode (black/white). The sample video below was recorded from the HDMI out of the VRX module.
Walksnail Avatar V1 vs V2 VTX
There is no change in performance between the first and second-generation Avatar VTXs. Both promise 22ms latency and a range of up to 4KM. While the V1 has only an 8GB built-in storage option, the V2 is available with 8GB or 32 GB. In terms of design, the most significant changes are the upgraded single antenna, dual mounting pattern, and grounded heatsink.
Gen I AVATAR HD VTX
Gen II AVATAR HD VTX
Dimensions
33*33*9.5mm
33*33*10.5mm
Weight
16 grams
17.6g
Mounting pattern
25.5*25.5mm
25.5*25.5mm


20*20mm

Colour
Dark grey
Black
Antennas
2

1

Camera options
Standard
Standard and

Pro

Max. transmission distance
4KM
4KM
Min. Latency
22ms
22ms
Video modes
720P/1080P
720P/1080P
CANVAS OSD mode
Yes
Yes
Storage
Built-in 8GB
Built-in 8GB/

32GB

DC input
6~25.2V
6V-25.2V
Price
$99
$99/$119
Avatar HD camera V2 vs Avatar HD Pro Camera
While the standard V2 camera is designed to provide a high frame rate, the Pro camera is optimized for low-light performance. Both have 19x19mm mounting patterns and MIPI connectivity.
V2 camera
Pro camera
Image sensor
1/3.2″ 4Mp
1/1.8″ Sony Starvis
Resolutions
1080P@120fps/100fps/60fps
720P@120fps/60fps
1080P@60fps
720P@120fps/60fps
Aspect ratio
4:3 native / 16:9
16:9 / 4:3
FOV
160°
160°
Aperture
F2.0
F1.6
Min. Illumination
N/A
0.00001Lux
Dimensions
19*19*22mm
19*19*24mm
Weight
7.2g
9.5g
Price
$59
$65