Cheerson CX-10WD – the smallest quadcopter with altitude hold and WiFi FPV
This new Pokémon GO craziness, as I saw in a YouTube video, end it up with some dude trying to hunt them using a mini quadcopter just like this Cheerson CX-10WD. Frankly, I don't know how he came up with this stupid idea. He probably opted for this CX10WD because it looks pretty cool and it has many reviews.
The CX-10WD is the 5th generation of the Cheerson Hobby mini quadcopter series. Basically, it is a combination of the last two previous models (CX-10W with WiFi FPV and CX-10D with altitude hold). While, few years ago it seemed unimaginable to have so many features in a mini quad like this Cheerson CX-10WD and now you can have them for a couple of bucks.
In my opinion, the biggest challenge of the newbies is to focus on flight altitude while they are trying to control the position of the aircraft. Latest generation of drones seem to have solved this issue by using barometric air-pressure sensors which allows the flight controller to automatically adjust its flight altitude. This way, first time pilots can concentrate only on the right stick (mode 2) to accommodate with the basic flight movements forward/backward respectively left/right.
Cheerson CX-10WD quadcopter review
This mini quad was offered by the courtesy of Alice from GeekBuying in order to make a honest review. Thanks again for their professional attitude. Probably many fellows will consider some kind of waste of time to play with such a tiny quadcopter but I think every drone has its own charm.
Although, the package arrived two weeks ago (together with the KDS Kylin FPV Goggles), being very busy, only yesterday I had time and mood to open the Cheerson CX-10WD's box. Besides the tiny aircraft and its surprisingly stylish remote controller I found the following: phone holder, a complete set of spare propellers, USB charging cable and instruction manual. Like its predecessor, the CX-10WD-TX is available in three colors: golden, silver and rose-red. As you can see on the images I received randomly a silver one.
The weight of this tiny aircraft is around 18 g, which makes it probably one of the world's lightest FPV quadcopter with altitude hold. Wingspread is about 45 mm in diameter, quite small you might think, but just perfect for indoor fun.
In terms of design, there are not too much changes compared to its predecessors. On the right side of the mini drone are located the ON/OFF power switch and the tiny charging connector. A big "WiFi & Height Hold" logo is on top of the cockpit. On the bottom of the aircraft there is located a tiny wire which serves as wi-fi antenna.
In order to allow a better orientation during night flights, on the front arms there are blue LEDs and on the rear arms the LEDs are red.
Cheerson CX-10WD review – Camera
The onboard 0.4 MP WiFi FPV camera allows to capture photos and videos with resolution of 720 x 576 pixels. Two minutes of video occupies about 10 MB. The CX-10WD doesn't require a micro SD card like the CX-10C because the captured files are stored on your smartphone's flash memory.
Frankly, no one can be so naïve to believed that can capture award wining aerial videos with such an inexpensive toy. The resulting videos are blurred with lots of noise and pixelation. You can have little fun with the camera, but nothing more beyond that.
The camera's real-time video feed can be displayed on your mobile device (smartphone/tablet) through the "CX-10WiFI" APP. This application is available for both popular mobile OS. Also, you can download it for Android devices from here.
Unfortunately, the FPV has some lag and it is difficult to fly the CX-10WD in fully first person view mode.
Cheerson CX-10WD-TX review – Remote control
The Cheerson CX-10WD-TX features multiple control modes. It can be controlled with physical transmitter or through your smartphone – using virtual sticks or gravity sensor.
In my opinion, the CX-10WD-TX has one of the most stylish remote controller, no wonder it was used on that viral Pokémon GO video.
In the middle of the transmitter there is a compartment with transparent door which allows to safely store the aircraft. I must congratulate designers from Cheerson Hobby for this great idea.
The On/Off switch is located behind the storage door, which is not too practical because is hardly accessible.
Unusual, but the transmitter doe's not has any trimming buttons.
Besides the two control sticks (both centered in the middle) there are two shoulder buttons. The left one allows to switch between mode 1 and mode 2 and the right one controls automatic take off and automatic landing.
By gentle pressing the throttle stick as a button, the speed rates can be switched between 3 values according the pilot flight skills (beginners mode, intermediate mode and advanced mode). The speed rate setting is confirmed with beeps (1, 2 respectively 3). By pressing in the same way the right control stick can be activated the 3D flip mode.
The biggest trick of the transmitter is the option to slide the part containing the control sticks in order to make it larger and this way more comfortable for adults.
Almost forgot to mention that the package includes a phone holder that can be easily attached on the top of the RC.
Cheerson CX-10WD review – Test flight
Excepting some annoying jumps on first control after automatic take off, everything was very smooth. The Cheerson CX-10WD-TX is very stable and extremely easy to control even for "virgin" pilots. Even my wife was surprised by the "one key take off/land" feature, which performed very well. BTW, landing can be also performed manually.
While the lowest speed rate (30%) is just perfect for indoor flight, the higher speed rates are more convenient for outdoor flights.
As I previously mentioned, the CX-10WD can be also controlled using your smartphone. The flight direction of the aircraft can be controlled with the virtual sticks or through the smartphone's internal gyro-sensor by tilting the phone. Practically, the Cheerson CX-10WD can be controlled like we play a mobile game. I'm sure that children will love this feature.
The built-in 150 mAh Li-Po allows about 3-4 minutes of play time till the LEDs start to flash warning that is time land. Taking into consideration that the tiny battery has to work hard to power the receiver board, Wi-Fi module, motors, camera and LEDs, it is not the worse flight autonomy. The recharge time of the battery is about 30 minutes.
Price–performance ratio

Build quality

Play time

Remote controller

Camera
Cheerson CX-10WD review - Final words
Certainly, the CX-10WD-TX is currently one of the best beginners quadcopter. It is extremely easy to pilot and features multiple control modes. The altitude hold works very well.
The onboard camera allows to capture both videos and photos but without great expectations. Featuring Wi-Fi FPV, you can display the camera's real-time image feed on your mobile device.
Those who are interested to start their journey in the word of quadcopters with this micro FPV quadcopter should know that it can be ordered with 57% discount and free shipping from here. While I didn't find dedicated spare parts for this drone, in my opinion the propellers and motors should be compatible with the ones from other CX-10 models.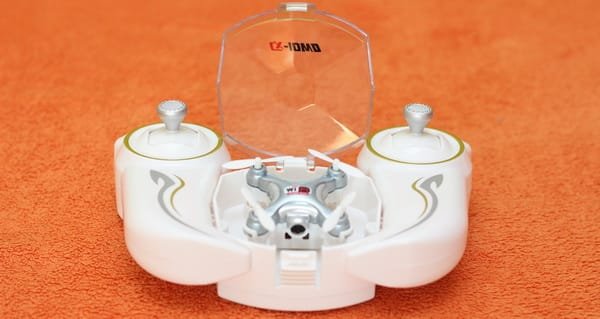 Pros
Cheapest mini quad with WiFi FPV and altitude hold;
Suitable for traveling;
One key take off/land;
Triple control mode (physical RC, virtual sticks and gravity);
Low battery voltage alarm;
3 different flight speed rates (30, 60 and 100%).
Cons
Low resolution camera;
Built-in battery;
Short play time.
Although this review is sponsored, all opinions are my own!
Cheerson CX-10WD review – Photo gallery