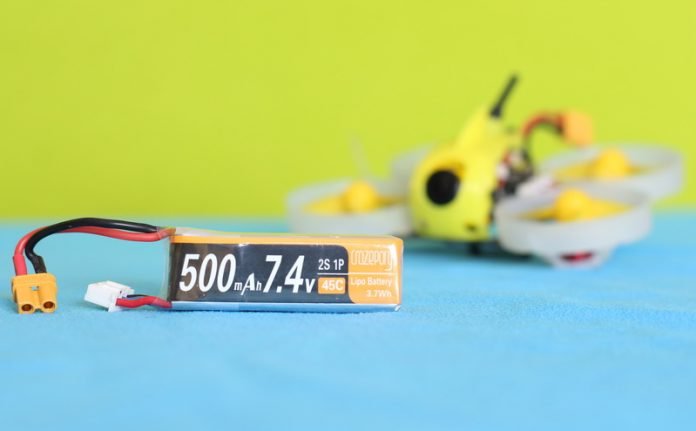 About a month ago I received two pieces of Crazepony 2S/500mAh LiPo packs for review. Unfortunately, due to ESC failure, my FullSpeed TinyLeader was stuck on the ground so I had to wait with the battery performance tests till I repair it.
As most Power Whoops are sold without battery, first thing you need to do prior to your flight is to look for a proper LIPO pack. Micro-class FPV drones are usually 1-2s or 2-3s rated. When you choose the battery you need to keep a good balance between weight and performance. For example, you can opt between 2S/500mAh or 3S/300mAh which have close weight/power ratio, but different performance. While higher voltage means faster flight, higher capacity should provide longer flight time. Besides voltage and capacity, is very important to check form factor (dimensions) and battery plug type to be sure about the usability with a specific drone.
The Crazepony 2S/500mAh LiPo claims to be compatible with wide range of micro sized brushless Whoops. Just to name few of them: Armor 85HD, Mobula 7, Beta 75X and FullSpeed TinyLeader.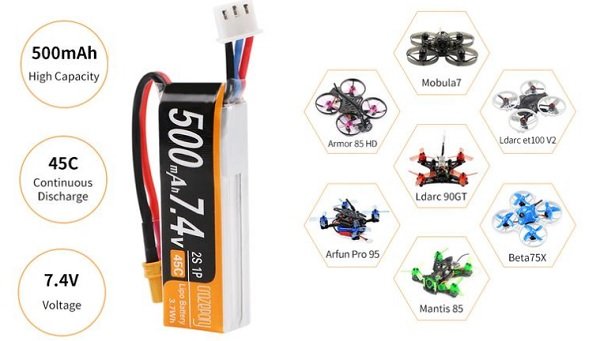 Crazepony 500mAh 2S Tiny Whoop battery review
Disclosure: I received these two batteries as part of a product review collaboration with MakerFire. Although the LIPOs were offered for free, all opinions in this article remain my own and I was in no way influenced by my sponsor.
The batteries are packed in a basic, unbranded, white boxy. No protection foam nor safety instructions included.
Battery pack measures around 52.07 x 17.65 x 14.33 mm (L, W, H) and weights 27 grams. It comes with 6 cm long XT30 drone cable and standard 3-wire balance charging plug. For an extended compatibility I would prefer a JST plug in addition to the XT30 one.
Crazepony 2S/500mAh highlights
Compatible with MakerFire: Armor 85 HD, Happymodel Mobula7, Ldarc ET100 V2, FullSpeed TinyLeader, Beta75X, Ldarc 90GT and Arfun Pro 95, SPC Maker Mini Whale and probably many other brushless Whoops;
2 cells of 3.7v (Nominal voltage of 7.4V);
500mAh nominal capacity;
45C discharge rate;
ST-XHP-3P 22AWG charging wires;
XT30 18AWG discharge cable;
Size of 57 x 19.5 x 15.5 mm.
Charging test and real world performance
Prior to any tests, I performed 5 circles of charging/discharging (on both batteries). As you can see in the comparison table bellow, the two LIPOs finished the charging process at 8.41 respectively 8.42 volts. Estimated charging capacity was more than 500 mAh. Batteries remained cold (20~23 °C) during the charge.
LiPo
Start voltage
End voltage
Cell1 (v)
Cell2 (v)
Final capacity (mAh)
Time (minutes)
Crazepony 2S/500mAh

battery 1

7.07
8.41
4.20
4.21
517
34:05
Crazepony 2S/500mAh 2

battery 2

7.01
8.42
4.21
4.21
519
34:09
For the field test I used the previously mentioned FullSpeed TinyLeader drone. The Crazepony 2S/500mAh fits perfectly into the battery holder. Being very tight, you need to use some force in order to introduce the LIPO in the mount, but this is important in order to keep it in its place during flight or even crash.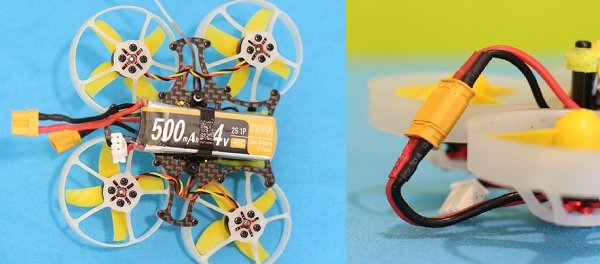 With fully charged battery I got more than 5 minutes of flight time. When battery voltage reached 6.9 volts, the quadcopter could't take-off anymore.
Price & Availability
If you are looking for some affordable batteries to power up your brushless CineWhoop, pack of two Crazepony 500mAh/2S LIPOs can be found here for only $21.99. This price includes free shipping.
Editor's ratings
Price/value ratio

Build quality

Flight time

Punch-out
Summary
Both batteries work well. They charged to the nominal capacity. The "only" 45C discharge rate was enough to perform agile flight movements as well as 3D flips. Overall, the 2s/500mAh Crazepony LIPOs performed pretty nice, hope to last many charging cycles :)
Pros
Excellent build quality;
Very affordable;
Compatible with wide range of brushless Whoops.
Cons
Available only in pack of two.