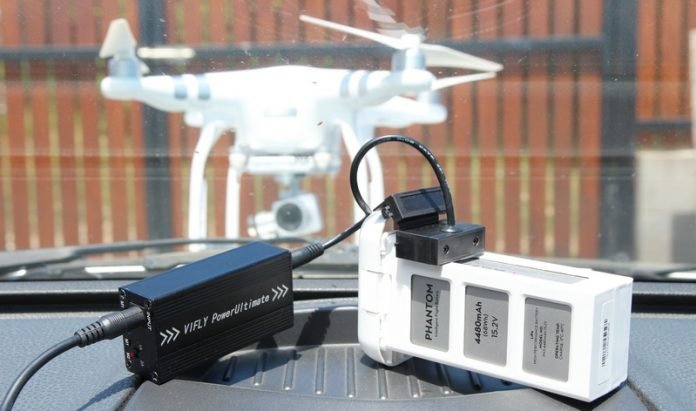 Today we will have a closer look on VIFLY's DJI battery charger called PowerUltimate. This tiny aluminium box allows to charge your DJI drone battery right on the field. It is compatible with most consumer DJI drones (Mavic and Phantom series) – even with their smallest drone. As DJI does not offer a dedicated car charger for the little Spark, it could be a handy option to extend the fun for their pilots.
In a nutshell, the PowerUltimate is a DC to DC adapter with two current rates (1 or 2A) and two working modes. While mode "M1" is for 3S batteries (Mavic Pro, Air and Spark), mode "M2" is for 4S batteries (Mavic 2, Phantom 4 and 3).
VIFLY Power Ultimate DJI charger highlights
Super compact & light weight (measures only 82x40x25 mm and weights 93 grams);
Compatible with wide range of DJI drones;
Power transfer between two DJI batteries;
Standard lithium battery pack (XT60 plug) to DJI Battery charging;
Charging via car cigarette port while driving;
Standard USB socket to charge your mobile device;
Intelligent safety protection technology;
Wide input voltage 9-19V.
Thanks to the wide input range, you can charge your DJI drone from many different DC power sources. By default, the ViFLY Power Ultimate comes with car cigar outlet cable, but for 5 bucks you can additionally purchase a XT60 cable allowing you to charge using a LIPO pack (3 or 4S). Furthermore, adopting standard DC socket you can even make your own power cable. For 50$ you can get a 50W/12V solar panel which allow to charge your battery for free, of course only in sunny days :)
PowerUltimate – DJI battery charger review
Disclosure: I received this DJI drone charger as part of a product review collaboration with ViFLY. Although the product was offered free of charge, all opinions in this review remain my own and I was in no way influenced by the sponsor.
Inside the cardboard box, besides the charger I found lots of cables. Upon my request, ViFLY included two pieces of Phantom 3, a Mavic 2 and a Mavic Air cables. Note that the standard package includes: Car cigar lighter outlet to DC cable, USB to DC Cable for cell phone power bank and one DJI battery charge cable (version chosen by you at checkout).
At a glance
The charger it self measures 82 x 40 x 25 mm and weights about 90 grams. While on left side you can find AC input socket, current switch, mode switch and status LEDs, on left side you have battery and USB socket. You have different LEDs for "M1" and "M2" working modes. While charging, the indicators will blink.
While battery cables can be plugged on both side of the charger (input/output), the car cigar cable and USB-DC cable can be inserted only into input socket. Great feature which can avoid nasty things like accidentally burning out your laptops USB port. Also, to prevent connection mistakes, on top of the charger there are some arrows which show the direction where the energy goes.
Taking apart the charger, I found that the aluminium enclosure also serves as heat-sink, so try not to cover it during charging process.
Test – First usage
Setting up the PU charger is very simple. According to your power source you need to set it via the current switch to 1 or 2 Ampere. For my first tests I used a 12V/5A DC adapter and a Phantom 3 battery. Therefore I selected 2A, respectively "M2" working mode. I also wanted to test it with a power-bank, but the charger didn't even turned ON. My guess is that there is something wrong with the included USB-DC cable. In my IMHO it should act like a 5 to 12V step-up DC converter, but on 5V input it provided just 6V output.
Featuring only 2A charging current, the PowerUltimate was about two times slower than my stock DJI charger. Setting the device to 1A will make the charging process even longer.
Also, another disadvantage of the PowerUltimate is that you need to power ON the battery in order to start the charging process. I have to admit that it is easy to press that button for few seconds, but if you're accustomed with stock charger you might forget about this step.
With proper cables you can also transfer energy from one DJI battery to other. For example, you can charge your Spark's LIPO with the Phantom 4's battery.
If your are in a remote location, without electricity (110/220V AC) and you plan to have many flights, the VIFLY Power Ultimate is a good choice, but not perfect. IMHO, ViFLY should include in their offer also cables which allow you to charge the transmitter as well. Another issue could be if you are running out of gas, but this one can be solved by the manufacturer :)
One more thing: Do not use the charger on your car's dashboard in direct sun light! It becomes extremely hot in just few minutes.
Price & Availability
This DJI field charger can be found on the manufacturer's website here for only $49. If you have a Banggood account, you can also order it from there.
Editor's ratings
Price/performance ratio

Design and build quality

Battery compatibility
Summary
The VIFLY PowerUltimate is a tiny but versatile gear which allows to charge your DJI battery right on the field, whatever from your car's cigarette outlet, power bank, or a high capacity LIPO pack. If you own multiple types of DJI drone, it is an excellent alternative instead of purchasing many dedicated DJI car chargers. The discharge and mobile charging functions are also great extra features.
What I liked
Compatible with many DJI drones;
Standard USB socket for mobile charging;
Power transfusion between two DJI batteries;
Discharge feature.
What I didn't liked
USB input (power bank) didn't worked;
Slower than genuine DJI car charger;
Battery must be turned ON before charging;
No status screen for battery level monitoring.
VIFLY Power Ultimate vs Genuine DJI car charger
As you can see in the comparison table bellow, in addition to the much friendly price tag, the Vifly PU comes with few cool extra features. On the other hand, the DJI charger allows you to charge the batteries much faster.
PowerUltimate
DJI Car charger
Compatibility
One charger for 6 DJI drones
One charger for each DJI drone
Charging current
Up to 2 Amps

4 Amps

Discharge feature

Yes

None
Charging from power bank

Yes (according to specs)

None
Charging from standard 3-4S LIPO pack (XT60)

Yes

None
Mobile device charging

Yes

None
Transmitter charging cable
No

Yes

Price

$49 + $5

for each charging head
$69 – Mavic  1, $79 – Mavic 2 and $89 – Phantom 4