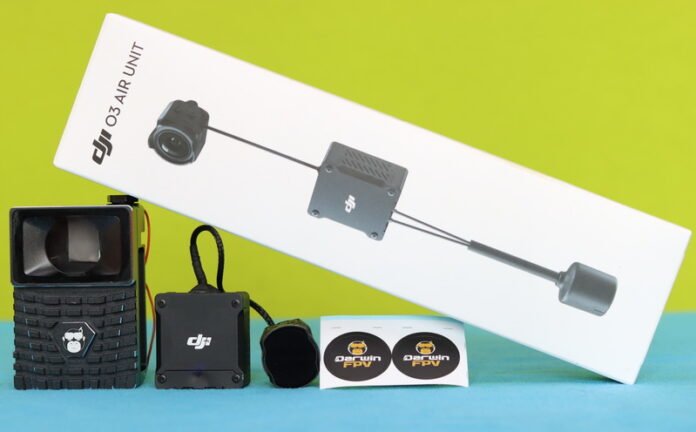 The DJI O3 Air Unit is probably the most expensive component of any FPV drone, and you will probably want to protect it from crashes and harsh weather conditions (rain and snow). DarwinFPV's CNC aluminum case provides IP68-level waterproof, dustproof, and impact resistance. Additionally, this enclosure allows the use of one O3 AU kit on multiple drones or VTOLs.
Currently, the most advanced digital FPV system is the DJI O3 Air Unit. It provides onboard 4K recording with RockSteady stabilization, excellent range, and low latency transmission. The kit consists of three main parts: VTX, camera, and antenna. The first two can be encapsulated into a metal case for extra protection, but the antenna needs to be left outside for the best range.
Most outdoor gadgets have either an IP67 or IP68 rating. Although my Samsung S22 smartphone has an IP67 rating, it started showing moisture detection warnings after immersing it in water for a few seconds. The problem persisted for more than two weeks. I almost lost my drone because the phone was disconnected from the transmitter due to a USB malfunction.
Despite that DarwinFPV enclosure promises a higher IP68 rating (resistant in fresh water to a maximum depth of 1.5 meters for up to 30 minutes), I would not use it for underwater applications such as RC boats or submarines. Another possible problem with airtight enclosures is that due to temperature differences, water vapors can form and, later, turn into droplets that can cause damage to electronics. A foggy lens can also be annoying.
DarwinFPV O3 Air Unit enclosure review
Disclosure: I received this O3 watertight case in a product review collaboration with DarwinFPV. Product specs and quality may vary according to the manufacturer's reliability, so I cannot guarantee that you will get a product that performs the same as in my article.
The case was developed for their HULK Ⅱ waterproof FPV drone that can fly in rain and land on water thanks to its floaters. The company also offers individual waterproof parts such as flight controllers, flight stacks, cameras, and radio receivers.
My review unit comes in an antistatic zipped bag, but I saw another version packed in a cardboard box. Darwin includes the case with mounting screws, spare rubber parts (antenna ring and USB Type-C flap), and a spare thermal conductive band.
The Darwin O3 Air Unit case is entirely made from CNC aluminum and looks like a tiny walkie-talkie. The enclosure system measures 6.2×4.1×2.6cm and weighs about 60 grams. Four screws hold together the front and back cover. To be watertight, between the two parts is a rubber sealing. While the VTX's Type-C is protected by a rubber flap that prevents entering water inside the case, the antenna out has a rubber ring with the same purpose.
Data+Power wires are preinstalled and cemented. The case has inside thermal conductive padding to ensure good heat transfer between the VTX and the Camera – practically, the whole case turns into a heatsink.
The front has a window glass with a built-in lens hood for the O3 camera. It has 2×4 mounting points for the GoPro fingers on the back and 2×2 at the bottom. Depending on the project's requirements, you can install it vertically or horizontally.
Pricing, availability, and options
At DarwinFPV's official store, this waterproof enclosure is available in two options. The basic case kit shown in this review can be ordered for $59.99, or if you don't own an O3 kit, you can opt for the ready-to-use combo with a preinstalled O3 system for $279.99.
DarwinFPV O3 Air Unit case: Key features
[Fits perfectly the O3 Air Unit kit] A customized design that perfectly fits the shape of the DJI O3 Air Unit. It is easy to install and will not affect the use of the drone and the stability of the image transmission signal;
[Lighteright and durable case] Adopting CNC aluminum alloy processing technology, the appearance is solid and beautiful, light and durable, and the surface is anodized, which has excellent corrosion resistance;
[Wateright] Designed and manufactured in strict accordance with waterproof standards, it has excellent waterproof performance and can ensure the safety of DJI O3 Air Unit when flying in rainy days and waves;
[Dual mounting option] It comes with a GoPro-compatible mount that allows it to be installed vertically or horizontally.
Technical specifications
| | |
| --- | --- |
| Dimensions | 6.2×4.1×2.6cm |
| Weight | 62 grams (without O3) |
| Material | CNC aluminium alloy |
| Ingress protection | IP68 |
| Mounting compatibility | GoPro fingers |
| Recommended models | above 3-inch FPV drones and VTOLs |