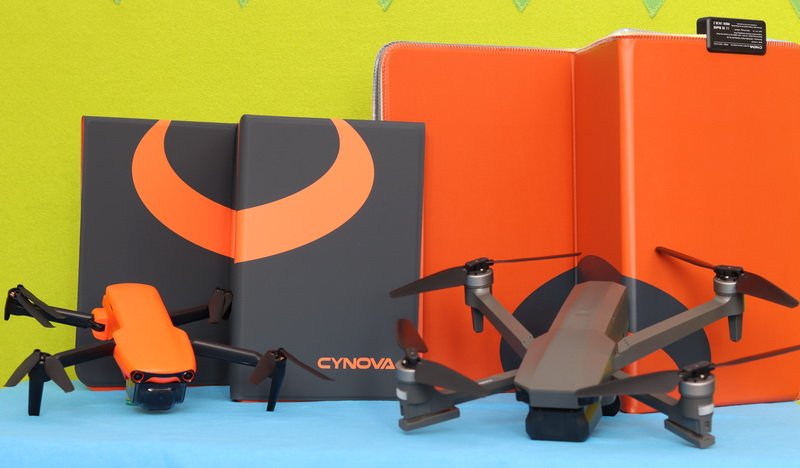 Eight years ago, when I started this hobby, the first drone accessory that I purchased was a landing pad. Drone aprons give you a safe take-off and landing every time, regardless of the terrain you fly. For example, sand is even more dangerous than water to a drone's sensitive motors. I would never risk taking-of from a beach without a landing pad. It is also essential to take off/land from/on a clean surface in order to avoid dirt from the camera. Without an apron, even cut grass can reach the lens of a folding drone with short arms, and dust and pebbles can strike the propellers.
These days, most smart drones are capable to detect the shape of parking aprons and precisely landing on them thanks to their vision sensors. GPS return to home (RTH) gives you an accuracy of ±2 meters, risking landing on improper terrain.
Most drone landing pads have a square or circle shape and two sides in negative colors with an 'H' letter in the center. For night flights they have reflective parts or built-in lights. You can find landing mats in various sizes (50-120cm) but you should match them with your needs (drone size).
CYNOVA landing pads review
Disclosure: I received these drone landing pads as part of a product review collaboration with CYNOVA. Although the aprons were offered for free, all the opinions in this review remain my own!
I found out first about CyNOVA on our drone Facebook group where they shared a short video of their RGB landing mat. The company is dedicated to the field of UAV photography accessories, action camera accessories, and game gears. They are focused on big brands such as DJI and Insta360.
Both landing pads (RGB LED and Universal) are packed in a nice cardboard box. Excepting the bad odor, you have the impression of a premium product.
1. RGB LED Landing Pad 65x65cm (25.6×25.6inch)
Firstly, I was curious to unbox the LED illuminated apron. When it is folded, it measures 22x32x4cm and has a weight of 960 grams. Quite heavy compared to my existing landing pad. On the perimeter of the apron, there is an RGB LED strip. The power/control unit measures 4x8x2cm and has a built-in 400mah battery, USB Type-C charging port, 4 charging indicator LEDs, and a control button.
The CYNOVA RGB LED landing pad has two sides, with negative colors. While the orange/grey side has a glossy finish, the grey/orange side has a porous finish similar to a neoprene surface.
Unfolded measures 65x65cm, allowing it to be used with most consumer drones. During night flights the landing pad is visible from a few meters. You can toggle between 13 light modes, which is cool and useless at the same time.
Features
Perimetral RGB LED with 13 adjustable flash modes;
Built-in battery with micro USB charging port and 4 status indicator LEDs;
The double-sided two-color design highlights the landing position in different places. There are gray and orange;
Provides the best and safest take-off and landing surface in any environment for most RC drones including DJI Mavic Mini 2, Mavic Air 2, Mavic 2 Pro/Zoom, Mavic Pro, and Antel Robotics;
Premium Waterproof Material – Made of high-quality, lightweight, and waterproof PU PVC material with a stain-resistant surface;
Easy to fold, allows you to bring it anywhere. You can fold it from 65x65cm size into 22x32x4cm in just 2 seconds.
2. Universal Apron 50x50cm (20×20 inch)
Like most landing pads, CYNOVA's universal apron is also reversible, with one orange/grey side respectively another grey/orange. When it's folded measures just 17x22x2cm and weighs 460 grams.
Due to its small size, if there's the least bit of wind, a bigger drone has trouble landing on it. I think its 65x65cm (25″) brother is a wiser choice for DJI Inspire kind of pro-grade drones.
Features
Compact, backpack-friendly foldable design. It can be packed from 50x50cm to 17x22x2cm in just 1 second
The double-sided two-color (gray and orange) design highlights the landing position in different places;
Provide the best take-off and landing surface in any environment for RC drones such as DJI Antel Robotics, Hubsan, FIMI, and other brands;
Premium Waterproof Material — Made of high-quality waterproof PU PVC material with a stain-resistant surface. Protects against stones, dust, dirt, or other debris from damaging your drone and propellers.
Price and availability
You can order both drone aprons from CYNOVA's Amazon store. While the LED version is priced at $42.99, the universal 50×50 landing pad at $19.00. They have also other size landing mats.
Price/performance ratio

Design and build quality

Compatibility
Editor's ratings
Both CYNOVA landing pads have good quality and give a solid surface for the drone to land on. The folding design makes them compact to fit inside your drone backpack. While the universal 50x50cm apron is great for small drones such as the DJI MINI series, the LED 65×65 landing mat is perfect for the DJI Mavis series.
Pros
Foldable and double-sided (reversible);
LED illuminated for night flights.
Cons
Heavy;
Bad odour;
LED light could be brighter.