When it comes to micro drones, it is very hard to find a camera that is small and light enough to fit in. Measuring 15 x 15 mm and weighting only 4.09 grams, the Eachine C600T camera can be lifted by very small drones.
At the moment, basically there are two approaches in the design of FPV cameras, "all-in-one" (one device, VTX + camera) and "spitted" (individual camera and VTX). Every design has its own pros and cons.
Sponosored AD
In tandem with the C600T camera, Eachine offers a lightweight 5.8G wireless video-transmission modules, called VTX01. Featuring up to 200 mW broadcast power, it is far enough for proximity flying.
Eachine C600T technical specs
1/3 inch CMOS sensor;
8 mm lens;
Horizontal resolution of 600 TVL;
Resolution of 720 x 576 PAL edition and 720*487 NTSC version;
Wide Dynamic Range (WDR);
SNR >48db;
Compatible with VTX03;
Auto back-light compensation;
4:3 aspect ration;
JST-SH 1.0mm 3p connection socket;
3.3v ~ 5v input voltage.
You probably heard the word "WDR" many times so far and still don't know what exactly means. Wide Dynamic Range aka WDR allows to capture both, dark and bright areas, in difficult lighting conditions in the same frame. This feature is very helpful for FPV flights.
Eachine C600T camera review
Disclosure: I received this mini FPV camera as part of a product review collaboration with Banggood. Although the product was offered as gift, all opinions in this review are my own. Thanks again for their continuous support.
Camera comes in small box with pre-soldered cable (red – power, yellow – video, black – GND) and lens cap. No mounting accessories included. I received PAL version of the Eachine C600T but NTSC is also available.
As the C600T camera is specially designed to be paired with the VTX03 VTX, at the end of the wires there is a 3 pin socket (JST-SH 1.0mm) which accepts the VTX03's plug. No soldering required.
Lens is glued – no manual focus adjustment nor lens swapping with the purpose of obtaining different field of view.
In order to keep the camera's weight as low as possible, instead of using screws, the main PCB is glued to the camera module. No back cover. Electronic parts are fully exposed to mechanical shocks, also for accidental short circuits.
Eachine C600T review: Test / Image quality
At the begging of my review, the plan was to test the Eachine C600T installed on one of my micro brushed drone but, constrained by lack of time, I did only a "laboratory" test by connecting the camera to my Eachine LCD5802S FPV monitor. I used an 1s Li-Po to power up the camera.
Camera performs very well, but image quality could be sharper, I also noticed lower contrast compared to my other FPV cameras. Latency is good, no visible delay.
No OSD or other way to adjust any settings, so you have to indulge with the factory configuration (quality).
Price/value ratio

Design and build quality

Image quality
Summary
For a 15 bucks camera, the Eachine C600T 1/3 performed pretty well. Image quality is acceptable. IF you own the VTX03 5.8G real-time image transmission module, no soldering required.
No mounting accessories included, but you can easily attach the camera to the drone by using a piece of rubber band or hot glue.
If you are planning to build your own mini FPV drone, the C600T camera can be found here for only $14.99 (including free shipping). Compatible VTX can also be found there for $10.55.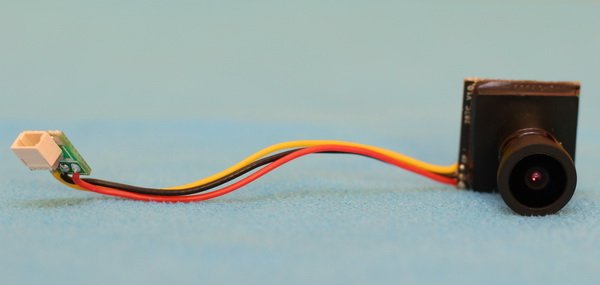 Pros
Dirty cheap;
Small and lightweight;
Suitable for 1s Li-Po batteries;
Decent image quality;
No soldering required if it is used with VTX03.
Cons
Electric parts are exposed;
Not compatible with

ATX03

.
Eachine C600T review: Photo gallery
First 2018 Drone deals