Maybe the Eachine E013 doesn't features versatile flight controller as the TW, but with the included FPV monitor the fun is guaranteed. At a glance, biggest improvement of the E013 compared to its predecessors is the 5.8G FPV camera.
While WiFi FPV is used on most of the toy grade drones, 5.8G FPV is highly adopted by professional racing quadcopters. 5.8G offers zero latency real-time image transmission. According the broadcast power, the range can be from hundreds of meters up to 10 km. Eachine E013 equipped with 25mW VTX has a range of about 150 meters.
Like most of the wannabe micro FPV racers, the Eachine E013 follows the ducted propeller design of the Tiny Whoop. The basic idea of this architecture is to improve the efficiency of the tiny propellers but in the same time makes the aircraft very safe for children.
Eachine E013 highlights
Ducted propellers;
Protective canopy;
1000TVL camera with 5.8G real-time image transmission;
Swap-able 200mAh Li-Po battery;
360 degree flips;
One key return to home;
Headless flight mode;
Multiple speed rates.
Eachine E013 review with pros and cons
Disclosure: I received this Eachine E013 combo as part of a product review collaboration with Banggood. Although the product was offered for free, all the thoughts in this review remain exclusively my own.
Inside the box I found, besides the E013 Mini quad and its transmitter, a complete set of spare propellers (4-blades), USB battery charger, screwdriver, stickers, user manual and HELL YES, the VR600 FPV goggle (with all its accessories: antenna, charging cable, headband and cleaning cloth).
As I previously mentioned, the Eachine E013 adopts Kort nozzle propellers. The motherboard and VTX camera are well protected by a red canopy.
After I applied the eye stickers on both sides of the camera, the E013 looks just like a friendly cartoon character.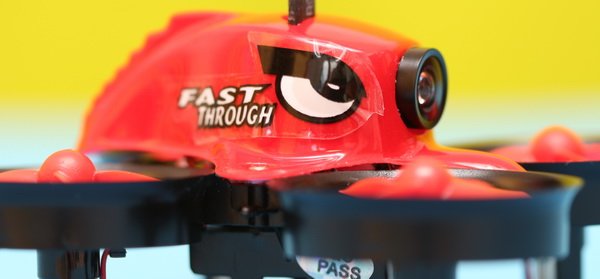 In order to allow good range, the VTX antenna comes straight up from the middle of the fuselage. In my opinion a bit exposed and I don't now for how many crashes will survive.
A blue LED light on the rear will help you to orient during night flights.
Eachine E013 review: Remote controller
Like the aircraft, the transmitter is also black with red metals sticks. The RC is powered by 3 pieces of AAA batteries.
On front panel, besides the usual sticks and power switch, there are other 8 buttons. The two on right side of the throttle allow to enable headless flight mode respectively to activate the return to home feature.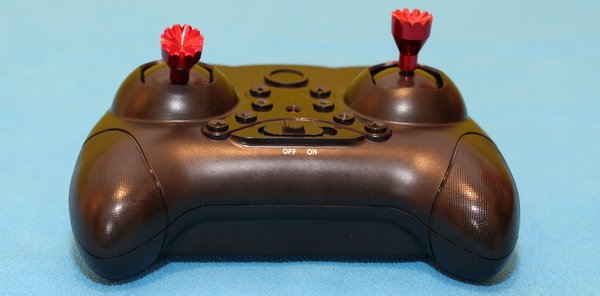 While the left shoulder button allows to toggle between speed rates (1 beep – Low, 2 beeps – Medium and 3 beeps – High), the right one enables the 3D flip & roll mode.
According to the specs, the remote controller has about 70 meters range, of course only in optimal conditions. Anyway, it is just perfect for indoor and proximity park flying.
Eachine E013 review: Camera and FPV
In front of the aircraft is located the tiny 1000 TVL camera. The 120° FOV, m7 lens are paired with a 1/3″ CMOS sensor. Toggling between NTSC and PAL video standards can be done by long pressing the unique button (for more than 5s).
The 5.8G, 40CH (5 bands and 8 frequency groups) video transmitter has 25 mW broadcast power. While switching between CH1-CH8 can be done by short pressing the control button, switching between Band1-Band2 can be done by long pressing (2s) the same button.
Image quality is quite nice for such a small bird. FPV signal is really strong. No problem to cross two brick walls. Outside, the range is about 100 meters.
Eachine E013 review: VR006 FPV goggle
Now, lets talk a bit about the icing on the cake – the VR006, a super lightweight and compact FPV google. Currently there are two variants available. One sold individually with two antennas (clover and panel) and one with single rubber duck antenna sold in combo with the E013 drone.
The VR006 is based on a single 3″ LCD display. Resolution of the screen is 500 x 300 pixels. No DVR feature nor AV out. Even if you have an external FPV recorder like the BlackBox D1M DVR you will need to take apart the VR006 and do some modifications in order to be able to record your flights.
It has a total of 4 control buttons (+, Menu, – and Scan/Power). Brigtness, saturation and contrast adjustments are possible. OSD shows the actual frequency and the goggle's battery voltage.
Thanks to the adjustable headbands, the google fits comfortable for adults as well as for the younger generation of FPV pilots. Unfortunately, being very small, it is almost impossible to wear correction glasses with the Eachine VR006.
The RF sensitivity is far from being the best. My Walkera 4 Goggle has much better reception. I know, the comparison it is not too relevant because there is a price difference of 4 times between these two FPV goggles.
Eachine E013 review: Test flight
Prior to your first FPV flight, you need to set the same channel on both camera and goggle. Auto scan works just fine.
I would recommend for beginner pilots to have someone around that follows the aircraft and guides them in case they become disoriented. Flying through FPV goggle is much different compared to LoS (line-of-sight).
At take-off, the Eachine E013 hovers easily even without altitude-hold. Slow speed rate is optimized for indoor flights. Outdoor would need more power to fight with the wind. Flips are perfectly performed without too much altitude lose and it can be performed even indoor.
My test flight ended after 3 minutes, so definitely I will need few spare batteries for the E013 quadcopter.
If it starts to fly abnormally you can try to perform sensor calibration by moving both sticks to lowest right position.
Price/features ratio

Design and build quality

Flight performance

Remote controller

FPV camera

FPV goggle
Summary
Still not perfect but, through the 5.8G camera, the Eachine's E01X series gets another significant update.
With the included VR006 Goggle you can experience the fun of FPV flying.
Not an ultra sporty drone and no Acro / Free style mode as well.
New pilots with limited budged can find this excellent learn-to-fly FPV combo kit  here: https://goo.gl/RD9ttT. If you already own a FPV google you can opt only for the drone for much less.
Pros
Complete 5.8G FPV system;
Extremely affordable;
Perfectly safe for indoor flights;
Swap-able battery;
Cons
Basic flight controller (No Acro mode);
VR006 can't be used with correction glasses.
Thank you for your time reading my Eachine E013 review. If you have any questions or queries please feel free to drop me a line.