Eachine E10C Mini – world's smallest quad with HD camera
Visually, there are not too much differences between the Eachine E10C mini quad and the Cheerson CX-10C. Guys from Eachine probably copied 1:1 the design of the aircraft. In order to make the E10C quadcopter (aka Pro Cam) more attractive than its contender, the manufacturer equipped this little aircraft with a HD 720P camera instead of a low res VGA one.
Lately, mini quadcopters became very atractive because they are extremely cheap and suitable for indoor fun. While the recommended age by manufactures for such toys is 14+, in my opinion, due to the small size and harmless tiny props, these micro quadcopters are also suitable for younger children (7+). Of course, with close supervision of parents (adults).
Sponosored AD
Mini quadcopters are also recommended for newbies adult pilots as an affordable way to learn and practice how to fly a quadcopter.
This year I already reviewed few other mini quadcopters so I know mostly what I can expect from such a toy. Anyhow, I shall see, maybe this Eachine E10C is hiding some pleasant surprises 🙂
Eachine E10C Mini review
This product was offered by courtesy of James from Banggood in order to make a honest review. Thanks again for their continuous support in helping me to review so many quadcopters during last two years.
Although the package arrived very quickly into my country (14 days), but being very busy with other quadcopter reviews I picked it up from the postal office only ~30 days from the dispatch (sorry James for the delay).
The box is surprisingly small taken into consideration that the E10C is delivered with a physical remote controller, unlike the CX-10W (which requires a smartphone to control it).
Inside the box I found the following too (in addition to the tiny drone and its transmitter): a complete set of spare propellers, USB charging cable and user manual. If you are over 40th, like me, you will need to put on some glasses to read the instructions which are printed super-tiny.
Unfortunately, there is no memory card nor propeller guards included. Anyway, for only $23 we can't expect too much accessories to be included in the package.
As previously mentioned, the design of the E10C is basically the same as the design of the Cheeson CX-10C. The aircraft has metal silver color with black Eachine logo on the top and white propellers. The build quality of both aircraft and transmitter looks good, but nothing spectacular. In the right side of the aircraft is located the micro ON/OFF switch and the charging port.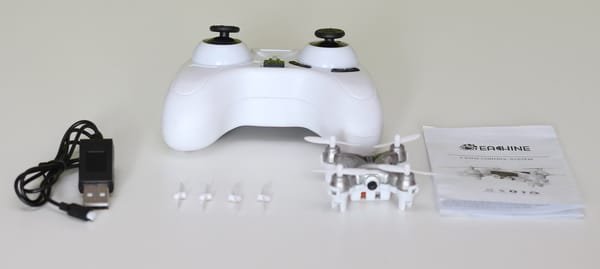 Powered by a small capacity 120 mAh Li-Po battery, the Eachine E10C Mini has about 5 minutes of continuous play time. Unfortunately, the battery is integrated and is not swappable, so you need to rest at least 30 minutes while the battery is recharging. The battery can be charged either through an USB phone charger or via any USB socket of your PC or laptop.
With five LED lights, this mini quad is just perfect for some night time fun. 2 blue LEDs in front and 2 red LEDs in rear will help to identify the position of the aircraft even in dark. In the rear part of the drone there is an additional red LED which shows the status of the camera.
Eachine E10C review – Transmitter
The remote controller, with the size of only 11 x 7 cm, may look a little small even in my son's hand but all the controls can be easily accessed even by adults. By pressing the throttle stick as a button, the speed rates can be switched between 3 values according the pilot's flight skills (low, medium and high). The speed rate setting is confirmed with beeps (1, 2 respectively 3). By pressing in the same way the right control stick can be activated the auto 3D flip mode.
Under the right stick are located two trim switches, for pitch and roll.
While the left shoulder button allows to take still photos on each press, the right one allows to toggle between start/stop video recording.
Eachine E10C review – Camera
Of course, the camera is onboard and unfortunately doesn't allow any angle adjustment. In order to capture the journey of your flight you will need to purchase additionally a micro SD card. In my opinion a cheap small capacity (2 – 4GB) will be just perfect for this purpose. The card is loaded on the left side of the tiny aircraft.
The HD camera allows to record videos with 1280 x 720 pixels and 30 fps. The image quality is not super sharp but pretty good according to the size and price of the E10C Mini. Two minutes of captured videos occupies about 200 MB on the micro SD card. Still photos are stored as 24bit compressed JPEG files with 1920 x 1080 pixels (I suspect software interpolation). Definitely, in outdoor daylight conditions, the camera performs much better than indoor artificial light conditions, where the videos are washed out.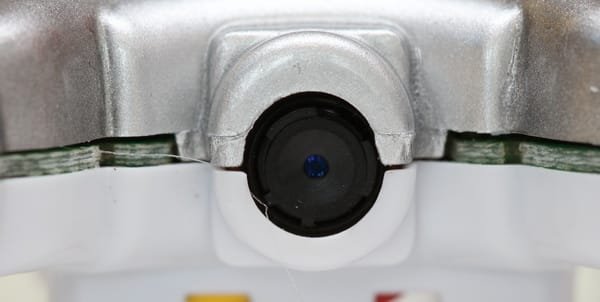 Eachine E10C review – Test
First flight attempt was outdoor during moderate wind and it was a bad idea. Being very light (17g), the Eachine E10C mini is easily taken by wind determining you to lose the control over the aircraft. Second try was indoor, the quad responded very well to controls but with limited throttle punch. First few flips are done Ok, but then the aircraft loses too much height and no more fun. After about 5 minutes of flight the LEDs start to blink which means that the battery is almost empty and you should recharge.
Maybe the control range is not exceptional (20-25 meters) and the transmitter doesn't look too professional but it does the job. In my opinion newbies should opt for toys with physical remote controller, instead of a virtual one like the CX-10W has.
After few crashes or when the aircrafts starts to fly chaotically I recommend to recalibrate the gyro by holding both sticks on the left bottom corner for few seconds.
Eachine E10C mini unboxing and test flight
Price–performance ratio

Build quality

Flight performance

Camera

Play time
Eachine E10C Mini review - Verdict
The E10C's camera offers decent quality but don't expect to win some great award for aerial videos. The control range could be better but for indoor play is far enough. Battery life is OK, without recording allows about 5 to 6 minutes of flight time.
If you are looking for a cheap mini quad with HD camera for indoor fun, I will say YES. If you need a quad that you can fly it during windy days, you should opt for another model.
This micro quad can be bought at the price of $22.99 with free shipping from BG here. On their website can also be found spare parts (propellers and blade guards) for the Eachine E10C.
Pros
HD 720P camera;
Reasonable control range;
About 5 minutes flight time;
Included spare propellers.
Cons
No memory card included;
Fast yow rate;
Almost zero wind tolerance;
Built-in battery.
Since I received this E10C, Eachine released a newer model with Wi-Fi FPV camera. The Eachine E10W is basically the same aircraft with the same specs, the biggest difference being the possibility to display the camera's real-time video feed on your mobile phone.
Eachine E10C review – Photo gallery