All kidding aside, even if it's ultra-thin, the Eachine E57 probably will not be able to sneak under any door. When it's folded, the thickness of the fuselage is bellow 1 cm, but you know it is very hard to fly this way :). With motors in the flight position, the height of the E57 is about 28 mm.
Toy-grade drones have been on the market for several years now, helping kids start flying for a relatively reasonable price. Let's be honest, dads also like to play with them :)
In addition to the cool design, the E57 quadcopter is packed with all the latest features. The 6-axis gyro-stabilization and barometric air-pressure sensor ensures easy piloting.
Eachine E57 quadcopter highlights
Compact size with foldable motors;
HD camera with real-time video transmission;
Multiple control modes (RC, APP – virtual sticks and APP – Phone gyro);
Altitude hold (barometric air-pressure sensor);
Headless mode (IOC);
High and Low speed rates;
3D Flips and Rolls;
Night navigation lights;
About 5 minutes of play time.
Hand-on review of Eachine E57 foldable drone
I will start my Eachine E57 review by thanking Banggood for offering me this nice compact foldable drone. I also appreciate their continuous support and professional attitude as they never tried to influence me in writing my evaluation.
It took 23 days, since my order was placed, to receive the package. E57 is nicely packaged like a premium phone. Inside the box, besides the drone and its remote controller, I found the following: USB battery charger, 1 set of spare propellers, blade removing tool, and user guide.
Yes, the Eachine E57 is incredibly thin. Motors and propellers are folded into the fuselage. They can be released by pushing two buttons (one on each side of the drone). The top of the drone has a nice metal paint finish.
Unfortunately, the 250 mAh battery is integrated, hence you need to wait about 45 minutes between flights for recharge. A large power button is located at the center of the drone. In my opinion, instead of the non-standard charging plug, it would have been cleverer to have a micro USB port.
During evening flights you will be assisted by four navigation lights. Blue LEDs on front and red ones on the back.
Transmitter and APP control
With low profile sticks the transmitter is also very thin. Max height is only 18 mm. None of the buttons are labeled, you need some time to get used to them. The remote controller is powered by two pieces of AAA batteries (not included).
On the front panel, there are 8 control buttons in addition to the power switch. Toggling between speed rates can be done through the top-left button. Headless mode can be activated using the lower-left button.
While the left shoulder button allows enabling the flip & roll mode, the right one serves to Take-off/Land.
Like the Baby Elfie, the E57 also can be controlled through a phone APP. The "Eachine Fly" APP is available for both popular mobile operating systems (Android and iOS).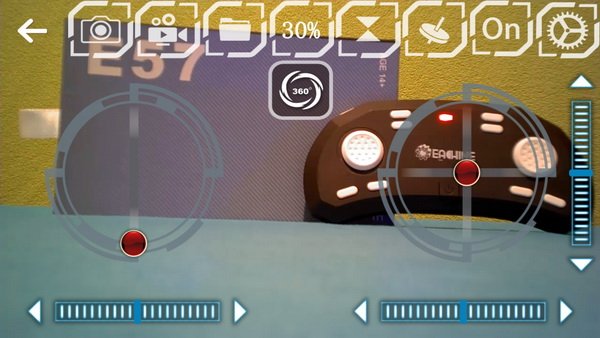 While most of the kids find it more comfortable to pilot by tilting the phone, being an old-fashioned guy, I prefer the tactile feel of the physical transmitter. The control range also seems to be better.
Video performance (image quality and FPV range)
Just like most of the wannabe selfie drones, the E57 Eachine is also equipped with a 720P camera. The camera is built-in and does not allow any angle adjustment. Field of view (FOV) is about 60 ~ 70 degrees. Since there is no micro SD slot, the footage is stored on the phone's memory.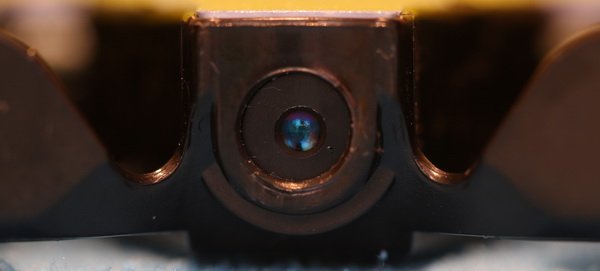 As you could expect from such a tiny camera, image quality is not the best, even far away to be truly enjoyable. 3 minutes of 1280 x 738 @ 25 FPS video occupies about 35 MB.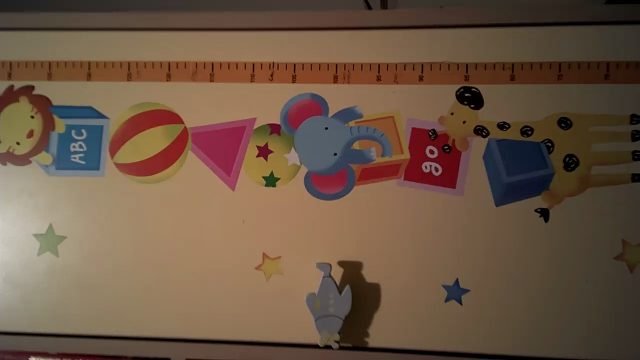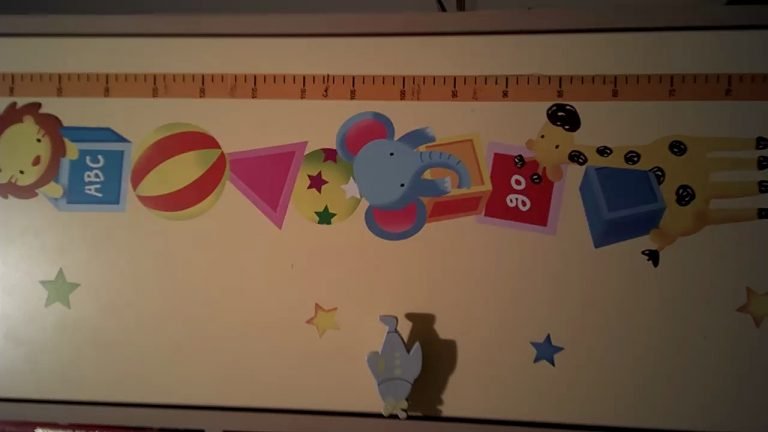 Due to the low frame rate, significant latency, and narrow FOV, first-person view flights with VR glasses are hardly possible.
Usability and flight characteristics
Prior to your flights you need to unfold the motors. Binding the drone with the transmitter can be done by moving the throttle stick up and down (all LEDs will turn steady ON).
Pushing the Take-off button, the aircraft raises about 1 meter and starts to hover. Some altitude bouncing is present. Alt-hold doesn't work like a charm :(
Unfortunately, it seems to be under-powered. Most of my flips ended with at least 1 meter altitude loss. As a result, one time hit the ground but luckily survived :)
When the battery is near empty, the LEDs will start to flash. You can continue your flight for a few more seconds and after that, the drone will start losing altitude and force-land.
Editors' rating
Price/performance ratio

Design and build quality

Transmitter / APP control

Camera / WiFi FPV

Flight performance
Who's it For?
In a close future, everyone will have a personal selfie drone that will fly around them in order to film their best life moments. Surely, the Eachine E57 is not that dronie yet, but it is a good start to familiarize with this kind of cool tech gadgets. Due to its compact light-weight design, it is rather suitable for indoor fun than for outdoors.
In conclusion, I would recommend the E57 for office workers who need some extra fun during lunchtime. Five minutes of flight could help them relax and get out of their routine. Now it can be found here for $40.99 including free shipping.
Good stuff
Nice compact design;
Packed with lots of features;
Decent flight time;
Dual control mode (RC and APP).
Bad stuff
Altitude hold not works perfectly;
Integrated battery;
Lack of spare parts.