Are you still looking for an awesome last-minute gift idea for Christmas? You should consider this Eachine E59 Mini. It is very affordable and despite its small size can bring fun time for kids and adults as well. You have two kids? No problem! it is available in two colors: red and green.
These days, many kids stay almost all day long in front of the screen playing games or watching YouTube videos were others are playing games. Being a father of 8 year old boy, I rather consider RC drones proper toys for kids than computer games. A small drone like the Eachine E59 Mini can help you tacking them to a park, away from the front of the screen.
In addition to the 6-axis gyro-stabilization, E59 Mini comes with headless flight mode which makes it easier to control the drone by newbies. Headless mode feature eliminates the need to keep track of the orientation of the aircraft.
Eachine E59 Mini features and specs
Compact size with foldable arms;
6-axis gyro-stabilization;
3D flips and rolls;
Headless flight mode;
One key return to home;
LED lights for night flights.
Eachine E59 Mini review with pros and cons
Disclosure: I received this mini foldable drone as part of a product review collaboration with Banggood. Product specs and quality may vary according to the manufacturer's reliability, so I cannot guarantee that you will get exactly the same RC drone as seen in my review.
The package arrived in 19 days with standard free shipping. Inside the box I found, besides the drone and its remote controller, a complete set of spare propellers (2 x red and 2 x black), a USB charger, and a user manual.
In terms of design, I find the Eachine E59 one of the cutest mini drones that I reviewed. With folded size of only 6.3 x 6.3 x 3.1 cm this mini drone comfortably fits into your pocket.
During night flights you will be guided by 5 LED lights, 3 white on front and two red on back. Furthermore, the front propellers are red and the back ones are black, so you will always know the exact orientation of the drone.
According to the manufacturer's specs, the 200 mAh LiPo allows about 5 minutes playtime. Unfortunately, the battery is built-in and you need to rest for about 50 minutes while the battery is being charged.
Remote controller
The remote controller that comes with the E59 Mini adopts the same design as the one is packed in with the JJRC H345 drone.
On the front panel, besides the two control sticks and power button, there are 4 trimming switches (Left/Right rotation fine-tuning, Left/Right side-ward tuning, Forward/Backward fine-tuning, Return to Home, and Headless mode.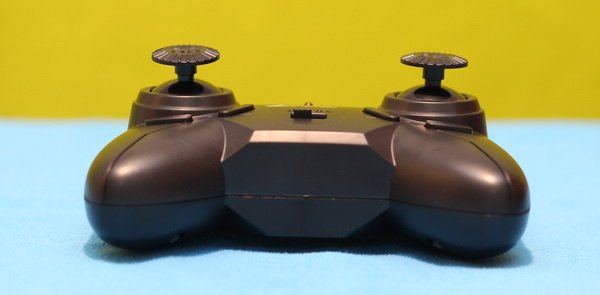 While the left shoulder button allows toggling between 3-speed rates, the right one enables the 3D tumbling mode.
Gyro calibration can be done by moving both sticks to the lowest-right position.
Does it have a camera?
Probably most will ask if the Eachine E59 Mini has a camera. The answer is NO, at its price range it is really hard to find a drone with camera.
Flight performance
As I already reviewed its twin-brother, the JJR/C JJII, I exactly knew what to expect from the E59Mini in terms of flight performance.
Being very small, it is suitable for outdoor flights only on calm days. The Indoor is very stable and easy to control. At a high-speed rate, it is surprisingly sporty and fun to fly.
Don't worry if you bump into something, it is quite resistant to impacts.
When the Li-Po battery is near empty, all the LEDs will start to blink letting you know that is time the safely land.
Price/performance ratio

Design and build quality

Remote controller

Flight performance
Verdict
Like many things in life, you get what you pay for. The Eachine E59 Mini is a fun to fly micro drone with limited functionalities. Lack of alt-hold feature, facilitates proper learning of throttle control for newbie pilots.
Still, lack of Christmas gift ideas? You can grab one of these little drones from here. Both colors (red and green) have a price of $15.99 including free shipping.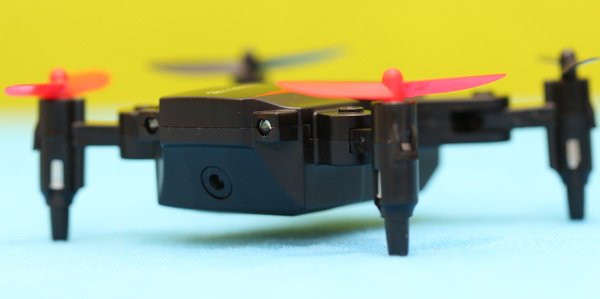 Pros
Affordable pocket-size foldable drone;
Different color props for front and rear;
Headless flight mode;
Power switch.
Cons
Built-in battery;
Poor wind resistance.
I wish Merry Christmas & Happy New Year 2018 for all our reader!